Universal Animal Pak Review
Universal has been a standout nutritional and sporting supplement company past few decades, that's right decades. With some of the best known products around including Animal Rage, M-Stak and Cuts, Universal have built up a solid reputation with an almost cult-like following from bodybuilders, athletes and recreational weightlifters alike. One of their most popular products is ironically just a multivitamin and mineral supplement; the Universal Animal Pak. This review takes a look at this popular supplement and what sets it apart from other similar supplements.
What is Universal Animal Pak?
Universal Animal Pak is a all round multivitamin and multimineral supplement with a few added extras including a pro-performance complex, an antioxidant complex and a collection of digestive enzymes.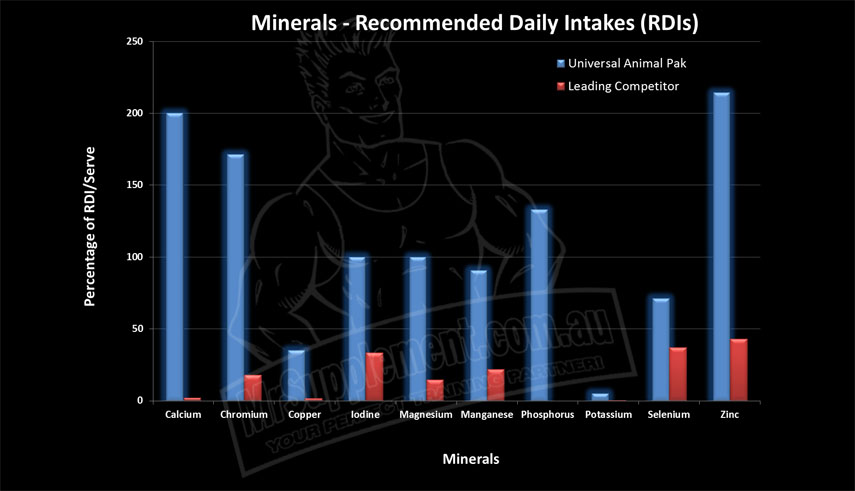 Universal Animal Pak - First Impressions
Comparing multivitamin and mineral supplements is hard and can take a very long time. This is due to the fact that that the units of measurement can often change for different vitamins and minerals and the fact that different sources of the vitamins and minerals can provide different amounts of the actual vitamin/mineral. By far the best way to compare multivitamin/mineral supplements is graphically and in comparison to the percentage of the recommended daily intakes it provides. Following are graphs* comparing the amount of vitamins and minerals provided by Universal Animal Pak and compared with both a leading competitor and the Australian Nutrient Reference Values.1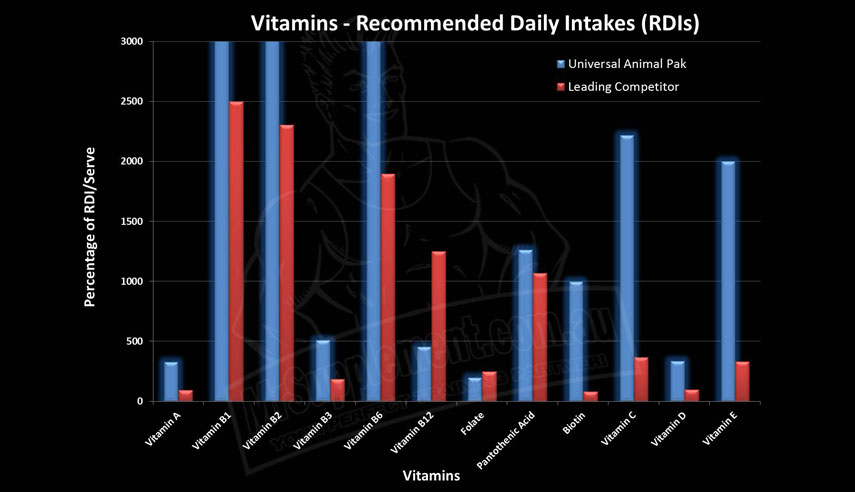 Universal Animal Pak - Difference From the Competition
One of the key differences between Universal Animal Pak and other leading multivitamins/minerals is that Universal Animal Pak contains a rather high protein amount at 6g/serve. Protein is always vital for anyone serious about gaining muscle mass and by including some in a daily supplement, it helps you to achieve protein macronutrient targets. Another key difference is the pro-performance complex. While some ingredients are similar to other competitors, it includes a blend of ingredients to help support liver function, fat loss and exercise performance. Even comparing the common ingredients, Universal Animal Pak often has 1.5-2 times the amount of these ingredients/serve.
Universal Animal Pak - Highlights

Interestingly, Universal Animal Pak contains a digestive enzymes complex, which is rarely found in a multivitamin/mineral. These digestive enzymes are helpful in ensuring that you can get the most out of your food and nutrition. Considering that bodybuilders, athletes and serious trainers eat a lot more than your average Joe, by maximising your ability to digest and absorb nutrients with this complex, Universal Animal Pak rises above normal, everyday multi's and is considered a more tailored version for those who train seriously.
Universal Animal Pak - Negatives
A couple of problems do exist with Universal Animal Pak. There is no vitamin K, choline, iron or fluoride. Iron is a very important mineral and is often reduced during intense exercise so it's an interesting absence from Animal Pak. While not exactly a negative, Animal Pak's antioxidant complex seems rather unoriginal, however, because it has been around for so long and with such a great reputation, it has most likely inspired other newer supplements to copy its formulations. The other major setback for Universal Animal Pak is its price. There are also some users who would prefer not to take so many tablets.
Universal Animal Pak - Flavour, Texture & Mixability
Universal Animal Pak comes in tablets and capsules only.
Universal Animal Pak - Who It's For
Universal Animal Pak is not your run of the mill multivitamin and mineral. It is a tailored supplement for those who have higher training volumes and who are serious about their daily nutrient needs. Providing above and beyond what other multivitamin supplements contain, Universal Animal Pak is the number one choice for the most determined trainers.
_
* The graphs have altered vertical cut-offs for comparison purposes. For actual figures, please email service@mrsupplement.com.au for more details.
1. Australian Nutrient Reference Values. National Health & Medical Research Council.