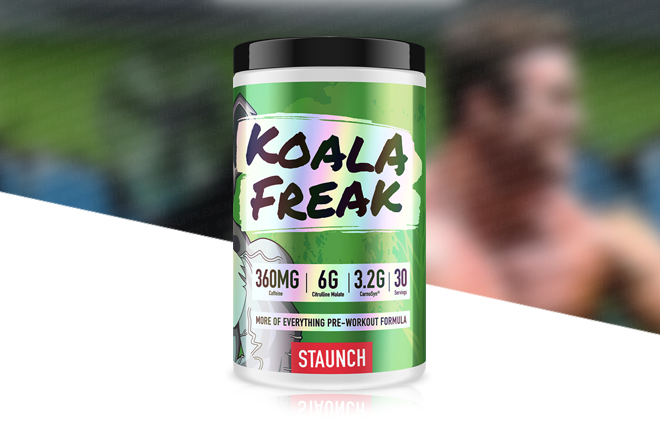 Staunch Koala Freak
Staunch Koala Freak is a signature pre-workout designed by Australia's bodybuilder Calum Von Moger. It contains a hardcore stimulant matrix that will keep your energy levels high and mentally focused. It also includes a range of ingredients to help improve blood flow, support muscle endurance and prevent fatigue.
There are 3 things that everyone always looks for in every pre-workout:
1. Jitter-free clean energy
2. Improved pump
3. Stimulating your mind to provide unmatched mental focus during your workouts.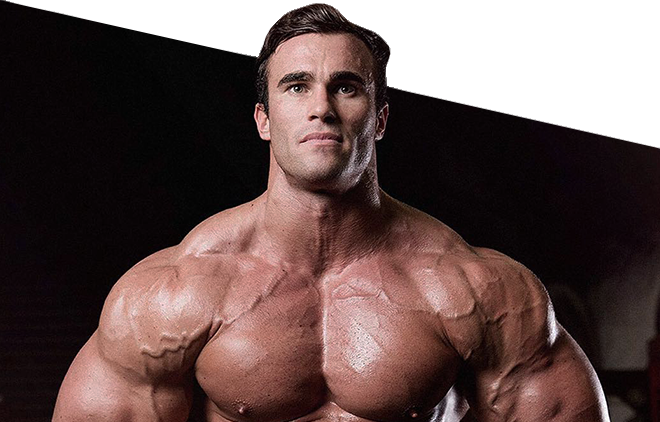 Delivering the most effective, pump enhancing, jitter-free energy producing Pre-workout; all engineered to take your workout experience to the next level! The Best part it is one of the best tasting products on the market! After thorough research, development, and testing by top fitness professionals, Staunch has been formulated with the latest cutting edge ingredients that delivers maximum performance in every workout! It is one of the most expensive pre-workout formulas on the market while also being flavored with the best tasting pre-workout drinks of all time.
What's in Staunch Koala Freak?
Koala Freak is formulated with a science back blend of ingredients designed to maximize your pump, deliver mental focus, and provide clean jitter-free energy.
L-CITRULLINE MALATE
L-Citrulline Malate is one of the most popular pre-workout ingredients. L-Citrulline Malate has been shown to improve muscle endurance and strength and aerobic performance. It also delivers improved absorption and twice as effective in raising N.O. levels when compared to L-Arginine.
BETAPURE™
Betapure has been shown in clinical studies to trigger significant muscular growth, reduce fatigue in preparation of lifting, increases total repetition and improve lifts in bench presses, and also significantly increase HGH and IGF-1 levels while decreasing cortisol.
PEAK ATP®
Peak ATP is a clinically validated and patented form of Adenosine 5′-Triposphate (ATP) Disodium shown to improve athletic performance and body composition by improved recovery and blood flow, and increasing muscular excitability. Peak ATP increases levels of extracellular ATP, which enhances muscular growth, power and strength, while improving recovery!
ARGININE AKG
Arginine AKG works in the amino acid synthesis and protein availability leading to an increase and faster results in the form of muscle mass and strength. With increase arginine, N.O. production can increase. This can lead to wider blood vessels and increased blood flow in delivering nutrients to your muscles faster.
AGMATINE SULFATE
Agamatine Sulfate is an amino acid derivative that plays a powerful role as a catalyst for natural N.O. production and protein synthesis. This leads to enhancing your pump while working out and giving a boost in muscle growth.
HIGENAMINE
Higenamine is an up and coming pre-workout ingredient and has been linked to an incrase in energy and metabolism. With a chemical structure similar to ephedra, Hordenine is metabolized primarily by monoamine oxidase preventing hypertensive events.
L-THEANINE
L-Theanine is an amino acid which has positive effects when combined with caffeine. When used with caffeine, you notice increase in reaction time, attention and focus, reduces jitteriness and causes relaxation without affecting energy. This usually leads to clean, jitter-free energy.
Product Highlights
• Clean & Jitter Free Formula
• Energy & Focus with 6 Active Ingredients
• Optimally Dosed for Pump & Performance
• Real Nootropic Results

Staunch Pre Koala Freak is a super stimulant pre-workout that is recommended for advanced trainers or hardcore lifters that can tolerate strong stimulants in order to exceed their fitness goals.