MrSupplement is totally committed to quality and customer satisfaction. We're not just saying that, we can prove it. MrSupplement is the world's first and only retailer of bodybuilding and sports nutrition supplements to carry the ISO9001 Quality Assurance Certificate.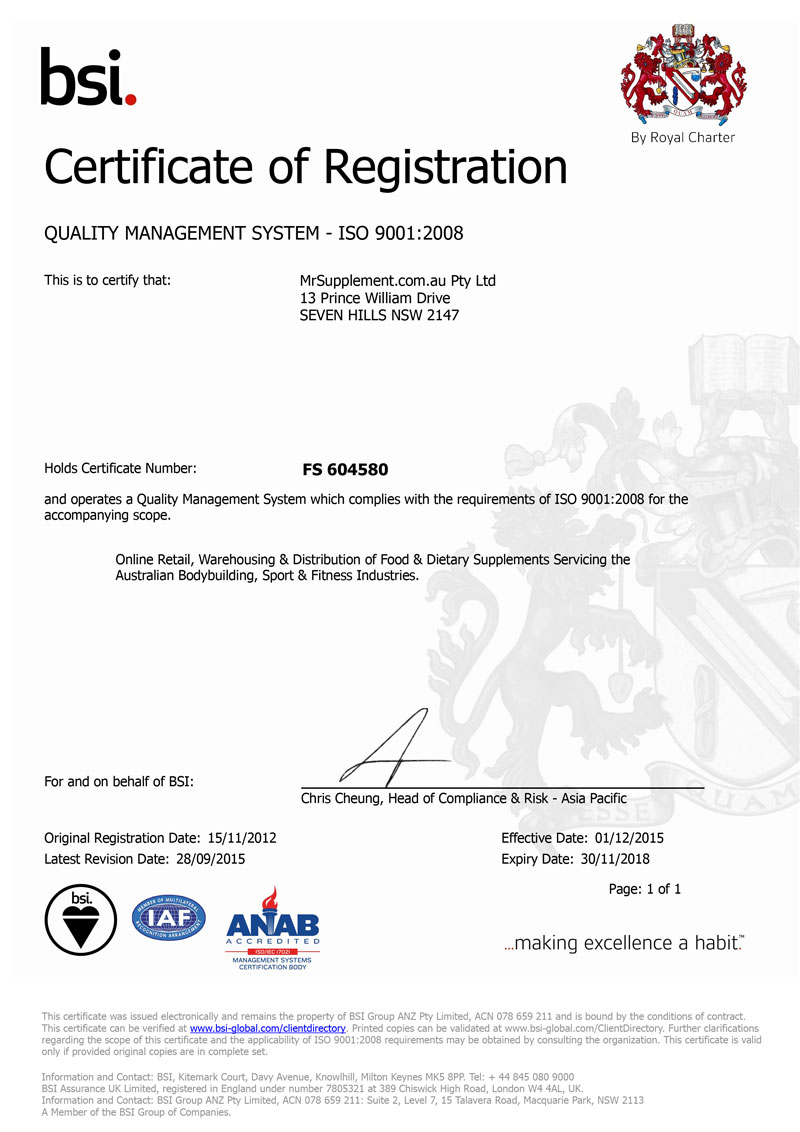 ISO9001 is an internationally recognised Quality Management System that helps to ensure we meet and exceed the needs of our valued customers. ISO9001 outlines a set of standards defined by the International Organisation for Standardization (ISO), and is highly regarded for providing improvements in customer satisfaction, productivity and efficient business operations.
What is required for achieving ISO9001? For a company to successfully achieve ISO9001 Certification, they must undergo a series of stringent quality checks by a governing third party certification organisation. Accredited auditors inspect the operation of the company beginning from the approving of our reliable suppliers, all the way to the point in which products are received by our important customers. This means that we have successfully proven, under scrutinisation, that we have in place & adhere to documented procedures which assist to ensure the highest quality is provided to our customers. Once certification has been received, that's not the end of it. Both internal and third party audits are routinely performed to ensure that business & management improvements are consistently being made. Meaning we are able to & shall provide top quality services now and for many years to come.
ISO9001 benefits - Operating under ISO9001 guidelines means that we are better able to provide you with:
Top quality products from reliable suppliers.
Superior customer satisfaction.
A company that is committed to complying with regulatory and legal requirements.
Fastest possible product shipping so you receive your goods ASAP.
Minimal errors so you receive exactly what you ordered.
A company that is completely committed to quality, the environment, and the health & safety of you and its employees.
Continually efforts to make improvements to the business and customer satisfaction.
Contact Us