https://www.mrsupplement.com.au/onest-supergreens?variation=14784
Onest Supergreens (345g / 30 Serves Apple)
Onest
Supplements > Health > Superfoods & Greens
https://cdn.mrsupplement.com.au/resources/imgs/products/onest-supergreens.1624923297440.png
http://schema.org/NewCondition
http://schema.org/OutOfStock
AUD
https://www.mrsupplement.com.au/onest-supergreens?variation=14784
79.95
AUD
https://www.mrsupplement.com.au/onest-supergreens?variation=14782
Onest Supergreens (345g / 30 Serves Chocolate)
Onest
Supplements > Health > Superfoods & Greens
https://cdn.mrsupplement.com.au/resources/imgs/products/onest-supergreens.1624923297440.png
http://schema.org/NewCondition
http://schema.org/InStock
AUD
https://www.mrsupplement.com.au/onest-supergreens?variation=14782
79.95
AUD
https://www.mrsupplement.com.au/onest-supergreens?variation=14783
Onest Supergreens (345g / 30 Serves Mango)
Onest
Supplements > Health > Superfoods & Greens
https://cdn.mrsupplement.com.au/resources/imgs/products/onest-supergreens.1624923297440.png
http://schema.org/NewCondition
http://schema.org/OutOfStock
AUD
https://www.mrsupplement.com.au/onest-supergreens?variation=14783
79.95
AUD

Supergreens
Super Greens Formula
Detoxify the Body
Full of Cruciferous Vegetables
Ingredients Are in Their Whole-Food Form
Support Immune System
In Stock

(0)
Write a review
Product
Q&A's
Reviews
Add To Cart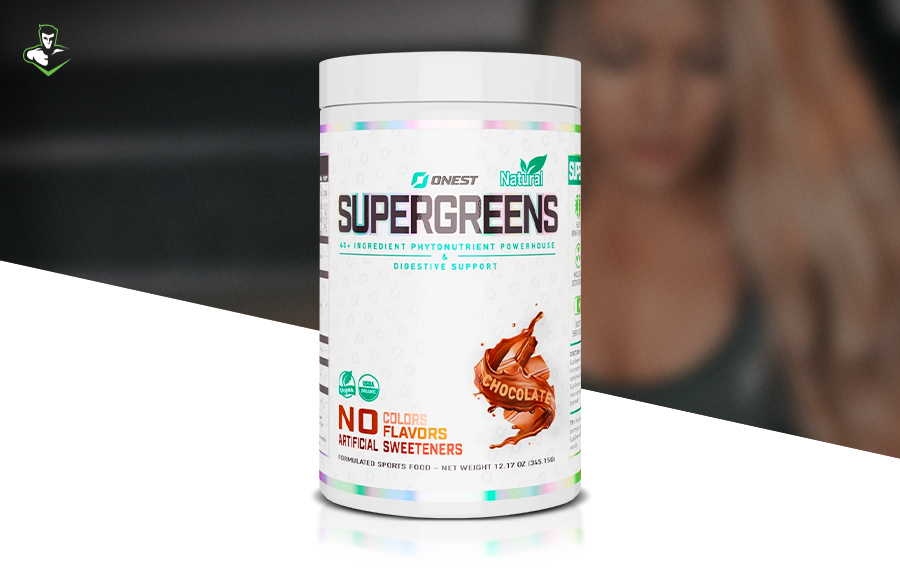 Let's face it.
Modern life is pretty toxic. Polluted air, water contaminated with heavy metals, and flame retardants in our clothes… All of it puts a huge burden on our body. And now, more than ever, do we need to support our body's innate ability to detoxify.
Super Greens is rich in hundreds of compounds our body requires to properly detoxify. Ingredients you likely don't get enough in your diet. Cruciferous vegetables like kale, broccoli, and cabbage ramp up liver detoxification, helping to clear harmful chemicals out of the body. Colourful fruits and veggies like pomegranate, blueberry, matcha green tea, and tomatoes, activate transcription factors that tell your body to activate its detoxification and antioxidant defences.
And because the ingredients in Super Greens are in their whole-food form, you reap all of the synergistic benefits that come from consuming phytochemicals the way nature intended.
Q&A's
Ask a question about
Onest Supergreens
Can supergreens help better my stomach health?




Supergreens by Onest contains probiotics and digestive enzymes which have been shown to improve overall digestive health.

Can I take supergreens with on an empty stomach?




Yes, as a matter of fact, supergreens is best taken upon waking in the morning.

What are the suggested serving size and frequency for taking Onest Supergreens?




The suggested serving size for Onest Supergreens is one scoop (included) mixed with water or your preferred beverage, taken one to two times a day. It is recommended to follow the manufacturer's instructions for best results.

Is Supergreens a vegan friendly product?




Supergreens by Onest does not contain any animal products and is therefore a vegan friendly product.

What ingredients are included in Onest Supergreens and what are their benefits?




Onest Supergreens contains a blend of over 40 ingredients including various greens, fruits, and vegetables, along with probiotics and digestive enzymes. The ingredients are intended to provide a range of nutrients, vitamins, and minerals that support overall health and wellness.
Reviews


Based on reviews collected by
&
Write a review

Contact Us