https://www.mrsupplement.com.au/onest-bcaas?variation=15912
Onest BCAAs (400g / 40 Serves Strawberry Kiwi)
Onest
Supplements > Amino Acids > Amino Acid Blends
https://cdn.mrsupplement.com.au/resources/imgs/products/onest-bcaas.1681360515994.png
http://schema.org/NewCondition
http://schema.org/InStock
AUD
https://www.mrsupplement.com.au/onest-bcaas?variation=15912
49.95
AUD

BCAAs
Performance + Recovery + Hydration
Improve Recovery Time
Complete Hydration Profile
Reduce Post-Workout Pain
Build & Maintain Muscle
In Stock

(0)
Write a review
Product
Q&A's
Reviews
Add To Cart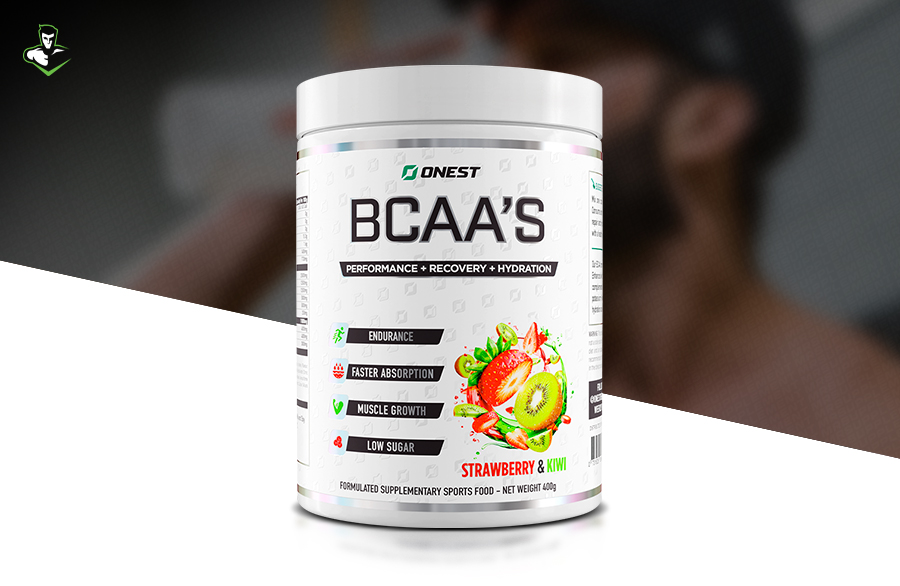 Ready to up the intensity and perform at your peak? BCAAs floods your system with the essential amino acids your body needs to power through intense workouts, increase explosive power, and enhance strength and endurance.
With 5000 mg of BCAAs in one scoop, along with added synergistic ingredients Betaine Anhydrous, Glycerol and AstraGin®, BCAAs fuels your muscles with personal best smashing energy and hydration!
Recover Like A Pro
With BCAAs, the days of tight and painful muscles after a demanding workout are gone.
L-Leucine, L-Isoleucine and L-Valine in the optimal ratio (2:1:1) combine with Betaine Anhydrous to speed up muscle synthesis. AstraGin® for enhancing nutrient bioavailability (key for muscle repair). Magnesium Bisglycinate to reduce cramps and soreness. And Glycerol Powder for improving hydration and nutrient delivery to the muscles.
You won't find a more well-rounded BCAAs supplement on the market!
Hydrate & Maintain Muscle Gains
There's nothing worse than having your gains eaten away with a low-calorie diet. Not with BCAAs! These essential amino acids with hydration boosters deliver the optimal fuel to maintain (and even build) muscle while cutting fat.
Packed with the most complete electrolyte profile of any BCAAs we've seen, our formulation keeps hydration to the max thanks to added Glycerol Powder, Potassium Citrate and Himalayan Pink Salt. This means you'll fuel your muscles, perform your best, and back it up every time with BCAAs.
Q&A's
Ask a question about
Onest BCAAs
Reviews


Based on reviews collected by
&
Write a review

Contact Us