Nutrex Outlift Review
From the makers of the highly popular fat burner, Lipo 6 Black, Nutrex have recently released a pre workout that stands heads and shoulders above the rest. Following the footsteps of revolutionary supplement guru, Jim Stoppani's Pre Jym, Nutrex Outlift is a clinically dosed pre workout with nothing to hide.

Nutrex Outlift Highlights
Quality research backed ingredients at the best doses
One of the most effective pre workouts on the market
Well rounded package to assist with energy, performance, pump, and focus
Nutrex Outlift Ingredients
Outlift contains a total of 10 well researched ingredients, each of which are clinically dosed and transparently labelled. The serving size is formidable, at 25.9 g, yet with almost 23 g of active ingredients and very little filler.
The list of ingredients include:
Nutrex Outlift Effectiveness & Pros
Outlift has an extremely impressive list of ingredients. Not only are they are all very well research, but they are extremely well dosed. Compared to its closest competitor, Pre Jym, Outlift actually contains 2 g more citrulline. This makes Outlast one of, if not the highest dosed citrulline-including pre workout on the market. Nothing else comes close at all. Considering that citrulline has been shown to improve strength, and muscle pumps after the first dose, this is definitely good news.
Nutrex have also not skimped on the quality of ingredients used. The beta alanine and creatine are not only well-dosed, but they are also Carnosyn and Creapure branded, respectively. These are arguably the two best and purest brands of these two ingredients, making them the brand of choice for scientific research.
Thanks to all the excellent ingredients, the effects of Outlift are epic. The first sensation is from the characteristic tingling of the beta alanine, followed shortly by a smooth ramp up of energy from the generous dose of caffeine. This reviewer found that training with Outlift was easier than usual, being able to squeeze out a few extra reps, all while muscle pumps where more than ample. Focus also seemed to last for hours, way past the duration of the workout. Overall, Outlift is a fantastically well-balanced pre workout that does it all.
Another benefit for Outlift is that because beta alanine and creatine is so well dosed, you do not actually need any additional beta alanine or creatine for the days that you use the product. Simply take these two ingredients on nontraining days.
Nutrex Outlift Cons & Negatives
Outlast is extremely hard to fault. Its formulation is as near perfect as it can be. The only issue is that some individuals may have an aversion towards taking a pre workout that comes in such a large scoop. However, the fact of the matter is, to be effective, you do need every gram of the product.
For those who are caffeine sensitive, Outlift may be a bit much. The 350 mg may be enough to cause some side effects such as dizziness and elevated heart beat. We do not recommend taking Outlift remotely close to bed time.
Even though Outlift comes in a 518 g tub, it actually only contains 20 serves. Some may also find that this is a tad on the lower side, considering that most pre workouts contain around 30 serves.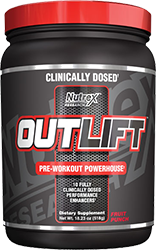 Nutrex Outlift Taste & Mixability
With ingredients and doses like those featured in Outlift, it should not be expected for Outlift to taste and mix absolutely wonderfully. Afterall, it only contains around 10% flavouring ingredients. However, its flavour is satisfactory, though it is only available in the two traditional pre workout flavours of fruit punch and blue raspberry. Outlift has a unique flavour profile in that the aftertaste is largely from the active ingredients, and not from the flavouring or sweeteners. We must confess that mixing is not Outlift's strong point. There is a substantial amount of frothing, which does linger for a while, most likely from the BCAAs. There is also a small but noticeable amount of graininess from undissolved creatine monohydrate.
Nutrex Outlift Verdict
Nutrex Outlift is one of the best pre workouts on the market. Not because it tastes great or has the best marketing. Instead, it relies on genuinely proven ingredients and transparent dosing. Outlift's formulation is commendable and we hope more manufactures follow in this trend when developing pre workouts. In short, this pre workout comes highly recommended.