https://www.mrsupplement.com.au/musashi-wpi-protein-water?variation=16438
Musashi WPI Protein Water (900g / 36 Serves Tropical)
Musashi
Supplements > Protein Powders > Whey Isolate (WPI)
https://cdn.mrsupplement.com.au/resources/imgs/products/musashi-wpi-protein-water.1699332098780.png
http://schema.org/NewCondition
http://schema.org/InStock
AUD
https://www.mrsupplement.com.au/musashi-wpi-protein-water?variation=16438
69.95
AUD
https://www.mrsupplement.com.au/musashi-wpi-protein-water?variation=16437
Musashi WPI Protein Water (900g / 36 Serves Watermelon)
Musashi
Supplements > Protein Powders > Whey Isolate (WPI)
https://cdn.mrsupplement.com.au/resources/imgs/products/musashi-wpi-protein-water.1699332098780.png
http://schema.org/NewCondition
http://schema.org/InStock
AUD
https://www.mrsupplement.com.au/musashi-wpi-protein-water?variation=16437
69.95
AUD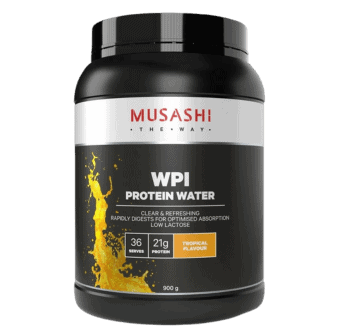 WPI Protein Water
WPI Protein Water
Crafted for Quality & Purity
Low Lactose Formula
Rapid Digesting Protein
Robust Supply of Amino Acids
In Stock

(0)
Write a review
Product
Q&A's
Reviews
Add To Cart
MUSASHI WHEY PROTEIN ISOLATE "WPI" PROTEIN WATER: Superior Protein for Growth and Repair
Clear & Refreshing
Low Lactose
Optimized Absorption
Musashi's WPI Protein Water offers a pinnacle of protein quality, tailored for exceptional muscle growth and recovery support.
The Science Behind It
Crafted for Clarity and Purity
With Low Lactose Formula
Featuring a rapidly digesting protein for utmost absorption efficiency
Musashi WPI Protein Water ensures you receive an ultra-premium protein experience. It administers a robust supply of vital amino acids, swiftly assimilated to bolster muscle growth and repair.
How to Use It
How
Combine 25g (equivalent to 3/4 levelled scoop) with 350mL of cold water, either in a cup or Musashi shaker. Stir until fully dissolved. Consume promptly.
When
Pre & Post-Training: Administer 60-90 minutes before engaging in exercise or within the first half-hour after sport or resistance training.
On a Daily Basis
Employ it as a revitalizing protein boost throughout the day, even on non-training days. Recommended Daily Intake: You can enjoy up to 3 servings within a day.
Q&A's
Ask a question about
Musashi WPI Protein Water
Reviews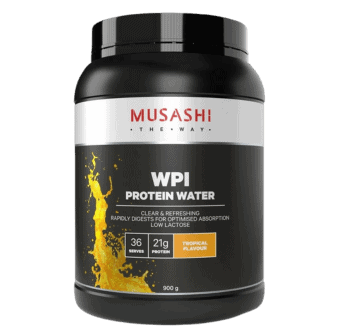 Based on reviews collected by
&
Write a review

Contact Us