Max's SuperShred Bars Review
Australian protein specialists Max's have recently been on a roll with their new range of protein snacks. Max's SuperShred Bars are the latest to join the Max's ranks and are a replacement for the Max's Cut Carb Bars. Boasting some impressive stats and features, these bars are definitely worthy of a closer look.
Max's SuperShred Bars Highlights
High protein, low carb, low fat bar
Added fat loss ingredients
Delicious taste
Max's SuperShred Bars Ingredients
The protein complex of SuperShred is made up of a comprehensive blend of whey protein isolate, soy protein isolate, whey protein concentrate, and calcium caseinate. In addition, there is also the Phaseolamin carb blocker, the fat burning green coffee extract, and the fat metabolising L-carnitine. Of course there is a solid amount of flavouring ingredients, which is a must have for a tasty bar.
Each 60 g bar contains a solid 22.1 g protein, only 5.3 g carbs, and 5.2 g fat, and 1.7 g fibre.
Max's SuperShred Bars Effectiveness & Pros
SuperShred is designed to be a weight control aid to assist with the cutting phase. It's high protein content from a blend of different sources help provide a sustained release of amino acid to preserve muscle mass, while also assisting with satiety. Its added fat loss ingredients are also incredibly well known and researched to provide well-rounded support to fat loss.
The macronutrients SuperShred provides are directly in-line with any weight loss diet. Being low in both carbs and fat makes it an ideal, guilt-free meal/snack replacement, or even as a post workout protein boost.
Max's have once again been excellent with their transparent labelling. It is easy to see exactly how much of each fat loss ingredient has been added to the bar. This is a welcomed feature of the product and gives consumers confidence in what they are receiving.
All the above means that when used in conjunction with a fat loss program, SuperShred Bars are a great alternative to the regular fat loss proteins.
Max's SuperShred Bars Cons & Negatives
SuperShred Bars are a great addition together with a purpose made fat burner. Although it contains some fat loss ingredients, its dosage is not high enough to act as potently as a stand-alone fat burner.
SuperShred Bars, much like other protein bars, SuperShred Bars are significantly more expensive than their equivalent protein powders. Compared to Max's SuperShred powder, which contains higher levels of active ingredients, the bars do certainly carry a price premium.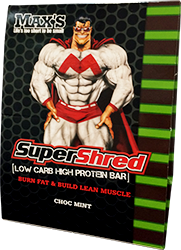 Max's SuperShred Bars Taste & Texture
Max's have always excelled with manufacturing protein bars and cookies well above industry standards when it comes to taste. SuperShred Bars are no different, and taste absolutely fantastic. If you have a sweets craving, these will definitely be a guilt-free way to help curb these cravings.
SuperShred Bars are a good balance between chewie and crumbly, without being too chewie or chalky. SuperShred Bars are easy to eat and would make you look forward to chomping one down.
Max's SuperShred Bars Verdict
Max's SuperShred Bars are a perfect snack for when you are cutting or losing weight. Containing an outstanding macronutrients profile as well as added fat burners, SuperShred Bars are a tasty alternative to the typical weight loss protein. Although they may work out to be more expensive per serve, they are a delicious supplement to support your weight loss goals.