https://www.mrsupplement.com.au/macro-mike-powdered-almond-butter?variation=15001
Macro Mike Powdered Almond Butter (180g / 15 Serve Banana Spilt)
Macro Mike
Supplements > Protein Powders > Bars & Snacks
https://cdn.mrsupplement.com.au/resources/imgs/products/macro-mike-powdered-almond-butter.1591664086483.png
http://schema.org/NewCondition
http://schema.org/OutOfStock
AUD
https://www.mrsupplement.com.au/macro-mike-powdered-almond-butter?variation=15001
19.95
AUD
https://www.mrsupplement.com.au/macro-mike-powdered-almond-butter?variation=13712
Macro Mike Powdered Almond Butter (180g / 15 Serve Chocolate Biscuit)
Macro Mike
Supplements > Protein Powders > Bars & Snacks
https://cdn.mrsupplement.com.au/resources/imgs/products/macro-mike-powdered-almond-butter.1591664086483.png
http://schema.org/NewCondition
http://schema.org/OutOfStock
AUD
https://www.mrsupplement.com.au/macro-mike-powdered-almond-butter?variation=13712
19.95
AUD
https://www.mrsupplement.com.au/macro-mike-powdered-almond-butter?variation=15002
Macro Mike Powdered Almond Butter (180g / 15 Serve HoneyComb)
Macro Mike
Supplements > Protein Powders > Bars & Snacks
https://cdn.mrsupplement.com.au/resources/imgs/products/macro-mike-powdered-almond-butter.1591664086483.png
http://schema.org/NewCondition
http://schema.org/OutOfStock
AUD
https://www.mrsupplement.com.au/macro-mike-powdered-almond-butter?variation=15002
19.95
AUD
https://www.mrsupplement.com.au/macro-mike-powdered-almond-butter?variation=13709
Macro Mike Powdered Almond Butter (180g / 15 Serves Original)
Macro Mike
Supplements > Protein Powders > Bars & Snacks
https://cdn.mrsupplement.com.au/resources/imgs/products/macro-mike-powdered-almond-butter.1591664086483.png
http://schema.org/NewCondition
http://schema.org/OutOfStock
AUD
https://www.mrsupplement.com.au/macro-mike-powdered-almond-butter?variation=13709
19.95
AUD
https://www.mrsupplement.com.au/macro-mike-powdered-almond-butter?variation=13710
Macro Mike Powdered Almond Butter (180g / 15 Serves Salted Caramel)
Macro Mike
Supplements > Protein Powders > Bars & Snacks
https://cdn.mrsupplement.com.au/resources/imgs/products/macro-mike-powdered-almond-butter.1591664086483.png
http://schema.org/NewCondition
http://schema.org/OutOfStock
AUD
https://www.mrsupplement.com.au/macro-mike-powdered-almond-butter?variation=13710
19.95
AUD
https://www.mrsupplement.com.au/macro-mike-powdered-almond-butter?variation=13711
Macro Mike Powdered Almond Butter (180g / 15 Serves Strawberry Shortcake)
Macro Mike
Supplements > Protein Powders > Bars & Snacks
https://cdn.mrsupplement.com.au/resources/imgs/products/macro-mike-powdered-almond-butter.1591664086483.png
http://schema.org/NewCondition
http://schema.org/OutOfStock
AUD
https://www.mrsupplement.com.au/macro-mike-powdered-almond-butter?variation=13711
19.95
AUD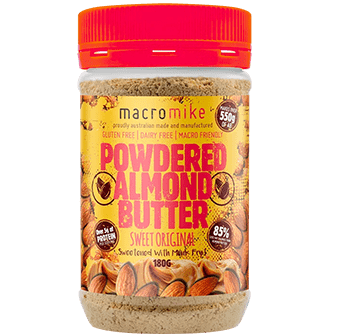 Powdered Almond Butter
Almond Butter with 85% Less Fat
High 5g of Protein Per Serve
Low Fat
Naturally Sweetened
Great Tasting & Easy to Spread

(0)
Write a review
Product
Q&A's
Reviews
Add To Cart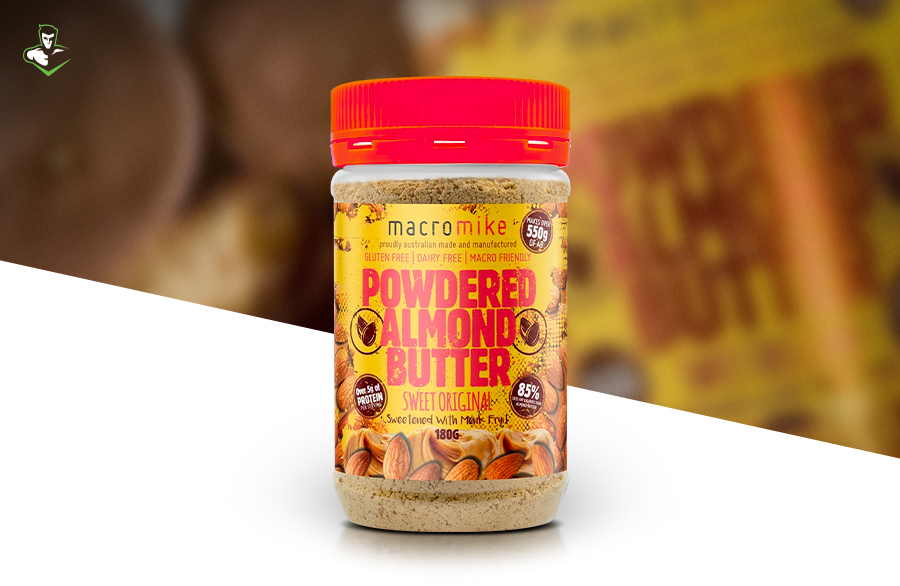 Why Powdered Almond Butter you ask? Think of it as a much more concentrated lower fat, lower calorie, higher protein and higher fibre version of your favourite nut butter spread. Each 180g jar makes over 550g of Almond Butter when mixed with water or plant milk so it's super good value too. YUM!
Almond lovers this one's for you! Almond Butter is changing the powdered nut butter game! It is high in protein, low in fat and comes in a range of irresistible flavours. Made with our revolutionary almond protein, this silky smooth spread is full of fibre, magnesium, vitamin E, calcium and iron and packs a nutritional punch. Plus, it is naturally sweetened with monk fruit which contains no carbs, no calories, does not raise blood sugar levels and is gut friendly too!
If you love a smooth and slightly sweet almond butter, our Sweet Original Powdered Almond Butter is the perfect addition to your pantry and all your favourite Macro Mike goodies. Add it to protein shakes, smoothie bowls and granola, drizzle it over pancakes, waffles and brownies, or simply eat it by the spoonful.
Q&A's
Ask a question about
Macro Mike Powdered Almond Butter
Reviews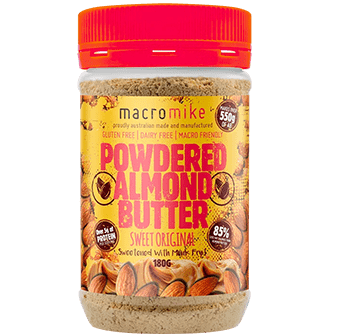 Based on reviews collected by
&
Write a review

Contact Us