Jym Alpha Jym
Quick Summary Points
Jym Alpha Jym is a transparently dosed capsule supplement to support natural testosterone production
Features efficacious dosages of natural testosterone boosting ingredients like Fenugreek
Designed for individuals who feel that their testosterone levels have dropped or looking to improve body strength & composition
Alpha Jym is best taken each day as directed – two servings of three capsules per day
Jym Alpha Jym Review
Jym Supplement Science is one of the most popular brands on the market. As a supplement brand that puts science and results before profits, Jim Stoppani's supplements are transparently dosed with ingredients that are well researched and at doses actually used in the studies. With a range of supplements already in the works, the company's next supplement will be a testosterone support supplement which will be called Alpha Jym.
Jym Alpha Jym Highlights
Six active ingredients to support natural testosterone production
Fully dosed ingredients
Balance estrogen production
Natural & safe plant-based ingredients
Jym Alpha Jym Ingredients & Dosage
Jym Alpha Jym is a transparently dosed capsule supplement which contains 6 key active ingredients including: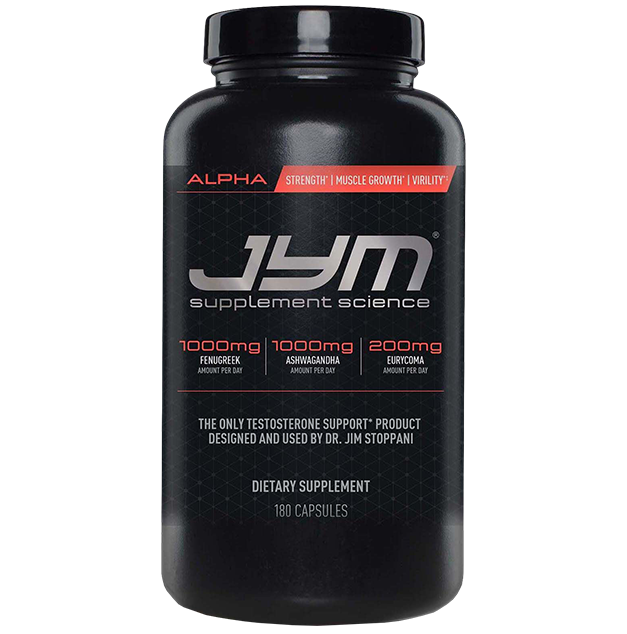 Fenugreek Seed Extract (50% Saponins) – 500mg
Damiana (Leaf) – 500mg
Diindolylmethane (DIM) – 250mg
Ashwagandha Root Extract 5:1 – 500mg
Eurycoma Longifolia Root Extract 100:1 – 100mg
Quercetin – 250mg
Jym's Alpha Jym is a good collection of testosterone support and anti-estrogen ingredients which will support testosterone levels in five different ways from its production all the way to its excretion. All six active ingredients have plenty of research supporting its effects and it definitely looks as though Alpha Jym will be another sell out supplement for Jim Stoppani.
Jym Alpha Jym Benefits, Pros & Effectiveness
In order to directly stimulate testosterone production, Alpha Jym contains a range of natural plant-based ingredients including Fenugreek, Ashwagandha root and Eurycoma Longifolia root extract. Each ingredient helps to support natural testosterone production that can help users improve free-testosterone levels, body strength and body composition. Alpha Jym consists of mostly herbal ingredients that have been clinically tested based on published scientific studies, as overseen by Dr Jim Stoppani.
It has been reported that bodybuilders who have taken Alpha Jym as directed reported an increase in strength, energy and stamina, with a correlated increase in muscle mass and fat loss. The effects of this supplement are especially profound for users who are over 40 years of age, although younger men also reported positive results from the testosterone boosters in the formula.1
Alpha Jym is also easy to use and can be combined with other supplements without the fear of relative contraindication. It can be used by any adult, regardless of current fitness level, exercise routine or can be used alone. Although this supplement was originally designed for bodybuilders and athletes with similar hormonal needs, its testosterone boosters are efficacious for users even if they are not exercising.
Jym Alpha Jym Side Effects
Jym Alpha Jym should ideally be taken with a meal, which will prevent stomach upset and optimise the supplement's effects.
Jym Alpha Jym Taste, Flavour & Mixability

Jym Alpha Jym is available in capsules only. Each bottle contains 180 capsules which is equivalent to 60 servings.
Jym Alpha Jym Verdict
Jym Alpha Jym is a transparent and efficaciously dosed testosterone supplement that can help your body produce the maximum amount of natural testosterone. It is designed especially for individuals who feel that their testosterone levels have dropped or looking to improve body strength and composition.
References
Shilpa Bharti, M M Misro, Umesh Rai Quercetin supplementation restores testicular function and augments germ cell survival in the estrogenized rats. Molecular and Cellular Endocrinology 12/2013
Rajoria S1, Suriano R, Parmar PS, Wilson YL, 3,3′-diindolylmethane modulates estrogen metabolism in patients with thyroid proliferative disease: a pilot study. Thyroid. 2011 Mar;21(3):299-304. doi: 10.1089/thy.2010.0245. Epub 2011 Jan 22.
Ambiye VR, Langade D, Dongre S, et. al., Clinical Evaluation of the Spermatogenic Activity of the Root Extract of Ashwagandha (Withania somnifera) in Oligospermic Males: A Pilot Study Evid Based Complement Alternat Med. 2013;2013:571420. doi: 10.1155/2013/571420. Epub 2013 Nov 28.