Jym Alpha Jym Facts
Jym Supplement Science may only be less than a year old, but it's already becoming one of the most popular brands on the market. As a supplement brand that puts science and results before profits, Jim Stoppani's supplements are transparently dosed with ingredients that are well researched and at doses actually used in the studies. With 5 supplements already in the works, the company's latest supplement will be a testosterone support supplement which will be called Alpha Jym.
Jym Alpha Jym Review & Ingredients
The new Alpha Jym from Jym Supplement Science is another transparently dosed capsule supplement which contains 6 key active ingredients including: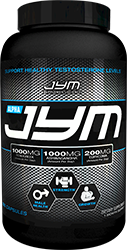 Fenugreek Seed Extract (50% Saponins) – 500mg
Damiana (Leaf) – 500mg
Diindolylmethane (DIM) – 250mg
Ashwagandha Root Extract 5:1 – 500mg
Eurycoma Longifolia Root Extract 100:1 – 100mg
Quercetin – 250mg
Jym's Alpha Jym is a good collection of testosterone support and anti-estrogen ingredients which will support testosterone levels in five different ways from its production all the way to its excretion. All 6 active ingredients have plenty of research supporting its effects and it definitely looks as though Alpha Jym will be another sell out supplement for Jim Stoppani.
Jym Alpha Jym Release Date
Jym Alpha Jym will be available for sale in the United States market by the end of August 2014 and should hopefully make its way around the world before the end of the year.