GAT Nitraflex Review
GAT (German-American-Technologies) is a company that is known for making premium hardcore supplements for athletes to boost muscle strength and to build massive gains. GAT Nitraflex is an intense pre-workout from GAT designed with cross-functional properties. Below we will give you a proper run down on how this product lines up.
GAT Nitraflex Highlights
Creatine free, which will minimise water retention and bloating
Contains Calcium Fructoborate (CFB) which is designed to elevate muscle pump and raise levels of testosterone in men
Contains a high concentration of Citrulline providing great pump, which delivers better blood flow to the muscles
Filled with potent ingredients like Beta Alanine and Arginine which enhances muscle endurance and delivers nutrients for growth and building lean muscle
Good source of energy (Caffeine - 325mg)
GAT Nitraflex Ingredients and Dosage
Nitraflex's ingredient profile is mainly comprised of proprietary blends. Nitraflex's Propieceutical Blend contains a 7240mg mix of 3 complexes.
Vasoactive Arginase-Regulating No Precursor Complex
Citrulline, Citrulline Malate, Resveratrol, Amino Acids, Arginine and Pterostilbene – Well known compounds such as Citrulline will increase the "pump" enabling the enhancement of blood flow to muscles. By supporting the increase in blood flow, these ingredients help drive oxygen and nutrients for better performance. Resveratrol and Arginine are other crucial compounds that will boost nitric oxide levels and blood flow to the muscles.
Acute Energy, Focus, Intensity, Neuromodulating, Endurance Complex
Carnosyn™ (Beta Alanine 1500mg), Caffeine (325mg), Glycine, Theanine - This complex contains beta alanine which is a carnosine synthesiser to enhance muscle endurance. A combination of theanine and caffeine can have a synergistic action in promoting cognition and focus. This makes these ingredients ideal for providing great intensity and focus for your workout.
Clinically-Studied Testosterone-Enhancing Complex
Calcium Fructoborate (CFB) - is a specially formulated compound that is added into Nitraflex to support free testosterone levels which can allow better muscle growth.
The remaining ingredients that are left include flavouring agents and sweeteners.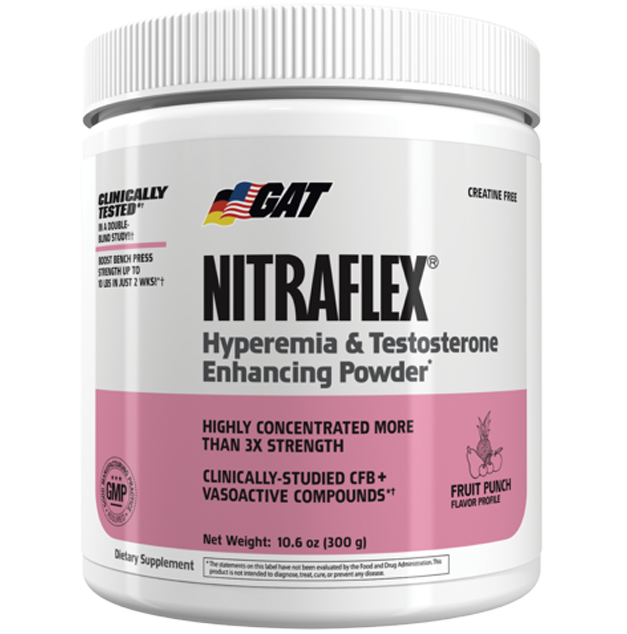 GAT Nitraflex Benefits, Pros & Effectiveness
Nitraflex's main highlight is its ability to boost energy and pump. This is thanks to the high dose of caffeine (325mg), which is on the greater end of the spectrum as well the range of blood flow boosting nitric oxide enhancers such as citrulline and arginine.
Nitraflex is one of the few pre workouts that utilise a testosterone-enhancing complex. This makes the compound Calcium Fructoborate (CFB) fairly important as having "free testosterone" can affect muscle growth and fat loss. Extra testosterone is a key factor in driving muscle growth and fat loss especially for those who are hitting a plateau or advanced trainers who are looking for higher intensities in their workouts.
In terms of endurance, Nitraflex offers a decent boost thanks to a good dose of beta alanine (1500mg). Anyone training under 90 minutes will find this sufficient. Alternatively, if you are looking to train more than 90 minutes you can increase your serve between 1/4-1/2 serve. Another benefit of Nitraflex is that it is creatine free. As creatine may cause water retention, Nitraflex is an asset for those who are in the shredding or cutting phase looking to maintain lean muscle mass.
GAT Nitraflex Negatives & Cons
The negatives and cons of Nitraflex lies in the labelling of the package as it does not indicate the exact amounts of each ingredient. This makes it very difficult for consumers to distinguish if it will be effective or not. The high amounts of caffeine can be overwhelming for those who are not after a high stimulant product.
GAT Nitraflex Flavours, Taste & Mixability
Nitraflex stocks a well-rounded flavour selection, allowing customers to have plenty of choice. There are a variety of flavours with the popular ones being black cherry, pineapple and green apple. These flavours have a nice balance between sweet and sour. Other flavours, however lean towards the sour end. Nitraflex has great mixability and dissolves well in water leaving little residue.
GAT Nitraflex Verdict
Overall, Nitraflex is a fast acting pre-workout formulation that give users the ability and motivation to build and strengthen their bodies. Packed with potent ingredients it is the ideal product put together to maximise energy, increase testosterone levels, improve your stamina and reduce the feeling of fatigue. As Nitraflex's ingredient profile has a high amount of caffeine, it is highly recommended for advanced trainers than beginners. Despite the complicated labelling, the product's formula is ideal for anyone who is looking to break out of a plateau or increase their training volume.