https://www.mrsupplement.com.au/gat-carbotein?variation=11031
GAT Carbotein (1.7kg / 50 Serves Grape)
GAT Carbotein is a high performance carbohydrate supplement to support rapid post-workout glycogen replenishment. When you exercise, especially in high intensity, explosive settings such as weight lifting or interval training, your body is using up fuel in the form of glycogen. 
GAT
Supplements > Protein Powders > Carbohydrates
https://cdn.mrsupplement.com.au/resources/imgs/products/gat-carbotein.1473034850276.png
http://schema.org/NewCondition
http://schema.org/OutOfStock
AUD
https://www.mrsupplement.com.au/gat-carbotein?variation=11031
59.95
AUD
https://www.mrsupplement.com.au/gat-carbotein?variation=12770
GAT Carbotein (1.7kg / 50 Serves Orange)
GAT Carbotein is a high performance carbohydrate supplement to support rapid post-workout glycogen replenishment. When you exercise, especially in high intensity, explosive settings such as weight lifting or interval training, your body is using up fuel in the form of glycogen. 
GAT
Supplements > Protein Powders > Carbohydrates
https://cdn.mrsupplement.com.au/resources/imgs/products/gat-carbotein.1473034850276.png
http://schema.org/NewCondition
http://schema.org/OutOfStock
AUD
https://www.mrsupplement.com.au/gat-carbotein?variation=12770
59.95
AUD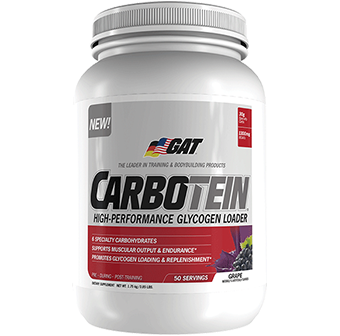 Carbotein
High Performance Carbohydrate Fuel & Glycogen Loader
30g Fast Acting Carbohydrates per Serve
Rapid Post Workout Glycogen Replenishment
Extend Endurance & Extend Muscle Growth
Restore Hydration & Maximize Recovery

(1)
Write a review
Product
Q&A's
Reviews
Add To Cart
GAT Carbotein is a high performance carbohydrate supplement to support rapid post-workout glycogen replenishment. When you exercise, especially in high intensity, explosive settings such as weight lifting or interval training, your body is using up fuel in the form of glycogen. Replenishing it quickly is the key to hitting the gym with the same levels of intensity as before. The best way to do this is with fast acting carbohydrates that not only digest quickly, but are quickly absorbed and carried by the bloodstream to your muscles.
Carbotein combines the power of six different types of carbohydrates for swift glycogen replenishment, but can also be used to extend endurance when taken before or during your training sessions. The formula also provides a hit of branched chain amino acids (BCAAs) to help support muscle building and recovery as well as electrolytes to help you restore hydration. Carbotein is to performance and endurance what protein is to muscles and recovery. If you want to blast each and every training session, then you want to make sure GAT's Carbotein is part of your stack.
Q&A's
Ask a question about
GAT Carbotein
Would this supplement be used pre training?




GAT Carbotein may be used pre, intra or post training;

Pre-Training: Fuel yourself to spare muscle glycogen (storage form of glucose) and prevent early fatigue, drink 1 serving 15-30 minutes pre-training.

During Training: To support glucose levels and sustain muscular output, drink 1/2 serving every 30 minutes. Endurance athletes competing in prolonged exercise should sip 1 serving in 8-10 oz. water for more energy and hydration.

Post-Training:For workouts lasting up to 90 minutes, consume 1/2-1 serving within 40 minutes post-training. Follow this with at least 20g of high-quality protein. For workouts lasting longer than 90 minutes, consume 1 serving post-training and another 1 serving 60 minutes later.
Reviews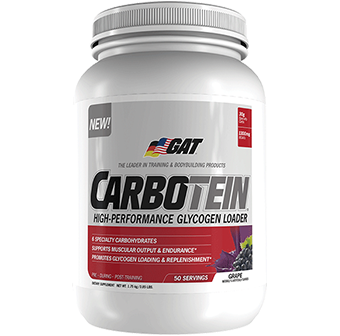 Excellent

Based on reviews collected by
&
Write a review

GAT Carbotein
GAT Carbotein
GAT Carbotein
1.7kg / 50 Serves Grape
Wow! That's all I can say about this supplement. Missed out on all my meals during the day because busy at work. Took Gat Carbotein with Nitraflex 30min before training. Got to the gym at 7pm trained legs & Man I trained like I had all my meals during the day. Love this supplement!
Collected via Trustpilot
Next Page
Contact Us