https://www.mrsupplement.com.au/evogen-amino-k-e-m-eaa?variation=16193
Evogen Amino K.E.M (490g / 30 Serves Blueberry Apple)
Evogen
Supplements > Amino Acids > Amino Acid Blends
https://cdn.mrsupplement.com.au/resources/imgs/products/evogen-amino-k-e-m-eaa.1690424568156.png
http://schema.org/NewCondition
http://schema.org/OutOfStock
AUD
https://www.mrsupplement.com.au/evogen-amino-k-e-m-eaa?variation=16193
89.95
AUD
https://www.mrsupplement.com.au/evogen-amino-k-e-m-eaa?variation=16195
Evogen Amino K.E.M (490g / 30 Serves Munch Punch)
Evogen
Supplements > Amino Acids > Amino Acid Blends
https://cdn.mrsupplement.com.au/resources/imgs/products/evogen-amino-k-e-m-eaa.1690424568156.png
http://schema.org/NewCondition
http://schema.org/OutOfStock
AUD
https://www.mrsupplement.com.au/evogen-amino-k-e-m-eaa?variation=16195
89.95
AUD
https://www.mrsupplement.com.au/evogen-amino-k-e-m-eaa?variation=16196
Evogen Amino K.E.M (490g / 30 Serves Sour Candy)
Evogen
Supplements > Amino Acids > Amino Acid Blends
https://cdn.mrsupplement.com.au/resources/imgs/products/evogen-amino-k-e-m-eaa.1690424568156.png
http://schema.org/NewCondition
http://schema.org/OutOfStock
AUD
https://www.mrsupplement.com.au/evogen-amino-k-e-m-eaa?variation=16196
89.95
AUD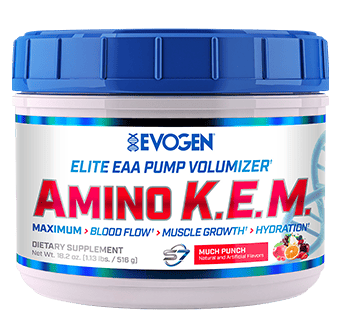 Amino K.E.M
Eline EAA Amino Recover & Hydration Blend
Advanced Amino Acid Matrix
Electrolyte & Hydration Matrix
Maximise Blood Flow
Enhance Endurance & Recovery
In Stock

(1)
Write a review
Product
Q&A's
Reviews
Add To Cart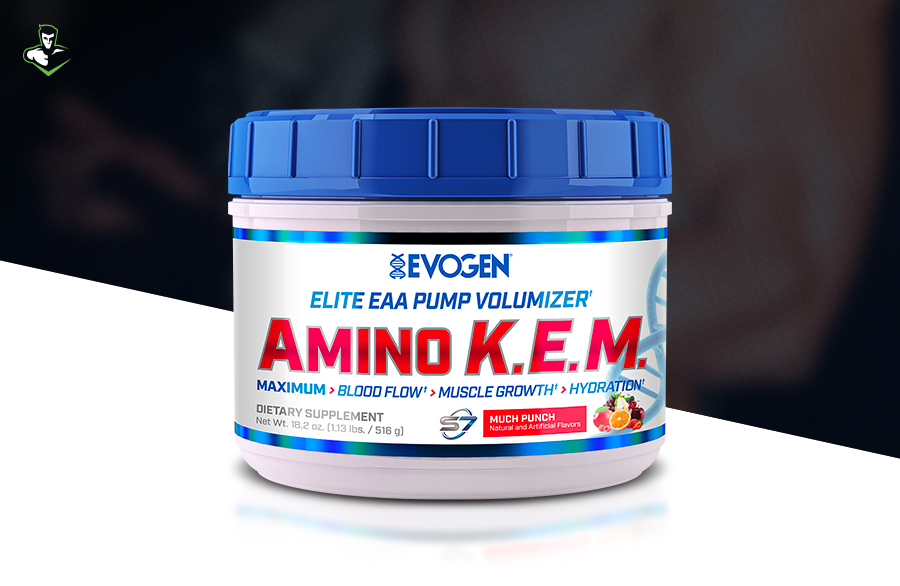 Welcome to the cutting-edge world of EvoGen Nutrition, now available at Mr Supplement – Australia's leading retailer of high-quality supplements. We are thrilled to present to you EvoGen's Amino KEM, the ultimate amino acid and hydration formula designed to take your workouts and recovery to unparalleled heights.
Fuel your body with the most advanced ingredients, carefully formulated to optimize muscle repair, enhance endurance, and keep you hydrated throughout your training. Get ready to dominate your fitness journey with EvoGen's Amino KEM, now available at Mr Supplement!
Product Features
Advanced Amino Acid Matrix
EvoGen's Amino KEM packs a powerful punch with a comprehensive blend of essential amino acids (EAAs) and branched-chain amino acids (BCAAs). These critical building blocks are vital for muscle repair, growth, and overall athletic performance, ensuring you stay in peak condition for every workout.
Electrolyte-Hydration Matrix
Hydration is key to unlocking your full potential. Amino KEM features a potent blend of electrolytes that support optimal hydration, helping to maintain fluid balance and prevent muscle cramps, allowing you to push through intense training sessions with ease.
Enhanced Endurance
Crush your fitness goals with EvoGen's Amino KEM. This revolutionary formula is designed to delay muscle fatigue and reduce the breakdown of muscle tissue during exercise, allowing you to train longer and harder, surpassing your previous limits.
Rapid Recovery
Maximize your gains with faster recovery times. Amino KEM's precise combination of amino acids supports muscle tissue repair, reducing soreness and helping you bounce back stronger after each workout, so you're ready to conquer your next challenge.
Delicious Flavors
EvoGen Nutrition believes that great taste is a must. Amino KEM comes in a variety of mouthwatering flavors, making every sip a treat for your taste buds, making hydration enjoyable and enticing.
Sugar-Free & Transparent Labeling
EvoGen takes pride in transparency. Amino KEM contains zero added sugars and is free from hidden proprietary blends. Each ingredient is clearly labeled, so you know exactly what you're putting into your body.
How to Use
Mix one scoop of Amino KEM with water or your favorite beverage, and shake well until fully dissolved. Consume during your workout or throughout the day to stay hydrated and fuel your muscles with essential amino acids.
Maximize Your Results
To maximize the benefits of Amino KEM, incorporate it into your daily fitness routine. Combine it with a balanced diet, proper rest, and a consistent training regimen for optimal performance and results.
Why Choose EvoGen Nutrition at Mr Supplement?
EvoGen Nutrition now available at Mr Supplement! As Australia's premier retailer of high-quality supplements, Mr Supplement is proud to offer you the cutting-edge innovations from EvoGen. Backed by science and developed by industry experts, EvoGen's Amino KEM is just one of the many top-tier supplements available by your perfect training partner to fuel your passion and push you to new heights of greatness.
Q&A's
Ask a question about
Evogen Amino K.E.M
Reviews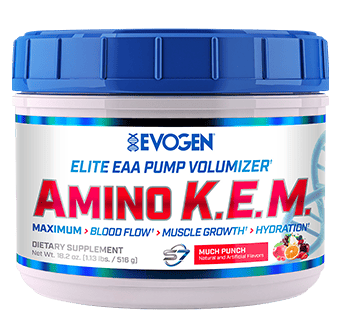 Excellent

Based on reviews collected by
&
Write a review

Evogen Amino K.E.M
Evogen Amino K.E.M
Evogen Amino K.E.M
490g / 30 Serves Blueberry Apple
Amazing product. Top quality ingredients that assists with great hydration and recovery. Highly recommended
Collected via Trustpilot
Next Page
Contact Us