https://www.mrsupplement.com.au/ehp-labs-oxygreens?variation=15406
EHP Labs OxyGreens (246g / 30 Serves Forrest Berries)
EHP Labs
Supplements > Health > Superfoods & Greens
https://cdn.mrsupplement.com.au/resources/imgs/products/ehp-labs-oxygreens.1648090022313.png
http://schema.org/NewCondition
http://schema.org/InStock
AUD
https://www.mrsupplement.com.au/ehp-labs-oxygreens?variation=15406
59.95
AUD
https://www.mrsupplement.com.au/ehp-labs-oxygreens?variation=15761
EHP Labs OxyGreens (246g / 30 Serves Guava Paradise)
EHP Labs
Supplements > Health > Superfoods & Greens
https://cdn.mrsupplement.com.au/resources/imgs/products/ehp-labs-oxygreens.1648090022313.png
http://schema.org/NewCondition
http://schema.org/InStock
AUD
https://www.mrsupplement.com.au/ehp-labs-oxygreens?variation=15761
59.95
AUD
https://www.mrsupplement.com.au/ehp-labs-oxygreens?variation=16014
EHP Labs OxyGreens (246g / 30 Serves Passionfruit)
EHP Labs
Supplements > Health > Superfoods & Greens
https://cdn.mrsupplement.com.au/resources/imgs/products/ehp-labs-oxygreens.1648090022313.png
http://schema.org/NewCondition
http://schema.org/InStock
AUD
https://www.mrsupplement.com.au/ehp-labs-oxygreens?variation=16014
59.95
AUD
https://www.mrsupplement.com.au/ehp-labs-oxygreens?variation=15405
EHP Labs OxyGreens (246g / 30 Serves Pineapple)
EHP Labs
Supplements > Health > Superfoods & Greens
https://cdn.mrsupplement.com.au/resources/imgs/products/ehp-labs-oxygreens.1648090022313.png
http://schema.org/NewCondition
http://schema.org/InStock
AUD
https://www.mrsupplement.com.au/ehp-labs-oxygreens?variation=15405
59.95
AUD
https://www.mrsupplement.com.au/ehp-labs-oxygreens?variation=15173
EHP Labs OxyGreens (246g / 30 Serves Strawberry Margarita)
EHP Labs
Supplements > Health > Superfoods & Greens
https://cdn.mrsupplement.com.au/resources/imgs/products/ehp-labs-oxygreens.1648090022313.png
http://schema.org/NewCondition
http://schema.org/InStock
AUD
https://www.mrsupplement.com.au/ehp-labs-oxygreens?variation=15173
59.95
AUD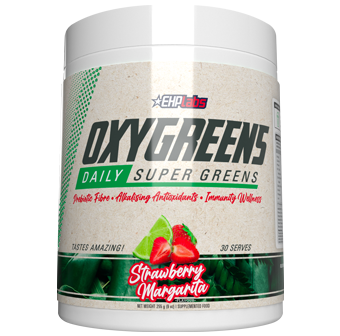 OxyGreens
Green Powder with a Difference
Promotes a Healthy Gut
Rich in Vitamins & Minerals
Help in Supporting the Immune System
Convenient Way to Get Your Greens
In Stock

(5)
Write a review
Product
Q&A's
Reviews
Add To Cart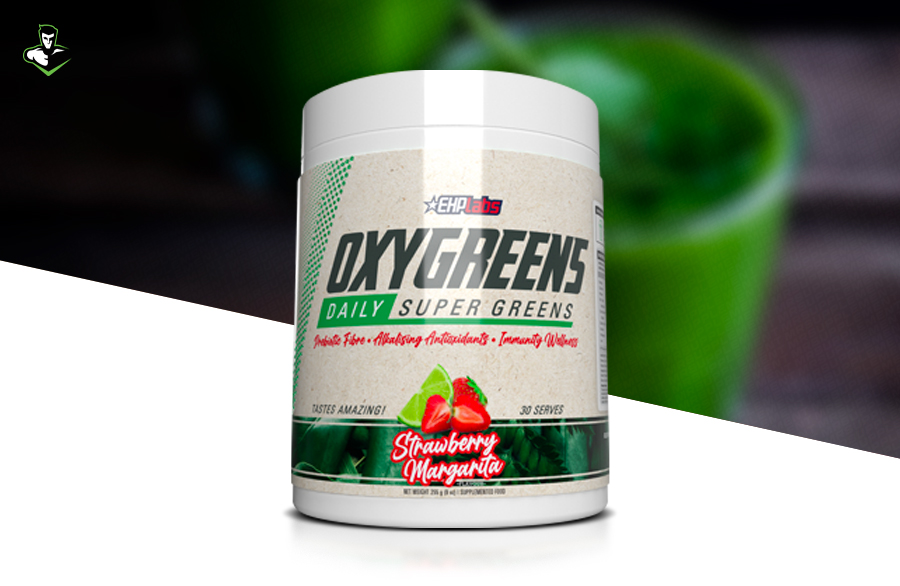 EHP Labs Oxygreens is the greens formula from one of the best-known brands in Australia. With Oxygreens it makes it easy and convenient to ensure your daily vegetable, green, vitamin & mineral macronutrients are met, supporting a well-balanced diet. With a great range of ingredients offering a multitude of health benefits, EHP Oxygreens is sure to impress, get yours don't delay.
Oxygreens Flavours
With a range of delicious Oxygreens flavours, there is one for every taste. Which is the best Oxygreens flavour for you? Easy, simply try them all.
Strawberry Margarita: Sweet but mild, this is a mix of fresh, juicy strawberries blended with the goodness of greens bringing you an unmatched fruity flavour fusion - with no grassy, bitter after-taste.
Forest Berries: Fruity and fresh, this is a unique blend of raspberries, strawberries and blueberries that come together with a fresh blend of greens to deliver a sweet and bold fruity flavour - with no grassy, bitter after-taste.
Pineapple: Hit the sweet spot with a tropical, fruity aromatic pineapple blended with fresh greens that will remind you of all the goodness of a freshly squeezed morning juice - with no grassy, bitter after-taste.
Oxygreens Review
For those that want to know more about EHP Labs Oxygreens please see even more information about this one of a kind supplement below, explaining what Oxygreens is, the benefits of Oxygreens and what makes it special:
Green Superfood Formula & Ingredients
The leading ingredients of our OxyGreens are Barley Grass, Broccoli, Kale, and Spinach. These powerful greens are rich in magnesium and vitamins A, K, E and C, which act as antioxidants and help support a healthy immune system. Antioxidants help the body remove unwanted toxins that can build up as a result of natural processes and environmental stressors we may experience in daily life. Additional greens we have added to our greens complex include Celery, Spirulina, Chlorella and Kelp, which are rich in vitamins, minerals, iron and chlorophyll (the stuff that makes leaves green) to help maintain a healthy immune system, healthy digestive function, and support overall wellbeing.
Alkalising Berries with Vitamin C
The alkalising forest berries include Blueberry, Acai, and Goji Berry. This complex is packed with antioxidants and vitamin C. These berries are well known for their immune-boosting qualities, anti-inflammatory properties, and skin-boosting effects.
Prebiotic Fibre
EHP Labs have carefully selected Chicory Root (Inulin), Green Kiwi Fruit, Green Banana, and Larch as our powerful prebiotic fibre complex for our OxyGreens. These superfoods help to nourish the good gut bacteria (microbiome) and promote an overall healthy digestive system. This will improve nutrient absorption in the gut lining, as well as promote bowel regularity and reduce stomach bloating. You will feel lighter and more energetic.
Every Day Convenient Health
Get your convenient daily dose of vegetables packed and filled with essential nutrients. Just add water to 1 scoop of OxyGreens to fulfil your daily requirement! It is to be mixed with water and can be consumed at any time of the day.
Q&A's
Ask a question about
EHP Labs OxyGreens
Can I take Oxygreen & Oxyglow together?




Yes. Taking Oxygreens & Oxyglow would make an ideal health supplement combination.

What are Oxygreens?




Oxygreens by EHP Labs is a combination of healthy green ingredients that are dried and processed into a powder. It is a convenient form of green ingredients that are easy to take on your health journey.

Is Oxygreens Organic?




Oxygreens by EHP Labs whilst containing many organic ingredients including Organic Wheat Grass, Organic Barley Grass, Organic Kale, Organic Spinach, Organic Acai, Organic Goji Fruit Extract & Organic Spirulina it is not 100% organic. There is a small amount of additives that are not organic.

What are the benefits of Oxygreens?




There are many potential benefits from taking Oxygreens in conjunction with a healthy diet and lifestyle. These include the support of overall health and wellness, the support of immune function, digestive health, beneficial anti-oxidant effects, may act as an anti-inflammatory, detoxification & may improve energy levels. We do note, Oxygreens whilst being an excellent health type supplement should not be used to replace fresh greens, fruits and vegetable obtained from a healthy diet.

Can I take Oxygreens with Oxyshred?




Yes. Oxygreens and Oxyshred may be taken as a synergistic supplement stack. For best results we recommend taking them at least one hour apart. On workout days Oxyshred may be taken prior to training as your pre-workout drink with Oxygreens taken immediately post-workout. Taking Oxygreens after your workout may reduce free radical damage plus minimize exercise induced stress.

When to take Oxygreens?




EHP Labs Oxygreens should be taken daily. It may be taken at any time of the day although optimal times may be immediately upon rising or last thing at night before retiring to sleep.

How should I take Oxygreens?




Oxygreens from EHP Labs should be taken with water. It is easy to mix simply by adding one scoop of Oxygreens (scoop supplied) to water and stir. You may also choose to use a shaker bottle.

Are there any negative side effects from Oxygreens?




No. Taken as directed by healthy adults there should be NO negative side effects from using EHP Labs Oxygreens.

Who is Oxygreens for?




Oxygreens is for almost anyone seeking to support or improve their overall health through the intake of quality nutrition. Men and women may equally benefit from Ehp Labs Oxygreens.
Reviews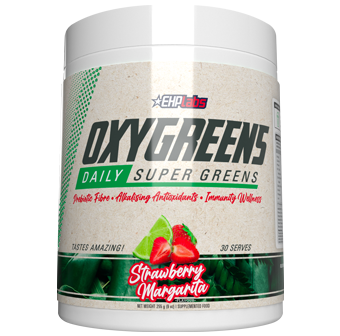 Great

Based on reviews collected by
&
Write a review

EHP Labs OxyGreens
EHP Labs OxyGreens
EHP Labs OxyGreens
246g / 30 Serves Strawberry Margarita
Really disappointed because the taste is horrible on this and makes It really hard to enjoy and commit to having it each morning.

I'm usually really good at forcing myself to like the taste of things but this definitely tastes like dirt and leaves a bad taste - I'm sure if I got a different flavour it wouldn't be as bad. Although I feel so good after having it in a sense through out the day I don't feel as bloated
Collected via Trustpilot
EHP Labs OxyGreens
EHP Labs OxyGreens
EHP Labs OxyGreens
246g / 30 Serves Strawberry Margarita
Great flavour and mixes well.
Collected via Trustpilot
EHP Labs OxyGreens
EHP Labs OxyGreens
EHP Labs OxyGreens
246g / 30 Serves Forrest Berries
Don't kid yourself, still has the cut grass taste but the Berrys do a lot of heavy lifting to over it and do a good job, removes the discomfort of drinking it.
EHP Labs OxyGreens
EHP Labs OxyGreens
EHP Labs OxyGreens
246g / 30 Serves Pineapple
Finally a greens supplement that doesn't smell and taste like lawn clippings!
Collected via Trustpilot
EHP Labs OxyGreens
EHP Labs OxyGreens
EHP Labs OxyGreens
246g / 30 Serves Pineapple
Tastes amazing for a greens supplement, look forward to having it each morning.
Collected via Trustpilot
Next Page
Contact Us