https://www.mrsupplement.com.au/core-nutritionals-shred?variation=15664
Core Nutritionals Shred (185g / 50 Serves Pineapple Strawberry)
Core Nutritionals
Supplements > Weight Management > Thermogenics
https://cdn.mrsupplement.com.au/resources/imgs/products/core-nutritionals-shred.1664250444141.png
http://schema.org/NewCondition
http://schema.org/InStock
AUD
https://www.mrsupplement.com.au/core-nutritionals-shred?variation=15664
89.95
AUD
https://www.mrsupplement.com.au/core-nutritionals-shred?variation=15663
Core Nutritionals Shred (185g / 50 Serves Tropic Heat)
Core Nutritionals
Supplements > Weight Management > Thermogenics
https://cdn.mrsupplement.com.au/resources/imgs/products/core-nutritionals-shred.1664250444141.png
http://schema.org/NewCondition
http://schema.org/InStock
AUD
https://www.mrsupplement.com.au/core-nutritionals-shred?variation=15663
89.95
AUD

Shred
Non-Stimulant Thermogenic
Support healthy weight management
Increase Lipolysis
Appetite Suppression
Stackable with Stimulant-Based Pre Workouts
In Stock

(0)
Write a review
Product
Q&A's
Reviews
Add To Cart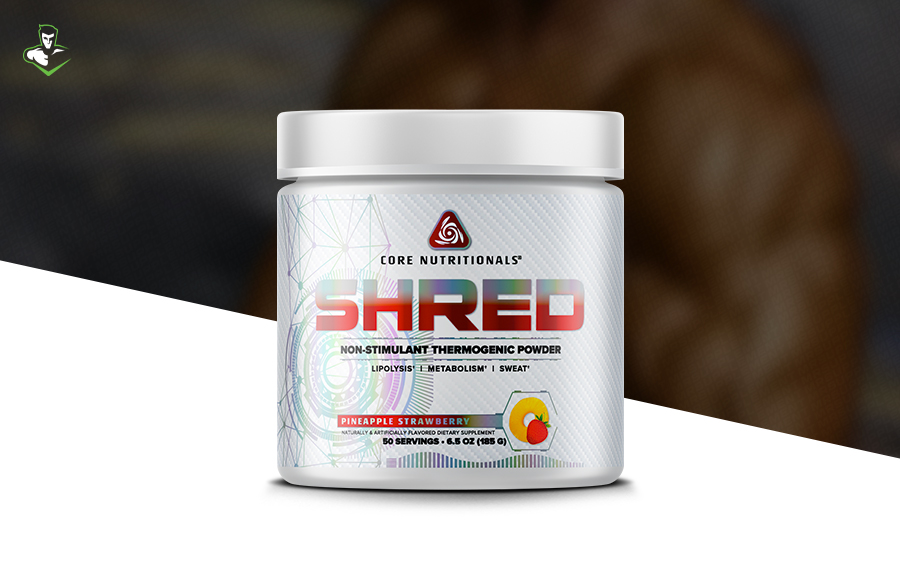 It's late evening and you need to crush your workout – worst of all, your deep in a diet. You haven't taken your thermogenic yet, you know you need to, but you also know that downing a few hundred milligrams of stimulants at 8 PM is not conducive to healthy sleep patterns. So, what do you do?
Prior to now, you sucked it up and chugged your ultra-potent and effective stimulant-based thermogenic (such as BURN Powder!) and dealt with the consequences. But as of now, you take a scoop of the ultra-potent and equally effective, non-stimulant-based thermogenic Core Shred.
We've taken our typical approach to product formulation – proven ingredients at clinically-effective and clinically-proven serving sizes – and applied it to creating a comprehensive, multiple-pathway non-stimulant thermogenic product. The result is a product covering major pathways of lipolysis in multiple, non-redundant, and synergistic ways, all without any neurological stimulation whatsoever.
Whether you're taking a break from stimulants, are stimulant sensitive, or simply want a non-stimulant thermogenic to stack with our excellent stimulant-based offerings, Core Shred is the perfect solution. Use it anytime, night or day, to help crush your regular exercise program and consistent diet!
Q&A's
Ask a question about
Core Nutritionals Shred
Where can I buy Core Nutritionals Shred?




Core Nutritionals Shred is now available at Mr Supplement.
Reviews


Based on reviews collected by
&
Write a review

Contact Us