https://www.mrsupplement.com.au/core-nutritionals-iso?variation=16132
Core Nutritionals Iso (907g / 28 Serves Chocolate Peanut Butter)
Core Nutritionals
Supplements > Protein Powders > Whey Isolate (WPI)
https://cdn.mrsupplement.com.au/resources/imgs/products/core-nutritionals-iso.1688556359436.png
http://schema.org/NewCondition
http://schema.org/InStock
AUD
https://www.mrsupplement.com.au/core-nutritionals-iso?variation=16132
89.95
AUD
https://www.mrsupplement.com.au/core-nutritionals-iso?variation=16135
Core Nutritionals Iso (907g / 30 Serves Red Velvet Cake)
Core Nutritionals
Supplements > Protein Powders > Whey Isolate (WPI)
https://cdn.mrsupplement.com.au/resources/imgs/products/core-nutritionals-iso.1688556359436.png
http://schema.org/NewCondition
http://schema.org/InStock
AUD
https://www.mrsupplement.com.au/core-nutritionals-iso?variation=16135
89.95
AUD
https://www.mrsupplement.com.au/core-nutritionals-iso?variation=16133
Core Nutritionals Iso (907g / 31 Serves Frosted Cinnamon Bun)
Core Nutritionals
Supplements > Protein Powders > Whey Isolate (WPI)
https://cdn.mrsupplement.com.au/resources/imgs/products/core-nutritionals-iso.1688556359436.png
http://schema.org/NewCondition
http://schema.org/InStock
AUD
https://www.mrsupplement.com.au/core-nutritionals-iso?variation=16133
89.95
AUD
https://www.mrsupplement.com.au/core-nutritionals-iso?variation=16130
Core Nutritionals Iso (907g / 32 Serves Chocolate Decadence)
Core Nutritionals
Supplements > Protein Powders > Whey Isolate (WPI)
https://cdn.mrsupplement.com.au/resources/imgs/products/core-nutritionals-iso.1688556359436.png
http://schema.org/NewCondition
http://schema.org/InStock
AUD
https://www.mrsupplement.com.au/core-nutritionals-iso?variation=16130
89.95
AUD
https://www.mrsupplement.com.au/core-nutritionals-iso?variation=16136
Core Nutritionals Iso (907g / 32 Serves Lemon Pound Cake)
Core Nutritionals
Supplements > Protein Powders > Whey Isolate (WPI)
https://cdn.mrsupplement.com.au/resources/imgs/products/core-nutritionals-iso.1688556359436.png
http://schema.org/NewCondition
http://schema.org/InStock
AUD
https://www.mrsupplement.com.au/core-nutritionals-iso?variation=16136
89.95
AUD
https://www.mrsupplement.com.au/core-nutritionals-iso?variation=16138
Core Nutritionals Iso (907g / 32 Serves Vanilla Cake)
Core Nutritionals
Supplements > Protein Powders > Whey Isolate (WPI)
https://cdn.mrsupplement.com.au/resources/imgs/products/core-nutritionals-iso.1688556359436.png
http://schema.org/NewCondition
http://schema.org/InStock
AUD
https://www.mrsupplement.com.au/core-nutritionals-iso?variation=16138
89.95
AUD

Iso
Ultra Pure Whey Protein Isolate
100% Micro-Filtered Cold Processed
Zero Artificial Fillers & Non GMO
Free from Soy, Lactose & Gluten
A Tasty Range of Flavours
In Stock

(0)
Write a review
Product
Q&A's
Reviews
Add To Cart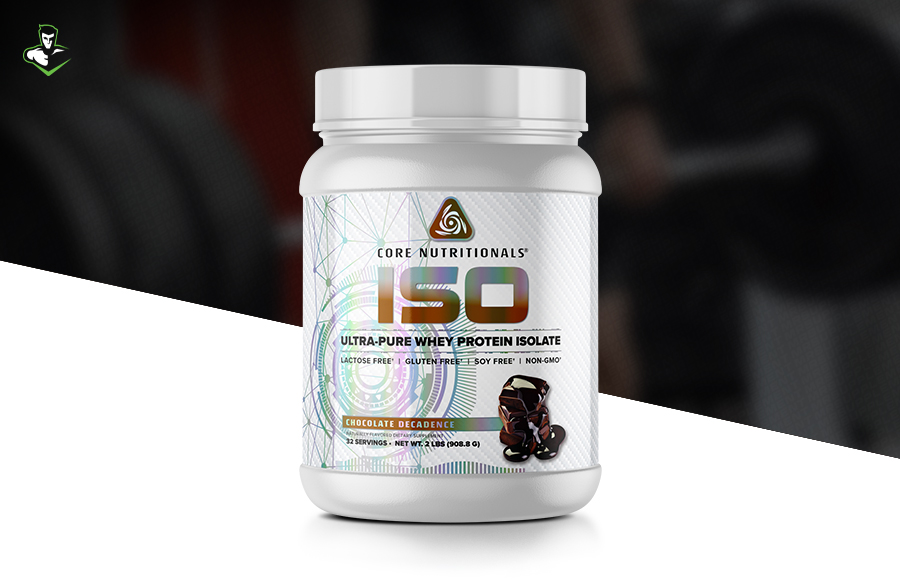 If the post-workout environment were a jungle, whey protein isolate (WPI) would be the undisputed king - the reference standard against which all other proteins are measured. Core Nutritionals ISO sets a new standard in WPI supplementation, providing the purest, highest-quality, & least-adulterated formula on the market.
Main Ingredients
Cold-Processed Microfiltered Non-GMO Whey Protein Isolate: The highest purity WPI available, free from artificial additives & low-quality fillers
Natural Flavours: Indulge in the exquisite taste of Core ISO, featuring gourmet pastry-like flavours
Key Benefits
Unparalleled Purity: Core ISO contains the purest form of WPI, ensuring you receive the full benefits of this highly effective protein source
No Added Sugars: Enjoy the versatility of Core ISO as a sugar-free protein option, perfect for various dietary needs
Natural Flavouring: Indulge your taste buds with delectable gourmet pastry-like flavours, making Core ISO a pleasure to consume
A Fantastic Taste: From the best flavours including Chocolate Decadence, Peanut Butter, Cinnamon Bun, Lemon, Red Velvet & Vanilla Cake
GMO-Free: Core ISO is free from genetically modified organisms, ensuring a cleaner and more natural product
Experience the pinnacle of WPI supplementation with Core Nutritionals ISO - a necessity in your supplement & training regimen. Say goodbye to inferior proteins & embrace the true king of post-workout nutrition. Get Core ISO and elevate your protein intake to new heights of quality & purity.
Q&A's
Ask a question about
Core Nutritionals Iso
What sets Core Nutritionals ISO apart from other whey protein isolates?




Core ISO stands out with its unmatched purity, natural flavours, & absence of added sugars, providing one of the highest quality WPI powders on the Australian market.

How does Core ISO taste compared to other protein supplements?




Core ISO's gourmet pastry-like flavors deliver a delightful taste experience, setting it apart from the bitterness of many other isolate protein powders.

Is Core Nutritionals ISO easy to mix?




Yes, Core ISO is easily mixable in cold water, or your milk type choice, ensuring a smooth & enjoyable protein shake.

Does Core ISO support muscle recovery after workouts?




Yes, Core ISO's high-quality whey protein isolate provides essential amino acids for efficient muscle recovery & growth.

Is Core Nutritionals ISO suitable for lactose-sensitive individuals?




Core ISO is a whey protein isolate, which undergoes a filtration process to remove most lactose, making it more tolerable for many lactose-sensitive individuals. For those with extreme sensitivities to lactose we recommend a plant based protein powder.

Can I use Core ISO for weight management goals?




Yes, Core ISO's zero added sugar & low-carb formula makes it an excellent choice for supporting weight management & lean muscle development.

How often can I take Core Nutritionals ISO for the best results?




You can use Core ISO as part of your post-workout routine or as a snack throughout the day to meet your protein needs & support your fitness goals.
Reviews


Based on reviews collected by
&
Write a review

Contact Us