https://www.mrsupplement.com.au/core-nutritionals-burn?variation=16111
Core Nutritionals Burn (205g / 50 Serves Apple Guava)
Core Nutritionals
Supplements > Weight Management > Thermogenics
https://cdn.mrsupplement.com.au/resources/imgs/products/core-nutritionals-burn.1688554766497.png
http://schema.org/NewCondition
http://schema.org/InStock
AUD
https://www.mrsupplement.com.au/core-nutritionals-burn?variation=16111
79.95
AUD
https://www.mrsupplement.com.au/core-nutritionals-burn?variation=16112
Core Nutritionals Burn (205g / 50 Serves Australian Gummy Snakes)
Core Nutritionals
Supplements > Weight Management > Thermogenics
https://cdn.mrsupplement.com.au/resources/imgs/products/core-nutritionals-burn.1688554766497.png
http://schema.org/NewCondition
http://schema.org/OutOfStock
AUD
https://www.mrsupplement.com.au/core-nutritionals-burn?variation=16112
79.95
AUD
https://www.mrsupplement.com.au/core-nutritionals-burn?variation=16114
Core Nutritionals Burn (205g / 50 Serves Australian Raspberry Chews)
Core Nutritionals
Supplements > Weight Management > Thermogenics
https://cdn.mrsupplement.com.au/resources/imgs/products/core-nutritionals-burn.1688554766497.png
http://schema.org/NewCondition
http://schema.org/InStock
AUD
https://www.mrsupplement.com.au/core-nutritionals-burn?variation=16114
79.95
AUD
https://www.mrsupplement.com.au/core-nutritionals-burn?variation=16113
Core Nutritionals Burn (205g / 50 Serves Blue Raz)
Core Nutritionals
Supplements > Weight Management > Thermogenics
https://cdn.mrsupplement.com.au/resources/imgs/products/core-nutritionals-burn.1688554766497.png
http://schema.org/NewCondition
http://schema.org/OutOfStock
AUD
https://www.mrsupplement.com.au/core-nutritionals-burn?variation=16113
79.95
AUD
https://www.mrsupplement.com.au/core-nutritionals-burn?variation=16115
Core Nutritionals Burn (205g / 50 Serves Sour Candy)
Core Nutritionals
Supplements > Weight Management > Thermogenics
https://cdn.mrsupplement.com.au/resources/imgs/products/core-nutritionals-burn.1688554766497.png
http://schema.org/NewCondition
http://schema.org/InStock
AUD
https://www.mrsupplement.com.au/core-nutritionals-burn?variation=16115
79.95
AUD
https://www.mrsupplement.com.au/core-nutritionals-burn?variation=16116
Core Nutritionals Burn (205g / 50 Serves Watermelon Grape)
Core Nutritionals
Supplements > Weight Management > Thermogenics
https://cdn.mrsupplement.com.au/resources/imgs/products/core-nutritionals-burn.1688554766497.png
http://schema.org/NewCondition
http://schema.org/InStock
AUD
https://www.mrsupplement.com.au/core-nutritionals-burn?variation=16116
79.95
AUD

Burn
Comprehensive Thermogenic Powder
Promotes Energy
Supports Metabolism
Promotes Lipolysis
Suppresses Appetite
In Stock

(0)
Write a review
Product
Q&A's
Reviews
Add To Cart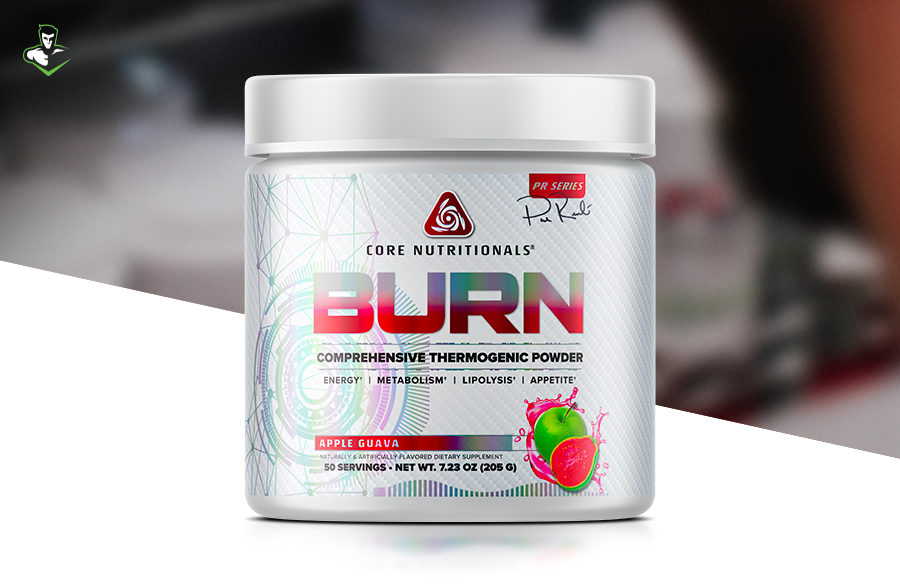 Core Nutritionals Burn is a cutting-edge innovation in the world of thermogenics, designed to be your perfect companion in your weight loss journey. This modern weight management supplement utilises trademarked & patented ingredients, strategically addressing every major metabolic pathway involved in the creation & deposition of adipose tissue. Unlike many traditional thermogenics that solely focus on stimulation, Core Nutritionals Burn sets itself apart by incorporating ingredients with strong scientific evidence backing their efficacy.
Key Ingredients
N-Acetyl L-Carnitine HCI: 500mg
KSM-66® Full-Spectrum Ashwagandha Extract (Withania somnifera) (root) (5% withanolides): 300mg
Garcinia Cambogia Extract (fruit rind) (60% hydroxy citric acid): 250mg
Green Coffee Bean Extract (Coffea arabica) (50% chlorogenic acid): 250mg
Cocoa Seed Extract (Theobroma cacao) (seed) (20% theobromine): 200mg
Caffeine Anhydrous: 150mg Bacopa
Monnieri Extract (whole plant) (50% bacosides): 100mg
zümXR® XR Caffeine (provides 50mg caffeine): 70mg
Laminaria Japonica Extract (whole plant) (10% Fucoxanthin): 50mg
Saffron Extract (Crocus sativus L.) (stigma) (SaffSerene®): 15mg
The unique blend of ingredients in Burn supports various metabolic pathways, aiding in energy expenditure, fat oxidation, appetite suppression, & stress reduction. This comprehensive formula is designed to maximize the effectiveness of your diet & exercise regimen.
Experience the next evolution in weight loss supplements with Core Nutritionals Burn. Transform your weight management journey with this powerful, scientifically-backed formula that addresses all aspects of achieving your goals. Take control of your weight loss & unleash your full potential with Burn today.
Q&A's
Ask a question about
Core Nutritionals Burn
What makes Core Nutritionals Burn stand out as a weight management solution?




Core Nutritionals Burn is a cutting-edge thermogenic formula, utilizing trademarked & patented ingredients, addressing multiple metabolic pathways for effective weight loss. Its premium blend promotes energy, fat oxidation, & appetite control.

How can Core Nutritionals Burn help boost my energy levels?




Core Nutritionals Burn contains a synergistic combination of ingredients like caffeine anhydrous and zümXR® XR Caffeine, providing a steady & sustained energy boost, keeping you energized throughout the day.

Will Core Nutritionals Burn help me curb my appetite?




Yes. Core Nutritionals Burn includes SaffSerene™, an approved ingredient that may reduce subjective feelings of hunger, making it easier to stick to your diet & achieve your weight loss goals.

I often struggle with stress during weight loss efforts. Can Burn help with that?




Yes. Burn's patented KSM-66® Ashwagandha Extract has been shown to help reduce cortisol, the body's primary stress hormone. This can support a balanced stress response, making your weight loss journey smoother.

Can Core Nutritionals Burn be used by both men & women?




Yes, Core Nutritionals Burn is formulated to benefit both men & women seeking effective weight management & increased energy levels.

How do I take Core Nutritionals Burn for optimal results?




For best results, mix 1 scoop with 8-12 ounces of water & consume first thing in the morning. If desired, you can take an additional scoop 5-6 hours later. Avoid using Burn for more than 8 weeks without a 4-week break. Avoid consuming within 5 hours of sleep.

Can I incorporate Core Nutritionals Burn into my existing exercise routine?




Yes, Core Nutritionals Burn is designed to complement your diet & exercise regimen, supporting your weight loss efforts & boosting your energy levels during workouts.

How soon can I expect to see results with Core Nutritionals Burn?




Individual results may vary, but many users experience noticeable improvements in energy levels & appetite control within the first few days of using Core Nutritionals Burn, when combined with a balanced diet & exercise routine.
Reviews


Based on reviews collected by
&
Write a review

Contact Us