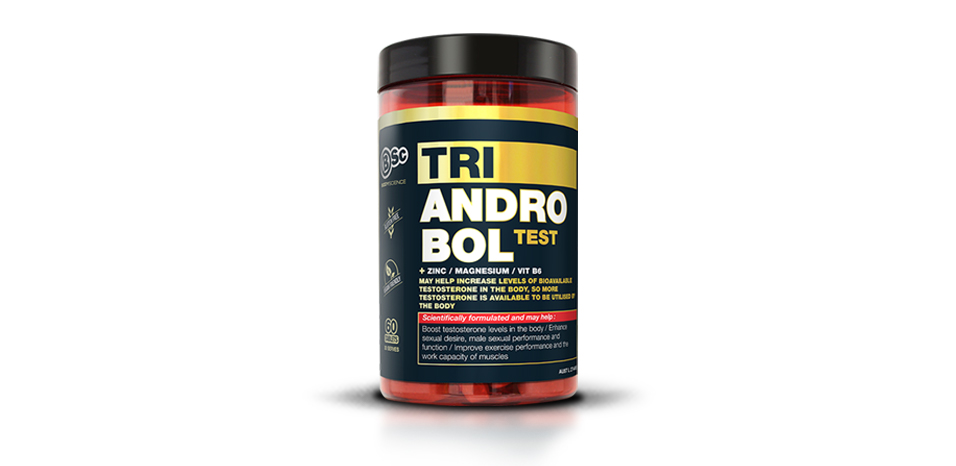 BSc Body Science is one of Australia's premier sports nutrition companies. One of their best selling supplements of all time has to be their testosterone booster, which has been out in the market for several years and which has had multiple revisions. Recently, they have updated their formula and released a revised version known as BSc Triandrobol Testo. This is the fourth iteration of their already successful tribulus based testosterone support supplement and will form part of the companies new Gold Label Alpha Series. Sure the original Triandrobol was good, but this one is better.
BSc Triandrobol Test Highlights
Well dosed tribulus based formula
Added fenugreek and horny goat weed to further support free testosterone levels, strength and muscle building.
Convenient capsule based formula suitable for trainers of all ages and levels
BSc Triandrobol Test Review & Ingredients
For the newest edition of Triandrobol, BSc Body Science has changed things around a little, whilst keeping most of the main ingredients. The new formulation contains:
Tribulus Root (20g)
Tribulus Fruit (20g)
Fenugreek (9g)
Horny Goat Weed (50mg)
Aspartic Acid (200mg)
Boron (1.15mg)
Menaquinone 7 (Vitamin K2) – 22.5mcg
Each tub of 60 tablets contains 30 serves of 2 tablets to be taken each day for a recommended 8 weeks. Notable absences from the current formula include gingko, Siberian ginseng, avena sativa, saw palmetto and red clover. The three new additions are fenugreek, boron and menaquinone or MK-7
BSc Triandrobol Test Benefits, Pros & Effectiveness
The new BSc Triandrobol Test is definitely well dosed when it comes to tribulus with plenty of the active compound or the protodioscins. The addition of fenugreek is also excellent, and has been shown to bump up free levels of testosterone within healthy ranges with concurrent improvements in strength. This occurs not only in older trainers, but also younger ones as well. In addition, the horny goat weed and boron are both traditional and promising ingredients for test support respectively.
BSc Triandrobol Test Negatives & Cons
It's sad to see both ginseng and gingko go, as they're both excellent ingredients which can definitely help when it comes to training and recovery. The only other real negative of Triandrobol Test is the inclusion of menaquinone 7. Although vitamin K2 has been shown in studies to support testosterone levels, the type used in the studies was menaquinone 4 or Mk-4 rather than Mk-7.
BSc Triandrobol Test Side Effects
Generally speaking and in the main no negative side effects can be expected from taking Triandrobol test. The product is designed to increase natural testosterone production within a normal range by using natural botanical extracts & plant sterols. Taken as recommened by the manufacturer no negative side effects are expected.
BSc Triandrobol Test Flavours, Taste & Mixability
Triandrobol Test is only available in tablet form. The tablets are fairly large in size, but nothing unusual for test boosters.
BSc Triandrobol Test Verdict
Overall, the new Triandrobol Test from BSc Body Science is still a very decent natural test booster and certainly one of the more well dosed tribulus supplements on the market. Great for trainers or all ages and training levels, Triandrobol Test is a great supplement to stack with your foundation supplements to further support lean muscle gains and improved recovery. Best of all, you know you're taking a supplement that is trusted in the sport community, drug tested and produced in a GMP (Good Manufacturing Practice) certified facility so you know you're getting access to high quality ingredients and no hidden nasties.