https://www.mrsupplement.com.au/bsc-energy?variation=16267
BSc Energy (500ml x 12 Berry Burst)
BSc Body Science
Supplements > Pre Workout > Pre Workout
https://cdn.mrsupplement.com.au/resources/imgs/products/bsc-energy.1697685992813.png
http://schema.org/NewCondition
http://schema.org/InStock
AUD
https://www.mrsupplement.com.au/bsc-energy?variation=16267
59.95
AUD
https://www.mrsupplement.com.au/bsc-energy?variation=16268
BSc Energy (500ml x 12 Ice Blast)
BSc Body Science
Supplements > Pre Workout > Pre Workout
https://cdn.mrsupplement.com.au/resources/imgs/products/bsc-energy.1697685992813.png
http://schema.org/NewCondition
http://schema.org/InStock
AUD
https://www.mrsupplement.com.au/bsc-energy?variation=16268
59.95
AUD
https://www.mrsupplement.com.au/bsc-energy?variation=16266
BSc Energy (500ml x 12 Lime Crush)
BSc Body Science
Supplements > Pre Workout > Pre Workout
https://cdn.mrsupplement.com.au/resources/imgs/products/bsc-energy.1697685992813.png
http://schema.org/NewCondition
http://schema.org/InStock
AUD
https://www.mrsupplement.com.au/bsc-energy?variation=16266
59.95
AUD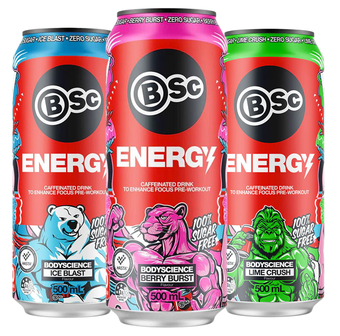 Energy
Enhance Focus Pre Workout Can
Sharpens Focus and Improves Mental Performance
160mg Caffeine
Low Calorie, Zero Carbs
HASTA Tested
In Stock

(0)
Write a review
Product
Q&A's
Reviews
Add To Cart
The ultimate energy drink that will give you the boost you need to conquer any challenge that comes your way. Get ready to experience a surge of energy like never before with a maximum of 160mg of caffeine, zero sugar, zero carb, while adding B Vitamins, Taurine and Glucuronolactone.
Sharpens Focus and Improves Mental Performance. Laser-like concentration to tackle challenging workouts and make quick decisions for more effective training and better results.
Packed with Max 160mg Caffeine. A pre-workout energy serge to boost endurance and intensity before your training session.
Added B Vitamins. Take your energy levels to new heights with the added benefits of B vitamins. Our energy drink is packed with essential B vitamins, including B3 (niacin), B6 and B12, which play a crucial role in converting food into energy.
HASTA Tested. Our products undergo rigorous testing to ensure they meet the highest standards for athlete safety.
Pre-Workout: Consume BSc Energy before your training session to boost energy and endurance.
Study or Work Sessions: When you need enhanced focus and mental alertness for studying or working, BSc Energy can provide the necessary mental energy.
Long Drives or Late-Night Shifts: BSc Energy will help you stay alert during extended periods of driving or late-night work shifts.
Q&A's
Ask a question about
BSc Energy
Reviews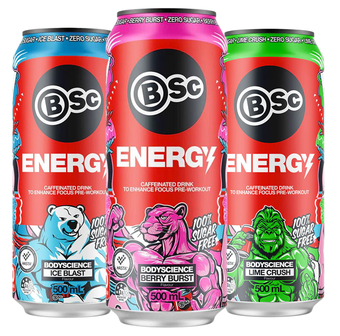 Based on reviews collected by
&
Write a review

Contact Us