BPI Best Pre Review
Quick Summary Points for BPI Best Pre
BPI Best Pre is a fat burning pre-workout formulated for those partaking a ketogenic diet
Best Pre uses keto-inducing ingredient beta-hydroxybutyrate (BHB) to help you burn fat for fuel & allows your body to get into a ketogenic state faster & more efficiently
Benefits of using BPI Best Pre include an increase in strength & performance, sharp mental focus and support weight loss
Best Pre-workout is recommended to be used prior to workouts
Suitable for all individuals but will benefit most to those who perform endurance based training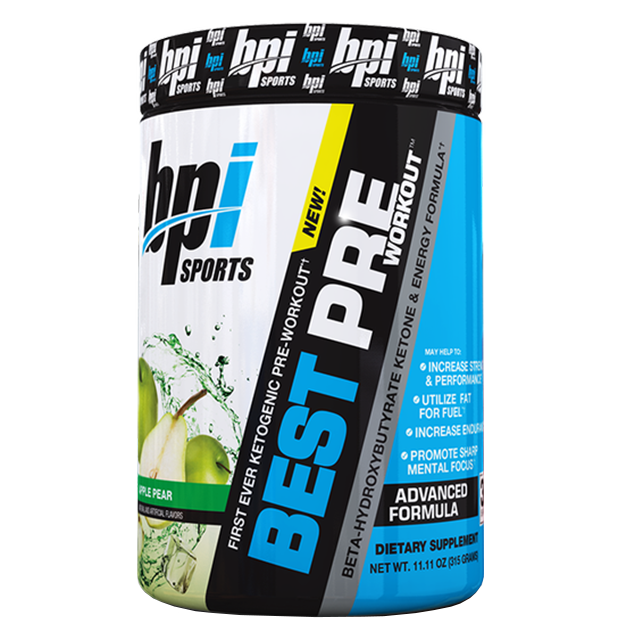 BPI have taken a bold new step by releasing what they claim is the "first ever ketogenic pre-workout". The move is presumably on the back of the resurgence in popularity of the ketogenic and associated low carb high fat (LCHF) diet. A search of social media using the hastag #LCHF reveals a massive amount of information and posts. Major scientific reviews and trials showing a trend for more favourable weight loss using a low carb vs low fat approach have also been a major catalyst in addition to high profile scientists like South African Professor, Timothy Noakes who turned from a high carb to high fat advocate.
BPI Best Pre Highlights
Caffeine Anhydrous – 250mg
Beta-hydroxybutyrate (goBHB™) – exogenous ketone to help produce energy in the absence of glucose
Medium Chain Glycerides (MCTs) – fuels your energy
Improve strength & endurance
Ideal for low-carb/ketogenic diet, intermittent fasting and fasted cardio
BPI Best Pre Ingredients & Dosage
BPI Best Pre is made up of a ketogenic blend & energy blend that includes the following ingredients:
Ketogenic Blend – 7g
Medium Chain Triglycerides (MCT)
Beta-hydroxybutyrate (BHB) – salt form
Calcium Beta-hydroxybutyrate
Magnesium Beta-hydroxybutyrate
Sodium Beta-hydroxybutyrate
Energy Blend - 450mg
Caffeine Anhydrous – 250mg
Solanum tuberosum
Taraxacum officinale (root)
Lycoris radiata extract (bulb)
BPI Best Pre Benefits, Pros & Effectiveness
The key feature of Best Pre is the inclusion of different ester forms of the well-known ketone body beta-hydroxybutyrate (BHB). Altogether Best Pre includes 3 different forms, namely, calcium, magnesium and sodium. Collectively referred to as ketone esters, these occur in a base of medium chain triglyceride (MCT) powder together with an energy blend that includes caffeine and CDP-Choline.
People on ketogenic diets and those taking ketogenic supplements regularly attest to heightened focus and mental clarity, which is thought to result from ketones that serve as favourable substrates for the brain and central nervous system.
Whether taking Best Pre will result is a noticeable energy lift is more debatable. Effects may be dependent on whether users are on a LCHF diet or not. Also, effects could be influenced by whether an individual has eaten any carbs or protein prior to their workout as these both promote insulin release which can impair use of ketones.
The addition of caffeine can help ketogenic users to power on as your body tries to adjust during the low-carb diet. The formulation also includes added electrolytes. This is especially important on low carb diets that tend to drive more water out of the body.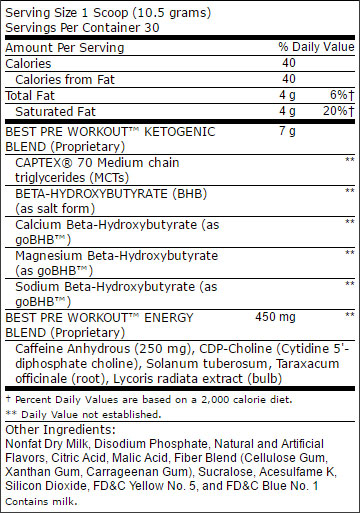 BPI Best Pre Negatives & Cons
The ingredient panel indicates, there's no way of knowing how much actual ketones are in each 7g 'ketogenic blend' within each serve if Best Pre. This is a well-known saga with proprietary blends and one would guess that the potency of the product will depend on actual ketone content. Undoubtedly, the proof will be in the pudding.
BPI Best Pre Flavours, Taste & Mixability
Digging around internet forums where individuals have tried straight ketone ester salts such as sodium-beta-hydroxybutyrate, one soon learns that they have a reputation for being notoriously bitter and foul-tasting. As such, BPI will need to have done their homework on the formulation to make it acceptable.
BPI Best Pre offers 4 different flavours, namely Apple Pear, Tropical Freeze, Blue Lemon Ice and Watermelon Ice, with each tub providing 30 x 10.5g servings. Ketone salts are very water soluble so one would expect the pre-workout will mix well when combined with water.
BPI Best Pre Side Effects
As most of the ingredients have not been extensively studied, this means there are potential unknown side effects. One of the most potential side effects is in relation to dandelion which may cause allergic reactions for some people.
BPI Best Pre Verdict
With BPI Best Pre you are able to perform your workout routine at a greater level. BPI Best Pre workout is best for anyone undergoing a low-carb, ketogenic diet or intermittent fasting to keep your energy levels high and bring you closer to your weight loss goals. Instead of burning empty carbohydrates, BPI Sports Ketogenic Pre-Workout supplement will burn fat to increase energy and motivate your mental and physical states. BPI have made getting in shape easier by creating an excellent product with a range of delicious flavours.