BPI have taken a bold new step by releasing what they claim is the "first ever ketogenic pre-workout". The move is presumably on the back of the resurgence in popularity of the ketogenic and associated low carb high fat (LCHF) diet. A search of social media using the hastag #LCHF reveals a massive amount of information and posts. Major scientific reviews and trials showing a trend for more favourable weight loss using a low carb vs low fat approach have also been a major catalyst in addition to high profile scientists like South African Professor, Timothy Noakes who turned from a high carb to high fat advocate.
BPI Best Pre Review & Ingredients
The key feature of Best Pre is the inclusion of different ester forms of the well-known ketone body beta-hydroxybutyrate. Altogether Best Pre includes 3 different forms, namely, calcium, magnesium and sodium. Collectively referred to as ketone esters, these occur in a base of medium chain triglyceride (MCT) powder together with an energy blend that includes caffeine and CDP-Choline.
People on ketogenic diets and those taking ketogenic supplements regularly attest to heightened focus and mental clarity, which is thought to result from ketones that serve as favourable substrates for the brain and central nervous system. It will be interesting to see if similar reports arise from the users of Best Pre once it is released.
Whether taking Best Pre will result is a noticeable energy lift is more debatable. Effects may be dependent on whether users are on a LCHF diet or not. Also, effects could be influenced by whether an individual has eaten any carbs or protein prior to their workout as these both promote insulin release which can impair use of ketones.
As the ingredient panel below shows, there's no way of knowing how much actual ketones are in each 7g 'ketogenic blend' within each serve if Best Pre. This is a well-known saga with proprietary blends and one would guess that the potency of the product will depend on actual ketone content. Undoubtedly, the proof will be in the pudding.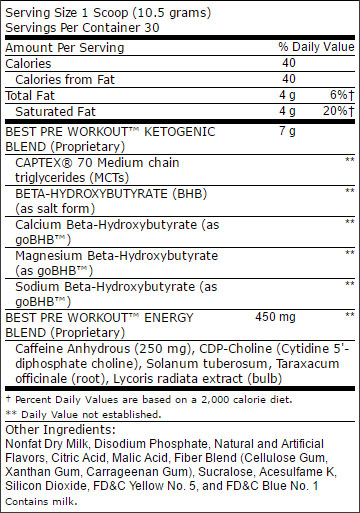 BPI Best Pre Flavours, Taste & Mixability
Digging around internet forums where individuals have tried straight ketone ester salts such as sodium-beta-hydroxybutyrate, one soon learns that they have a reputation for being notoriously bitter and foul-tasting. As such, BPI will need to have done their homework on the formulation to make it acceptable.
BPI have confirmed that they will offer 4 different flavours, namely Apple Pear, Tropical Freeze, Blue Lemon Ice and Watermelon Ice, with each tub providing 30 x 10.5g servings. Ketone salts are very water soluble so one would expect the pre workout will mix well when combined with water.
BPI Best Pre Release Date
At the time of writing BPI are remaining tight-lipped on an official release date for Best Pre, but going by history, Australia are normally quick to follow suite once new BPI products are released in the US.