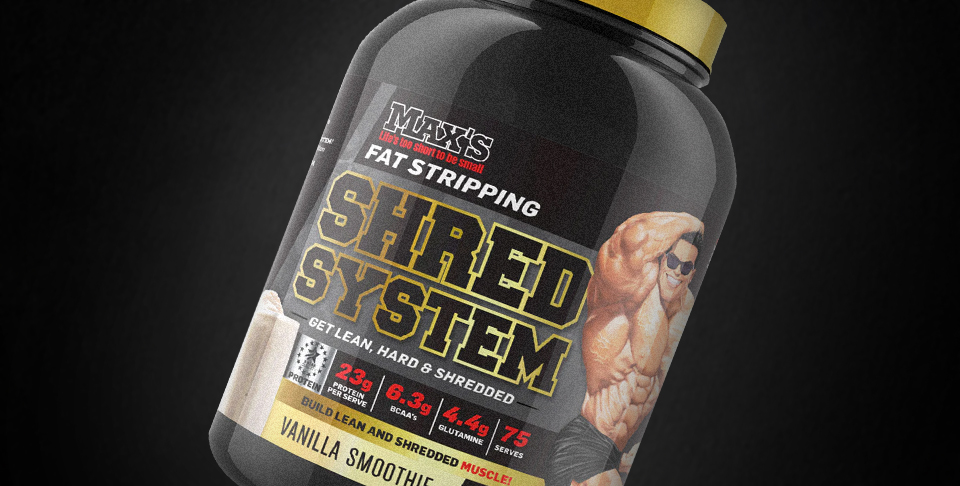 When it comes to fat-loss protein powders, Max's has established a reputation as one of the pioneering supplement companies in the Australian market. Their products, such as Super Shred, have gained immense popularity in the weight loss protein powder category. In 2016, Max's introduced an upgraded version called Max's Shred System - Fat Stripping Complex.
Let's delve into the details of Max's Shred System:
Max's Shred System: Highlights
High-quality blended protein blend to sustain muscle-building processes for longer
Premium fat-burning matrix to support improved fat metabolism
Added carb blockers to limit digestion and storage of carbs
Glutamine and branched-chain amino acids for improved recovery
High in protein & low in fat and carbs
Max's Shred System: Ingredients & Dosages
Max's Shred System Fat Stripping Protein consists of four complexes of ingredients including:
Anabolic Protein Blend: Hydrolyzed Whey Peptides, Whey Protein Isolate (WPI), Whey Protein Concentrate (WPC) & Casein
Fat Burners: Conjugated Linoleic Acid, Green Tea Extract, Raspberry Ketones, African Mango Seed Extract, Guarana, Caffeine & Acetyl L-Carnitine
Carb Blockers: Garcinia Cambogia, Phaseolamin, Green Coffee Extract
Nitrogen Retention Matrix: Glutamine & Branched Chain Amino Acids
Each 30g serve of the Shred System provides only 110 calories, 22.6g of protein, 3g of carbs and 0.7g of fat

Max's Shred System: Benefits, Pros & Effectiveness
Max's has dedicated a significant amount of time to formulating Shred System, resulting in an updated & improved version of the original Super Shred. Shred System utilizes a stronger & more sustained protein blend, which supports muscle building over an extended period. The weight loss ingredients have been revamped to reflect new trends & emerging science. The carb-blocking complex has been simplified while retaining the core ingredients that limit carbohydrate breakdown & conversion into fat.
The range of fat burner ingredients has been slightly updated, with the addition of caffeine & acetyl l-carnitine offering benefits such as appetite suppression, increased fat metabolism, & improved focus & mental performance. Concentration and motivation are crucial during a weight loss diet, & Shred System addresses these aspects. The remaining ingredients in the fat loss complex support fat metabolism, complementing the lean muscle-building benefits of the protein blend.
Max's Shred System: Negatives & Cons
Although the updated formula of the Shred System is quite good & has improved upon Super Shred, there are a couple of minor issues to consider. The inclusion of added glutamine & BCAAs, while beneficial, may be somewhat unnecessary as they are already present in sufficient amounts in the protein blend. In this writer's opinion, it may have been preferable if these ingredients were substituted for a higher dose of the fat-loss ingredients.
Another note worth mentioning is the choice to include Raspberry Ketones & African Mango Extract. While these ingredients are commonly used for fat burning, the research supporting their efficacy is not as strong as for some of the other components, such as green tea extract & caffeine. However, the excitement around these ingredients justifies their inclusion, & more studies may confirm their potential benefits in future.

Max's Shred System: Flavours, Taste & Mixability
Max's Shred System is available in three flavours: Chocolate Brownie, Choc Honeycomb, & Vanilla Smoothie. Like many of Max's other protein powders, each flavour mixes easily with minimal clumping or residue. The flavours themselves are enjoyable, and the shakes have a fairly liquid consistency. Unlike many other fat-loss protein powders, the flavours are not overly sweet. If you prefer a flavoured milk-type shake rather than an excessively sweet milkshake-like one, Max's Shred System is a suitable choice. All three flavours are an improvement on the Super Shred.
Max's Shred System Vs Max's Super Shred
The Main differences & benefits between Maxs Shred System & Maxs Super Shred are as follows:
Protein Content: Maxs Shred System provides 22.6g of protein per serving, while Maxs Super Shred offers 21.6g. Higher protein content supports muscle recovery & growth.
Carbohydrate Content: Maxs Shred System contains 3.0g of total carbohydrates, compared to 3.9g in Maxs Super Shred. Lower carbohydrate content may be beneficial for those following a low-carb diet.
Fat Content: Both formulas have the same fat content of 0.7g per serving, helping to keep overall fat intake moderate.
Amino Acid Profile: Maxs Shred System has slightly higher amounts of essential amino acids, such as L-Leucine, L-Isoleucine, L-Valine, & L-Lysine. These amino acids play a crucial role in muscle protein synthesis & recovery.
Additional Ingredients: Maxs Shred System includes ingredients like Hydrolysed Whey Peptides, Garcinia Cambogia, & Green Coffee Extract. Maxs Super Shred contains Green Tea Extract, Guarana, & Acetyl L-Carnitine.
Caffeine Content: Maxs Shred System contains 50.0mg of caffeine per serving, while the exact caffeine content in Maxs Super Shred is unspecified. Caffeine can enhance focus, energy, and exercise performance.
Vitamin & Mineral Complex: Both formulas include a Vitamin & Mineral Complex, which provides essential nutrients for overall health and well-being.
Taste and Texture: The formulas have only slightly different flavours & textures, which can impact personal preference and enjoyment.
In summary, Maxs Shred System stands out as a premium quality protein powder compared to Maxs Super Shred.
It offers a higher protein content, & a more extensive amino acid profile, & includes additional ingredients that support fat burning and energy including added caffeine. These qualities position Max's Shred System as Max's top-tier option for individuals seeking superior results and performance.
It is important to note that the premium quality of Maxs Shred System is reflected in its price per serve. For those who prioritize the highest quality & are willing to invest in their fitness goals, Maxs Shred System offers an exceptional choice.
Max's Shred System: The Verdict
Max's Shred System represents an updated & improved version of Max's Super Shred weight loss protein powder. By retaining the best qualities of its predecessor & introducing additional components, Shred System offers a well-blended protein that aims to build muscle & boost fat loss simultaneously. While some of the added ingredients may or may not be essential, overall, Max's Shred System is a high-quality supplement that can be a valuable addition to anyone seeking to fuel their body, yet at the same time reduce body fat & get seriously lean.
References
Schoenfeld, B. J., Aragon, A. A., & Krieger, J. W. (2013). Effects of meal frequency on weight loss and body composition: a meta-analysis. Nutrition Reviews, 71(5), 260-274.

Helms, E. R., Aragon, A. A., & Fitschen, P. J. (2014). Evidence-based recommendations for natural bodybuilding contest preparation: nutrition and supplementation. Journal of the International Society of Sports Nutrition, 11(1), 20.

Pasiakos, S. M., McLellan, T. M., & Lieberman, H. R. (2015). The effects of protein supplements on muscle mass, strength, and aerobic and anaerobic power in healthy adults: a systematic review. Sports Medicine, 45(1), 111-131.

Campbell, B. I., La Bounty, P. M., & Roberts, M. (2018). The effects of protein supplementation on muscle mass, strength, and aerobic and anaerobic power in healthy adults: a systematic review and meta-analysis of randomized controlled trials. Journal of the American College of Nutrition, 37(5), 376-385.

Witard, O. C., Wardle, S. L., Macnaughton, L. S., Hodgson, A. B., & Tipton, K. D. (2018). Protein considerations for optimising skeletal muscle mass in healthy young and older adults. Nutrients, 10(2), 181.