https://www.mrsupplement.com.au/maxines-melt?variation=15353
Maxine's Melt (300g / 30 Serves Kiwi Lime Crush - Stim Free)
Maxines
Supplements > Weight Management > Thermogenics
https://cdn.mrsupplement.com.au/resources/imgs/products/maxines-melt.1645580239255.png
http://schema.org/NewCondition
http://schema.org/InStock
AUD
https://www.mrsupplement.com.au/maxines-melt?variation=15353
69.95
AUD
https://www.mrsupplement.com.au/maxines-melt?variation=15352
Maxine's Melt (300g / 30 Serves Mouth Watering Melon)
Maxines
Supplements > Weight Management > Thermogenics
https://cdn.mrsupplement.com.au/resources/imgs/products/maxines-melt.1645580239255.png
http://schema.org/NewCondition
http://schema.org/InStock
AUD
https://www.mrsupplement.com.au/maxines-melt?variation=15352
69.95
AUD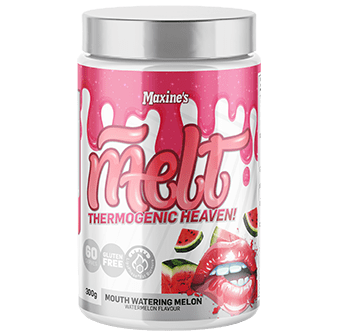 Melt
Ignite Your Metabolism & Melt Body Fat
Get an Instant Metabolism Boost
Increase Your Body Fat Oxidation
Enhance Focus & Mental Cognition
Choice of a Stim-Free Option for Caffeine Sensitive Users
In Stock

(0)
Write a review
Product
Q&A's
Reviews
Add To Cart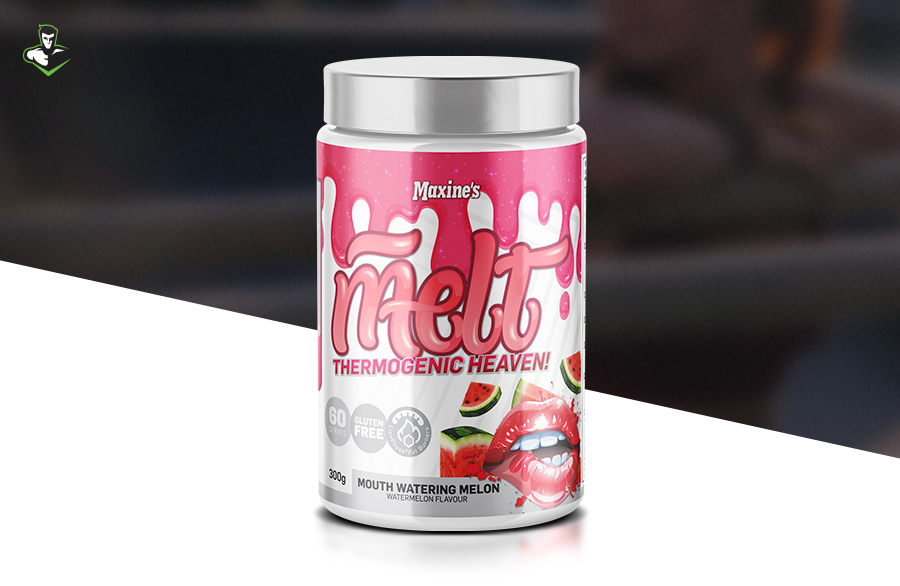 Maxine's Melt is a great tasting fat burning powder specifically designed to ignite your metabolism, boost energy, plus enhance focus and cognition. Providing the extra edge to aid weight loss & build a lean toned body.
There is also the choice of a non-stimulant version for users seeking all the fat burning effects without the caffeine.
As you can expect with all quality Maxine's products, no ingredient amounts or values are hidden in proprietary blends. Maxine's Melt is no different, offering a generous dose of high-quality ingredients at levels that can deliver optimal energy and fat loss results.
Maxine's Melt Ingredients
Lipophase® Thermogenic Fat Burning Matrix: A potent combination of the highest quality fat burning nutrients dosed at levels that will deliver the ultimate thermogenic response from your body.
Digestive Support Blend: The inclusions of 3 key digestive support ingredients to help maintain and optimise gut health and digestion.
Cognition and Focus Complex: Not only a fat burner. L-Tyrosine, Ashwagandha and Alpha GPC will provide you with improved focus, clarity and cognition making it the perfect 'pick me up for any time of the day or night.
Carb Control Matrix: A great array of ingredients including Kidney Bean, Garcinia Cambogia Extract and African Mango to help control carbohydrate cravings and their conversion to fat.
Vitamin and Mineral Blend: Added vitamins and minerals to support health and longevity.
Maxine's Melt Review
Maxine's Melt is a fantastic powdered fat-burning and metabolising powder designed to support women on their weight loss journey. It's great-tasting and may be combined with other Maxine's supplements including Maxine's Burn Protein Shakes or Maxine's Bars. An industry first in Australia, Maxine's Melt is available in either a stimulant version that contains 150mg of caffeine plus Green Coffee Bean. Or is available in a non-stimulant version that has removed the Caffeine and Coffee, making it suitable for caffeine-sensitive users or those taking it in the evening.
All in all, Maxine's Melt is a fantastic supplement from a trusted brand that can help women when combined with an overall weight-loss plan.
Q&A's
Ask a question about
Maxine's Melt
What is special about Maxine's Melt?




Special about Maxine's Melt is the comprehensive array of active ingredients designed by the Maxine's formulators to attack weight loss, energy and focus from every angle. Having also the choice of a caffeine or non-caffeine version is an industry first in Australia. As they have for years, the Maxine's brand have put the extra thought into their supplements to help Australian women.

What results can I expect from Maxine's Melt?




Maxine's Melt shall assist and support women with their weight loss, fitness and body sculpting goals. In short it can give you the extra edge and motivation to achieve success. For best results Melt should be taken as part of an overall program that should incorporate regular workouts and a healthy nutritious diet.

Are there any negative side effects from Maxine's Melt?




Taken as directed by healthy adults there would be NO negative side effects expected from Maxine's Melt.

How do I take Maxine's Melt?




Take one 5g serving daily before your workout. On non-workout days take one serving on rising. Maxine's Melt may also be used at any time of the day as a delicious energy drink. Always follow the manufacturers label directions.

Does Maxine's Melt come in stimulant and non stimulant versions?




Yes it does. There is a caffeine version or non-caffeine version to choose from. Some women may even have both versions in their pantry. Taking the caffeine version in the morning and non-stimulant caffeine version in the evening.

What flavours does Maxines Melt come in?




Maxines Melt is available in 2 flavours. Either a Kiwi Lime Crush or Mouthwatering Melon
Reviews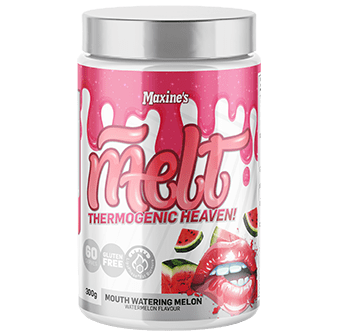 Based on reviews collected by
&
Write a review

Contact Us