https://www.mrsupplement.com.au/vantage-neoprene-weight-belt?variation=13976
Vantage Neoprene Weight Belt (Large)
Vantage
Supplements > Accessories > Weight Belts
https://cdn.mrsupplement.com.au/resources/imgs/products/vantage-neoprene-weight-belt.1596516504312.png
http://schema.org/NewCondition
http://schema.org/InStock
AUD
https://www.mrsupplement.com.au/vantage-neoprene-weight-belt?variation=13976
34.95
AUD
https://www.mrsupplement.com.au/vantage-neoprene-weight-belt?variation=13977
Vantage Neoprene Weight Belt (Medium)
Vantage
Supplements > Accessories > Weight Belts
https://cdn.mrsupplement.com.au/resources/imgs/products/vantage-neoprene-weight-belt.1596516504312.png
http://schema.org/NewCondition
http://schema.org/InStock
AUD
https://www.mrsupplement.com.au/vantage-neoprene-weight-belt?variation=13977
34.95
AUD
https://www.mrsupplement.com.au/vantage-neoprene-weight-belt?variation=13978
Vantage Neoprene Weight Belt (Small)
Vantage
Supplements > Accessories > Weight Belts
https://cdn.mrsupplement.com.au/resources/imgs/products/vantage-neoprene-weight-belt.1596516504312.png
http://schema.org/NewCondition
http://schema.org/InStock
AUD
https://www.mrsupplement.com.au/vantage-neoprene-weight-belt?variation=13978
34.95
AUD
https://www.mrsupplement.com.au/vantage-neoprene-weight-belt?variation=13979
Vantage Neoprene Weight Belt (X-Small)
Vantage
Supplements > Accessories > Weight Belts
https://cdn.mrsupplement.com.au/resources/imgs/products/vantage-neoprene-weight-belt.1596516504312.png
http://schema.org/NewCondition
http://schema.org/InStock
AUD
https://www.mrsupplement.com.au/vantage-neoprene-weight-belt?variation=13979
34.95
AUD

Neoprene Weight Belt
Neoprene Weight Belt
125mm Wide for Maximum Lumbar Support
Velcro Fastener
Stainless Steel Buckle with Locking Bar
Made from Heavy Duty Nylon & Neoprene
In Stock

(0)
Write a review
Product
Q&A's
Reviews
Add To Cart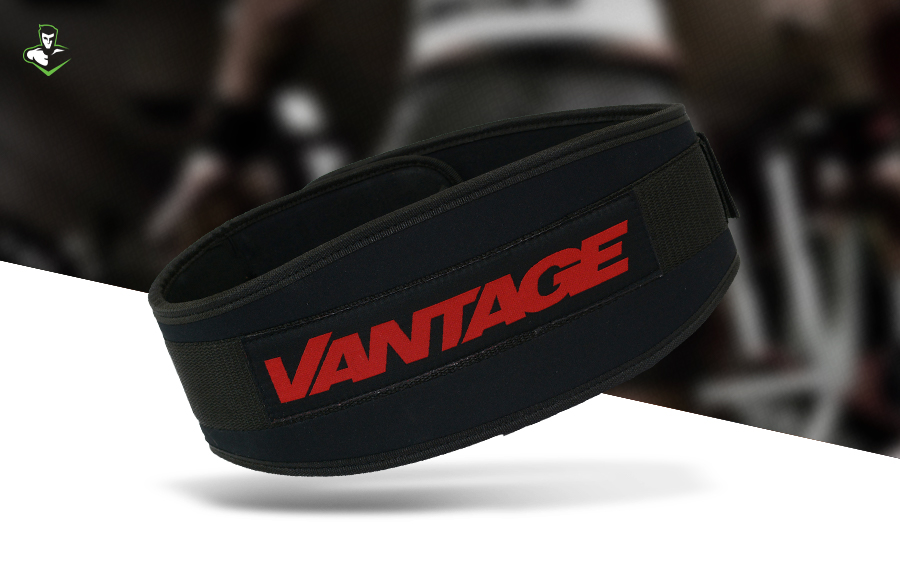 The versatile Vantage Strength Neoprene Weight Belt is designed for working out in the gym, competition events and back support for use in the workplace or at home. Vantage Strength products can assist with a correct, safer and stronger lifting technique and provide good back and torso support for injury prevention and protection.
| | |
| --- | --- |
| Extra Small | 28.5-32.5 Inch Waist |
| Small | 30-34.5 |
| Medium | 34-38.5 |
| Large | 38-42 |
Q&A's
Ask a question about
Vantage Neoprene Weight Belt
How long will my Vantage Neoprene Belt last?




The lifespan of the Vantage Neoprene Weight Belt can vary depending on several factors, such as frequency of use, intensity of workouts & care & maintenance. Generally, a well-maintained neoprene weight belt can last anywhere from 1 to 3 years or even longer with proper care.

How do I look after my belt?




Cleaning:
Regularly clean the neoprene weight belt to remove sweat, dirt, & other debris. Use a damp cloth or sponge with mild soap or detergent to gently wipe the surface of the belt. Avoid using harsh chemicals or abrasive cleaners as they can damage the neoprene material.

Drying:
After cleaning, allow the weight belt to air dry completely before storing it. Avoid exposing the belt to direct sunlight or high heat sources, as excessive heat can cause the neoprene to deteriorate over time.

Avoid Submerging in Water:
While neoprene is water-resistant to some extent, it is not entirely waterproof. Avoid submerging the weight belt in water or keeping it soaked for extended periods, as this can lead to damage & compromise its integrity.

Storage:
When not in use, store the weight belt in a cool, dry place away from direct sunlight. Ideally, it should be hung or laid flat to prevent creases & maintain its shape. Avoid folding or crumpling the belt, as this can cause permanent damage.

Inspect Regularly:
Periodically inspect the weight belt for any signs of wear & tear, loose stitches, or damage to the Velcro fastener or buckle. If you notice any issues, consider repairing or replacing the belt to maintain its effectiveness & safety.

What are the key differences Between the Vantage Neoprene Belt and the Leather/Lever Belts?




Whilst all products are great, there are some key differences between the different types. They include:

The material they are made from. The neoprene belt is light and convenient to use whilst the leather belts tend to be a bit more durable.
The neoprene belt uses a velcro lock system which can tend to wear over time wear as the leather/lever belts use either a lever or a prong set up to fasten the belt.
From personal experience I feel the leather/lever belts offer greater support due to the material being more rigid and therefore allowing for stronger bracing.

For the average gym goer looking for some support during their lifts the Vantage Neoprene Belt is a great option. It's light which makes carrying in your gym bag hassle free. For the serious lifters who are looking for maximum support and durability the Vantage Leather/Lever belts could potentially be a better option.

What are the available sizes for the Vantage Neoprene Weight Belt?




The weight belt is available in the following sizes:

Extra Small: Fits waist sizes 28.5-32.5 inches.
Small: Fits waist sizes 30-34.5 inches.
Medium: Fits waist sizes 34-38.5 inches.
Large: Fits waist sizes 38-42 inches.

How does the weight belt assist with lifting technique?




Using the Vantage Neoprene Weight Belt can help promote a correct & safer lifting technique. By stabilizing the lower back & torso, it reduces the risk of injuries & provides additional support during heavy lifts.

What type of fastener does the weight belt have?




The weight belt features a Velcro fastener, making it easy to adjust & secure according to your waist size.

What is the Vantage Neoprene Weight Belt used for?




The Vantage Neoprene Weight Belt is a versatile product designed for various applications, including working out in the gym, participating in competition events, & providing back support for use in the workplace or at home.
Reviews


Based on reviews collected by
&
Write a review

Contact Us