https://www.mrsupplement.com.au/universal-animal-test?variation=10592
Animal Test (21 Packs)
Animal
Supplements > Testosterone > Tribulus
https://cdn.mrsupplement.com.au/resources/imgs/products/universal-animal-test.1479167715573.png
http://schema.org/NewCondition
http://schema.org/InStock
AUD
https://www.mrsupplement.com.au/universal-animal-test?variation=10592
114.95
AUD

Test
Powerful Anabolic Hormonal Stabilizer
Boost & Activate Testosterone Levels
Improve Muscle Protein Synthesis
Increase Strength & Muscle Mass
Support Training & Recovery
In Stock

(12)
Write a review
Product
Q&A's
Reviews
Add To Cart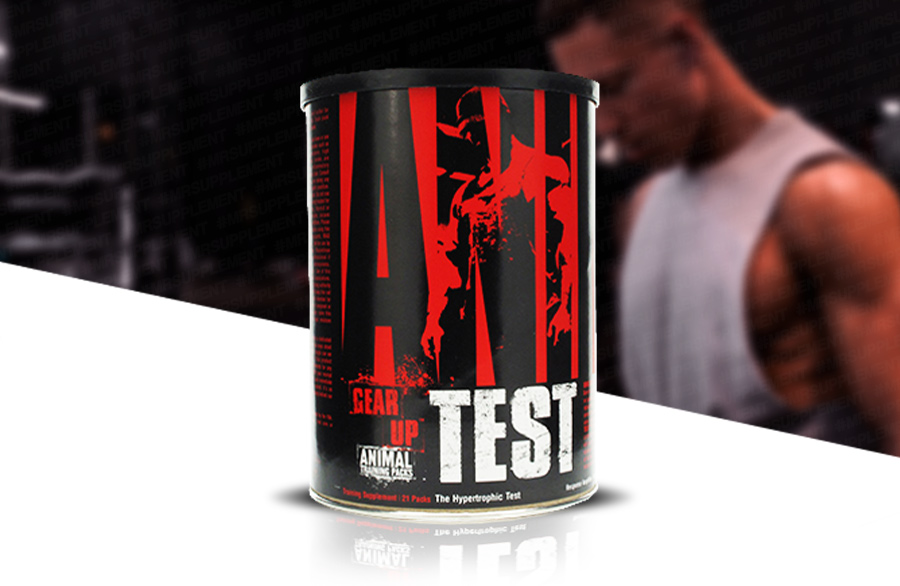 Animal Test is considered by many as the strongest supplement in the Animal line of supplements. The all new version of the original brings together some of the most powerful natural extracts around to help you redefine what it possible when it comes to muscle growth. Animal Test helps provide key ingredients that may support free and total testosterone levels, whilst also assisting in minimising any potential increases in estrogen. Together, the ingredients are designed to help boost strength and result in explosive gains. So how does it work?
Free Test Activation
Each powerful pack contains the revered complex of 3-4 divanillyl tetrahydrofuran. This compound is extracted from stinging nettle and which may reduce the levels of SHBG or sex hormone binding globulin. This is important, since high levels are correlated with lower free testosterone. Divanillyl may help to support the activation of free testosterone to offer you benefits to training performance, recovery, muscle size and strength.
Boost Anabolic Potential
Animal Test also includes Cissus Quandrangularis, a popular test support ingredient often included due to its potential ability to promote anabolism and minimise catabolic stress processes which break down muscle. Improving muscle protein synthesis and decreasing breakdown helps to turn your body into a muscle building powerhouse. Cissus has also shown potential as an ingredient which may have benefits to protection and support of joints and ligaments thanks to its antioxidant capabilities.
Healthy Estrogen Balance
While rises in free and total testosterone are great, there's always the worry that it can also increase the conversion to and effects of estrogen, which is definitely an unwanted side effect. That's why Trans-Resveratrol has been added to the mix. Acting like a shield, the ingredient may help to block circulating estrogen from reaching the hormone receptor and therefore halt its effects. The addition of other ingredients such as 3',5,7-Trihydroxy -4'-Methoxyflavone (Hesperetin) and Agaricus Bisporus polysaccharides may also help to minimise the amount and effects of estrogen. This is done by potentially inhibiting the enzyme aromatase which is the main process by which higher testosterone levels will result in the conversion to more estrogen.
Stronger Effect & Muscle Building Support
The addition of two ingredients; 6',7'-Dihydroxybergamottin and patented Bioperine help to ensure better uptake of all the ingredients and therefore better effect. Arachidonic Acid is also added which has a range of benefits for the seasoned bodybuilder. Also known as AA, in the body, it is able to support androgen receptor sensitivity. That is, it helps to amplify the effects of the circulating muscle building hormones such as testosterone along with heightened IGF signalling. All these processes translates to more muscle growth, more fat burning and better gains. Universal Animal test was an excellent supplement when it first came out, but research has progressed substantially since then. The new reformulated and reinvigorated Animal Test brings together the best ingredients available now, so you can achieve the best results possible.
Q&A's
Ask a question about
Animal Test
Could you use in conjunction with Animal Stak?




We recommend NOT combining Animal Stak & Animal Test. Both are testosterone boosters that do a similar type job. We'd recommend choosing one or the other.

Hi I do alot of power lifting and I am want to start strong man would using animal test with animal stack be of any benefit?




Animal Test & Pak we believe would be beneficial for strong man type workouts. Supporting optimal testosterone levels with Stak whilst providing nutritional insurance with Pak. Ideally they should also be taken with a quality whey protein powder.

can i use this with animal cuts ?




Yes you can stack the two products together.

I train early in morning before breakfast, do I take this with dinner the night before?




On training days, take the pack with the last meal before you workout - meaning the dinner the night before.
Reviews

Great

Based on reviews collected by
&
Write a review

Animal Test
Animal Test
One of the best test booster
Collected via Trustpilot
Animal Test
Animal Test
A genuine product with genuine results
Collected via Trustpilot
Animal Test
Animal Test
Stacked with Pak and Stak.
Solid results.
Collected via Trustpilot
Animal Test
Animal Test
Great stuff ! so worth the money and believe me I tried many test boosters thought the years can't wait to get more
Animal Test
Animal Test
Decent buy, Real good for getting me though a plateau and getting me back into hitting some serious goals!
Animal Test
Animal Test
Noticeable increase in strength/ endurance in the gym, I've just finished the first batch and now going to get a start on the second, thank you.
Animal Test
Animal Test
After a couple of weeks being talked into it, i bought a batch of this and have never looked back! it's really one of those "you have to see it to believe it" type of supplements, highly recommended!
Animal Test
Animal Test
This makes you feel like an absolute beast in the gym!
My strength, energy and pump has just gone through the roof, now i don't know where i would be without this product.
Animal Test
Animal Test
Great product, If you're trying to take yourself to the next level then i recommend this! I've only just started my first batch but the difference it's made in my training is phenomenal, makes you feel alpha AF!
Animal Test
Animal Test
I have used this product on and off for years and can stand behind it! some other test boosters are either to harsh or you'd have to stack them with other supps for the full effect but this has everything already in it, Animal really thought out their products, keep it up!
Animal Test
Animal Test
I'll be buying more of this, i had the first batch and since then have been at my peak, my workouts, my mood and my sleep all has improved drastically.
It also contains ingredients to block extra Estrogen, this really is an all in one amazing product!
Animal Test
Animal Test
After only 1 week I've already noticed some massive boosts in my strength, energy and overall performance.
Next Page
Contact Us