Muscletech's Hydroxycut Hardcore series of supplements has long been considered as one of the best capsule based fat burners on the market. Simple, effective and strong, the series focused on convenience, energy support and appetite suppression. Over the last few years, Muscletech have decided to release a new version of the Hydroxycut known as Hydroxycut Hardcore Next Gen. Let's take a look at how it compares to the previous Hydroxycut Hardcore Elite.
Hydroxycut Hardcore Elite vs Next Gen Ingredients
Both the supplements are quite similar, but they do contain a few key differences. Let's take a look at the different ingredients in each supplement along with their doses.
Ingredients Comparison (Per Serve)

Hydroxycut Elite

Hydroxycut Next Gen

Coffee Arabica (255.3mg)
Equivalent Caffeine – 250mg

Coffee Arabica (184.7mg)
Equivalent Caffeine – 181mg

Coffee Canephora (200mg)
Equivalent Caffeine – 4mg
Equivalent Chlorogenic Acids – 90mg

Theobroma Cacao Seed Powder (Cocoa)
Equivalent Caffeine – 4mg
Equivalent Chlorogenic Acids – 90mg

Caffeine Anhydrous (50mg)

Caffeine Anhydrous (50mg)

Theobroma Cacao (100mg)
Equivalent Caffeine – 1mg

Ornithine Monohydrochloride (500mg)

Coleus Forskohlii (25mg)
Equivalent Forskolin – 5mg

Camellia Sinensis (Green Tea) (150mg)
Equivalent Epigallocatechin-3-0-gallate – 45mg
Equivalent Catechins – 90mg
Equivalent Caffeine – 15mg

Capsicum Annum (Cayenne) (1mg)
Equivalent Capsaicin – 15mcg

Salvia miltiorrhiza (Danshen) (50mg)

Scutellaria lateriflora (Skullcap) (50mg)

Zingiber officinale (Ginger) (40mg)

Total Caffeine – 305mg

Total Caffeine – 250mg
From the table, you can see that Hydroxycut Next gen contains 2 extra ingredients than the original Hydroxycut Elite with the two supplements sharing only 3 ingredients in common. Hydroxycut Elites ingredients belong the more classical range of fat loss ingredients, whilst the inclusion of Danshen or Red Sage, Skullcap and Ginger are interesting and more novel additions to the Next Gen and is the key difference between the two supplements.
Hydroxycut Hardcore Elite vs Next Gen Dosing
Comparing the two supplements, you can see that each serve of Hydroxycut Elite contains slightly more caffeine than the Next Gen. What's contained in the Next Gen though is still significant and equates to about 2 and a half cups of coffee. Both of the supplements differing ingredients though could use with a boost in dosage, however, taking the full serve of 4 capsules daily will be helpful. One positive highlight is that Muscletech are willing to continue with transparent dosing, which makes it easier to compare and analyse the amount of active ingredients. Overall though, you're definitely getting enough of the stimulants, but probably need a double serve of each of the supplements if you're used to fat burners.
Hydroxycut Hardcore Elite vs Next Gen Effectiveness
Both the supplements still offer strong energy boosts, appetite suppression and thermogenesis. You're going to find that your motivation and alertness throughout the day is going to be strong with both supplements, but perhaps a little more so with the Next Gen, thanks to its added green tea, ginger and skullcap . Both supplements offer a good boost to overall metabolism, however Next Gen just edges out the Elite when it comes to the focus and attention side of things. Ginger has also been known to support fatigue recovery as well, and along with the blood flow boosting nature of Danshen, means that Next Gen not only helps to support fat loss, but also with improved recovery ability.
Hydroxycut Hardcore Elite vs Next Gen Taste, Flavour & Mixability
Both supplements come in capsule form with the exact same serving recommendation of going from 1 capsule initially to 4 capsules/day over the course of a week. If you find that you're sensitive to stimulants, it might be useful to have the supplements with some food.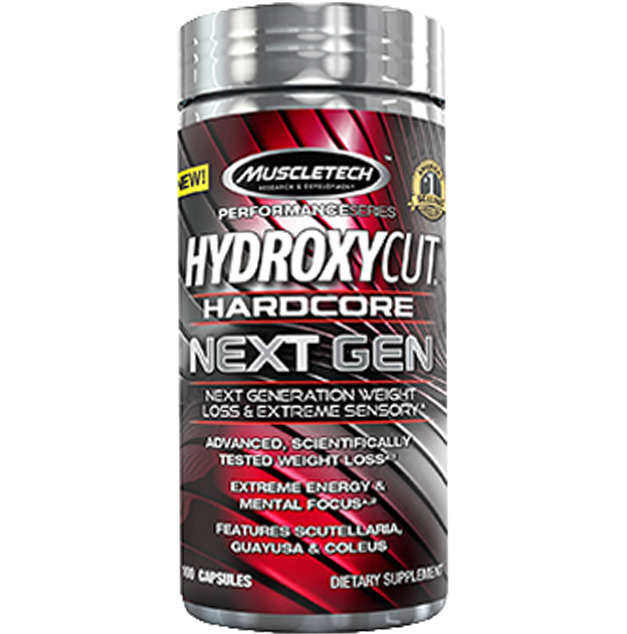 Hydroxycut Hardcore Elite vs Next Gen Price & Value
The Muscletech Hydroxycut Hardcore Elite is slightly less expensive than the Next Gen, however, you are definitely getting some added value with the extra ingredients of the Next Gen. Whether it warrants the level of price differential though is up for debate. Overall though, both supplements are fairly price competitive with many of the other top fat burners on the market at the moment.
Hydroxycut Hardcore Elite vs Next Gen Winner
This wasn't easy to pick, however the Hydroxycut Next Gen just came out on top thanks to the added extra ingredients. While both offer excellent appetite suppression, boosted metabolism, attention and focus, Next Gen's added ingredients offer some further mood elevation and also helps to support recovery. It's unsure as to whether Next Gen will replace Elite entirely, however if it is, then you can rest easy knowing you're getting a slightly improved version of an already great product.
Overall Winner: Muscletech Hydroxycut Hardcore Next Gen
Although we try to be as objective as possible, we understand that opinions can vary between individuals. As such, the results of this comparison may not be agreed upon by everyone and should only be used as a guide.