https://www.mrsupplement.com.au/cellucor-ws1-extreme?variation=4892
Cellucor WS1 Extreme (120 Capsules)
Cellucor
Supplements > Fat Loss > Fat Metabolisers
https://cdn.mrsupplement.com.au/resources/imgs/products/cellucor-ws1-extreme.1334278757418.png
http://schema.org/NewCondition
http://schema.org/OutOfStock
AUD
https://www.mrsupplement.com.au/cellucor-ws1-extreme?variation=4892
69.95
AUD
Product
Q&A's
Reviews
Add To Cart

Cellucor WS1 Extreme is unavailable for purchase from MrSupplement.com.au. For a great alternative fat metabolising supplement we are recommending our customers view Musashi Fat Metaboliser with Carnitine
------------------------------------------------------------------------------------------------------------------------
Cellucor WS1 Extreme is a food type dietary supplement which harnesses Acetyl-L-Carnitine and CoQ10 & may assist to support fat metabolism and energy production — a potent combination that may use body fat moving it into muscle cells to be burned as fuel. Cellucor WS1 may be used as a stand alone supplement or combined with your favourite thermogenic fat burner. For best results always combine with a tailored diet and suitable exercise program.
Q&A's
Ask a question about
Cellucor WS1 Extreme
Reviews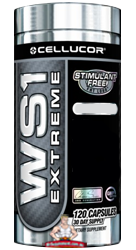 Excellent

Based on reviews collected by
&
Write a review

Cellucor WS1 Extreme
Cellucor WS1 Extreme
I have been using Cellucor WS1 for over a month now, and have found the results have been quite good. I have lost some of the fat around my waist and am looking better overall since using it. I also found that my energy levels when taking the pills were boosted, which for me was a big bonus. Although I haven't used many other fat-burning products, this one seems like it really is working well and the pricing on it was more than competitive for a month's supply (depending on how many you take per day). I do recommend it for people who, like me needed just to lose some excess fat.
Next Page
Contact Us