Cellucor WS1 Extreme is unavailable for purchase from MrSupplement.com.au. For a great alternative fat metabolising supplement we are recommending our customers view Musashi Fat Metaboliser with Carnitine
------------------------------------------------------------------------------------------------------------------------
Cellucor WS1 Extreme is a food type dietary supplement which harnesses Acetyl-L-Carnitine and CoQ10 & may assist to support fat metabolism and energy production — a potent combination that may use body fat moving it into muscle cells to be burned as fuel. Cellucor WS1 may be used as a stand alone supplement or combined with your favourite thermogenic fat burner. For best results always combine with a tailored diet and suitable exercise program.
Cellucor WS1 Extreme
Serving Size
Servings Per Container
Cellucor WS1 Ingredients
Per Serve
Per 100g
- Acetyl-L-Carnitine HCI
375mg
- Vitamin E Acetate (dl-a-tocopherol acetate)
30mg
- Vitamin A Acetate (50,000 iu/gram)
3mg
- Bitter Melon extract, pTeroPure (Pterostilbene)
Silicon Dioxide, Magnesium Stearate, Capsule Shell (Gelatin, Titanium Dioxide, FD&C Red #40, FD&C Blue #1 and FD&C Yellow #6)
As a dietary supplement, use for 8 weeks in a cycle, then discontinue use for 2 weeks before retaking the product.
Morning Take 2 Capsules with food.
Night-Time Take 2 capsules with food.
Keep in cool dry place out of direct sunlight . Store below 30°C
This product is not a sole source of nutrition and should be used in conjunction with an appropriate physical training or exercise programme. Not suitable for children under 15 years of age or pregnant women. Should only be used under medical or dietetic supervision. Always read label prior to use.
General Product Warning
Users should seek medical advice prior to beginning any supplementation program. This especially applies to individuals taking prescription medication or those with pre-existing medical conditions. Always read the label prior to consuming any supplement, always follow the manufacturer's directions & never exceed the recommended dose. In the event of experiencing any unwanted effects discontinue use immediately & seek medical advice if symptoms persist. Keep out of reach of children.
Copyright
Copyright MrSupplement Marketing Pty Ltd 2013. This website, and the images, text and tables on it are subject to copyright under the Australian Copyright Act 1968 (Cth), as well as under the copyright law of other countries by virtue of worldwide treaties, belonging to MrSupplement Marketing Pty Limited and to its suppliers & or product manufacturers. Reasonable portions of this website may be printed out solely insofar as is necessary to order products from the MrSupplement.com.au web site. Any other reproduction or communication in whole or in part is unauthorised and may result in legal proceedings being taken to protect the intellectual property rights of MrSupplement Marketing Pty Limited and/or suppliers & product manufacturers.
Cellucor WS1 Extreme Reviews
I have been using Cellucor WS1 for over a month now, and have found the results have been quite good. I have lost some of the fat around my waist and am looking better overall since using it. I also found that my energy levels when taking the pills were boosted, which for me was a big bonus. Although I haven't used many other fat-burning products, this one seems like it really is working well and the pricing on it was more than competitive for a month's supply (depending on how many you take per day). I do recommend it for people who, like me needed just to lose some excess fat.
Cellucor WS1 Extreme Information
Ask a question about
Cellucor WS1 Extreme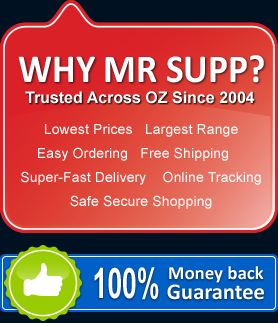 It really pleasure to use this site. I don't have to bother myself with driving somewhere to buy nutrition or wait for ages for delivery. With mr Supplement everything is easy: order today - receive tomorrow morning or midday. 100% satisfaction for really fair price
Read more testimonials >>
© Copyright 2014 All Rights Reserved MrSupplement