https://www.mrsupplement.com.au/bsc-body-science-creatine?variation=7165
BSc Creatine (200g / 65 Serves Natural)
BSc Body Science
Supplements > Creatine > Creatine Monohydrate
https://cdn.mrsupplement.com.au/resources/imgs/products/bsc-body-science-creatine.1642651811445.png
http://schema.org/NewCondition
http://schema.org/InStock
AUD
https://www.mrsupplement.com.au/bsc-body-science-creatine?variation=7165
29.95
AUD

BSc Creatine
Pure Creatine Monohydrate
99.9% Purity
3g Serves
HPLC Tested
Increase Fat-Free Mass
In Stock

(3)
Write a review
Product
Q&A's
Reviews
Add To Cart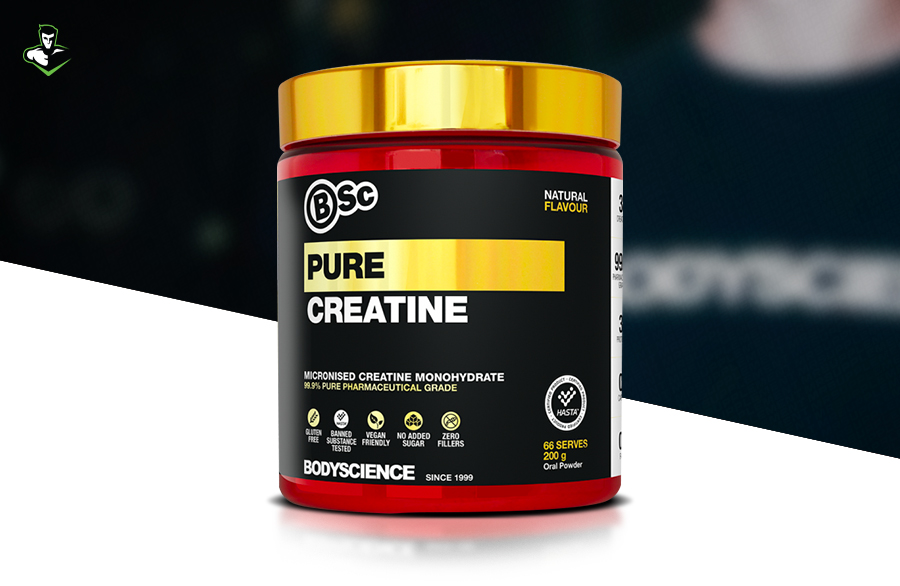 Pure Micronised Creatine - Promotes greater gains in strength, fat free mass, and performance primarily of high intensity exercise tasks.
Pharmatec® Creatine is HPLC Tested
No flavours or sweetners
Pharmatec® Creatine Monohydrate is Quality
HPLC Tested
Creatine purity of 99.9%
Unwanted creatinine less than: 50ppm
Unwanted Dicyandiamide less than: 50ppm
Unwanted Dihydrotriazine (derivative): Negative (not detectable)
Free of any impurites such as; Sodium, Potassium, Magnesium, Phosphate.
Creatine is found naturally within the human body. The majority of creatine is stored within the skeletal muscle cells. Creatine is used to restore the cells' energy source. Muscle creatine stores can be increased simply by supplementing the diet with additional creatine (Hultman et al., 1996).
When combined with a resistance training program, creatine can enhance the gains in fat-free mass and lean body mass to a degree that is significantly greater than would be associated with training alone (Volek et al., 1999; Bemben et al., 2001). Pharmatec® Creatine is HPLC Tested.
Q&A's
Ask a question about
BSc Creatine
Reviews

Great

Based on reviews collected by
&
Write a review

BSc Creatine
BSc Creatine
Used this a few times and it does the job everytime - so safe to say its quality stuff
BSc Creatine
BSc Creatine
I had gains using this BSc Creatine. I would recommend it to anyone who wants to get that little more weight on the bar for a cheap price.
BSc Creatine
BSc Creatine
Effectiveness: Within a few weeks of starting using this product I noticed considerable increases in my strength. This was especially highlighted to me when I stopped using this product for a week and found that I was struggling to lift anywhere near what I was lifting the week before. With time I also noticed substantial increases in muscular size.
Taste: This product does not taste great; then again, it is difficult to find a creatine product that does taste good. When mixed with whey protein powder I found that the taste of this product was not an issue.
Solubility: Not the best solubility, however, I have had much worse experiences with other creatine products. Occasionally you may find some insoluble creatine crystals at the bottom of your glass but apart from that no major complaints in this regard.
Cost Effectiveness: In my opinion this is where BSc Micronised Creatine Monohydrate really stands out. The 1kg tub offers an astounding 333 serves. For those like myself that cycle creatine intake, this is great as a single tub will more than likely last you for over a year!!
Conclusion: For a simple yet effective creatine monohydrate product, BSc Micronised Creatine Monohydrates will more than adequately do the job. While the taste and solubility is not the best, it is not the worst out there either. This product offers great value for money, is effective and is perfectly suitable to those taking creatine for the first time. I would highly recommend it to any athlete looking for a creatine monohydrate product.
Next Page
Contact Us