https://www.mrsupplement.com.au/bsc-advanced-athletic-beauty-collagen-ultra?variation=15094
BSc Advanced Athletic Beauty Collagen Ultra (400g / 30 serves Vanilla)
BSc Body Science
Supplements > Health > Collagen
https://cdn.mrsupplement.com.au/resources/imgs/products/bsc-advanced-athletic-beauty-collagen-ultra.1635985212532.png
http://schema.org/NewCondition
http://schema.org/OutOfStock
AUD
https://www.mrsupplement.com.au/bsc-advanced-athletic-beauty-collagen-ultra?variation=15094
59.95
AUD

Advanced Athletic Beauty Collagen Ultra
3in1 BioActive Collagen Peptides
Support healthy skin, hair, joints, ligaments and tendons
No added sugar, artificial colours, flavours or sweeteners
HASTA Banned Substance Tested
Great Vanilla Taste

(0)
Write a review
Product
Q&A's
Reviews
Add To Cart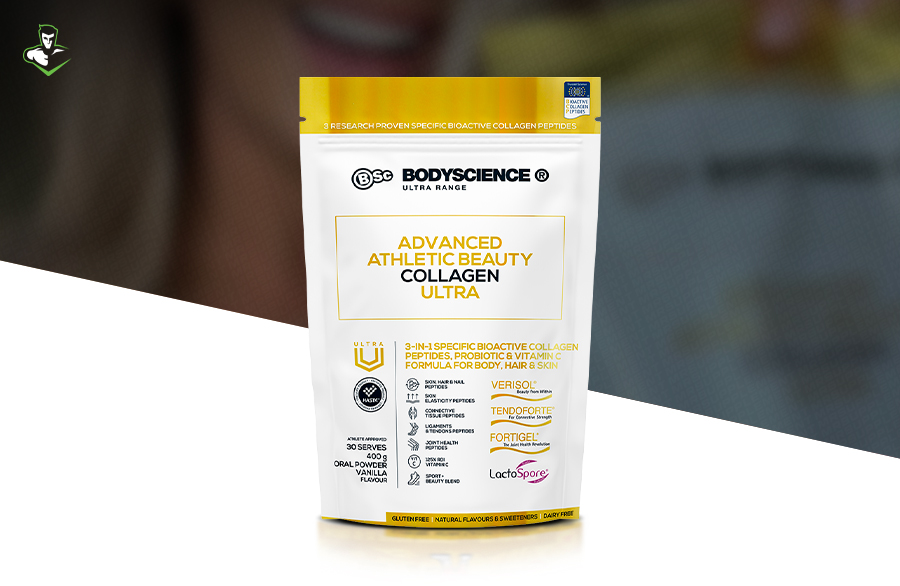 Not all collagen peptides are created equally. Body Science only utilises Gelita® portfolio of well-researched Bioactive Collagen Peptides (BCP®) under license because they are scientifically validated and different: No added sugar, no artificial colours, no artificial flavours, no artificial sweeteners, and no banned substances. So, when we say it's pure & natural, we mean what we say! You'll feel more beautiful than ever. It is made by nutritionists and backed up in clinical studies, using only pure specialised peptides which are bioactive for everyone's skin.
Beauty - Verisol - In research, has been shown to significantly reduce skin wrinkles, smooth fine lines, increase skin hydration, improve skin surface structure and decrease cellulite, and improve overall skin texture after 12 weeks of daily use.
Joints - Fortigel - In research, has been shown to significantly increase the production of collagen and proteoglycans. These two components are the primary building block of cartilage mass thereby it greatly helps in the repair of damaged tissues and in the formation of new cartilage after 8 weeks of daily use its a superhero for promoting natural mobility.
Tendons and Ligaments - Tendoforte - In research, has been shown to significantly increase health and quality of ligaments and tendons decreasing the risk of injury considerably, whilst improving flexibility within 12 weeks of daily use.
Skin - Lactospore - Can influence the skin health and appearance considerably helping to eliminate the toxins and free radicals that can damage skin and cause early signs of ageing, but repair the harmful damage caused by free radicals, as well—and as the manufacturer states, slow down the visible proof of wrinkles with daily use it's a superhero for promoting natural wellness.
Q&A's
Ask a question about
BSc Advanced Athletic Beauty Collagen Ultra
Reviews


Based on reviews collected by
&
Write a review

Contact Us