https://www.mrsupplement.com.au/vantage-womens-gym-gloves?variation=13954
Vantage Womens Gym Gloves (Pink Medium)
Vantage
Supplements > Accessories > Gym Gloves
https://cdn.mrsupplement.com.au/resources/imgs/products/vantage-womens-gym-gloves.1596580678521.png
http://schema.org/NewCondition
http://schema.org/InStock
AUD
https://www.mrsupplement.com.au/vantage-womens-gym-gloves?variation=13954
29.95
AUD
https://www.mrsupplement.com.au/vantage-womens-gym-gloves?variation=13953
Vantage Womens Gym Gloves (Pink Small)
Vantage
Supplements > Accessories > Gym Gloves
https://cdn.mrsupplement.com.au/resources/imgs/products/vantage-womens-gym-gloves.1596580678521.png
http://schema.org/NewCondition
http://schema.org/InStock
AUD
https://www.mrsupplement.com.au/vantage-womens-gym-gloves?variation=13953
29.95
AUD
https://www.mrsupplement.com.au/vantage-womens-gym-gloves?variation=13952
Vantage Womens Gym Gloves (Pink X-Small)
Vantage
Supplements > Accessories > Gym Gloves
https://cdn.mrsupplement.com.au/resources/imgs/products/vantage-womens-gym-gloves.1596580678521.png
http://schema.org/NewCondition
http://schema.org/InStock
AUD
https://www.mrsupplement.com.au/vantage-womens-gym-gloves?variation=13952
29.95
AUD

Womens Gym Gloves
Women's Lifting Glove
Maximum Comfort
Four Way Stretch, Breathe Easy Back
Finger & Wrist Tabs for Easy Removal
Velcro Clasp
In Stock

(0)
Write a review
Product
Q&A's
Reviews
Add To Cart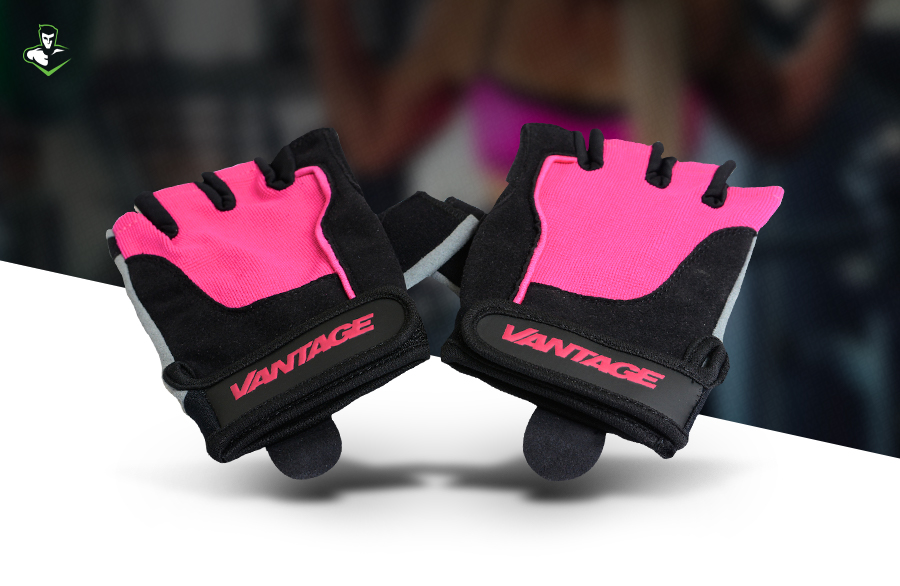 Vantage Strength Women's Gym Gloves are comfortable, durable and can be used for any type of training, giving your hands and palms the protection they need. Featuring four-way stretch, breath easy fabric.
Q&A's
Ask a question about
Vantage Womens Gym Gloves
Can I use these gloves for outdoor activities like cycling or hiking?




While primarily designed for gym workouts & strength training, some users may find these gloves suitable for outdoor activities that require hand protection & grip support, such as cycling or hiking.

Can these gloves prevent sweating during workouts?




While the gloves are made with breathable fabric to enhance ventilation, they may not entirely prevent sweating. However, the materials used are designed to help manage moisture & reduce discomfort during intense workouts.

Are these gloves specific to women only?




Yes, the Vantage Women Pink & Black Gloves are specifically designed to cater to women's hand sizes & preferences.

Do the gloves provide sufficient palm protection?




Absolutely! The Vantage Women Pink & Black Gloves are crafted to offer optimal palm protection, reducing the risk of blisters, calluses, & abrasions during training sessions.

Can I wash the gloves?




Yes, the gloves can be washed to maintain cleanliness & hygiene. It is recommended to hand wash them with mild soap & let them air dry to preserve their quality.

What activities can these gloves be used for?




These gloves are versatile & suitable for a wide range of training activities. They can be used for weightlifting, strength training, bodybuilding, CrossFit, & various other gym exercises that require hand protection & support.

What are the key features of Vantage Women Pink and Black Gloves?




The Vantage Women Pink and Black Gloves come with the following key features:

Maximum Comfort: Designed to provide maximum comfort during workouts.
Four Way Stretch, Breathe Easy Back: The gloves are made with four-way stretch, breathable fabric on the back for enhanced flexibility & ventilation.
Finger & Wrist Tabs for Easy Removal: Convenient finger & wrist tabs are included for easy removal after your workout.
Velcro Clasp: Equipped with a Velcro clasp to ensure a secure & adjustable fit.
Reviews


Based on reviews collected by
&
Write a review

Contact Us