https://www.mrsupplement.com.au/rule-1-lytes?variation=15327
Rule 1 Lytes+ (220g / 40 Serves Lemon Lime)
Rule 1
Supplements > Amino Acids > Drinks & Gels
https://cdn.mrsupplement.com.au/resources/imgs/products/rule-1-lytes.1644966060570.png
http://schema.org/NewCondition
http://schema.org/OutOfStock
AUD
https://www.mrsupplement.com.au/rule-1-lytes?variation=15327
29.95
AUD

Lytes+
Premium Hydration Support
5-Electrolyte Blend with Potassium, Sodium, Magnesium, Chloride, Calcium
Enhanced with Citrulline, Coconut Water, Watermelon, and Taurine
10 Calories and 1 Carb per serving
Refreshing Fruit Flavour

(0)
Write a review
Product
Q&A's
Reviews
Add To Cart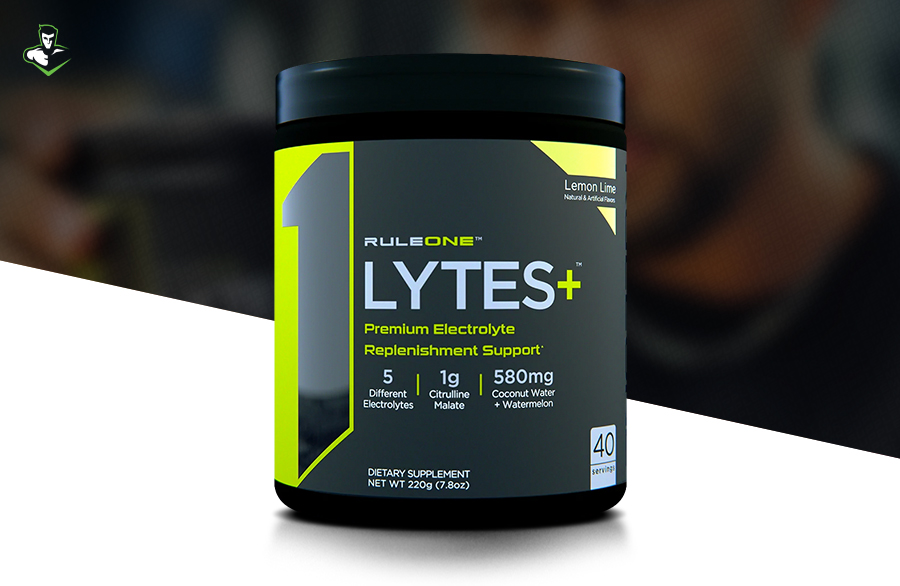 Well-hydrated muscles are happy muscles. Even mild dehydration has been shown to increase fatigue and reduce concentration. Prolonged exercise, especially in warm environments, can lead to substantial body water losses with the potential to seriously impair performance.
R1 Lytes+ helps replenish fluids and nutrients lost through sweat with a combination of 5 different electrolytes, coconut water, watermelon powder, citrulline malate, taurine, and antioxidant vitamins A & C.
The refreshing lemon-lime flavor further assists hydration by encouraging you to drink more.
Q&A's
Ask a question about
Rule 1 Lytes+
How is Rule 1 Lytes different from other electrolyte blends?




Rule 1 Lytes has the added advantage of having 6 electrolyte minerals, as well as coconut water powder, himalayan salt and l-citruline to maximise muscle hydration. It also contains no sugar or carbs, seperating it from main stream "electrolyte" drinks filled with sugar.

Can Rule 1 Lytes be used as a pre-workout?




Rule 1 Lytes (despite containing L-citruline) was not formulated with being a pre-workout in mind, as the ingredients would benefit trainees most to be consumed during a workout for optimal hydration. For a pre-workout option, Rule 1 offer preLIFT.
https://www.mrsupplement.com.au/rule-1-pre-lift

Is Rule 1 Lytes keto friendly?




Yes - Rule 1 Lytes contains almost no sugar or carbohydrates, as well as minimal calories of any nature so it would also help those doing intermitent fasting. Also, those on a keto diet would likely benefit from the minerals that are contained in electrolytes.

Is Rule 1 Lytes is good for runners?




Yes - Rule 1 Lytes being an electrolyte formula is a great way to help runners stay hydrated - however it is worth mentioning if you would prefer sugar/fast acting carbohydrates during your runs it may be worth looking to other alternatives as this contains close to zero sugar.

Can I take Rule 1 Lytes with Rule 1 Protein?




Yes - Rule 1 Lytes and Rule 1 Protein can absolutely be taken together - however if you mean having them in the same drink (mixing them together) I wouldn't suggest doing as such, as one is a milky texture and the other is a more cordial style. Rule 1 Protein should be taken as a post-workout or alongside/between meals where as Rule 1 Lytes should be used for hydration purposes whether it be throughout your day or during your workout.

What flavours do Rule 1 Lytes offer?




At the time of writing - Rule 1 Lytes offers a delicious Lemon Lime flavour.

Is Rule 1 Lytes good for a calorie deficit?




Yes - Rule 1 Lytes is practically non-caloric and will not impede on a calorie deficit. It may also be beneficial for someone on a calorie deficit as there is a good chance they would be lacking in essential minerals and electrolytes.

Can Rule 1 Lytes be used during a workout?




Yes - Rule 1 Lytes would be a very effective intra-workout with its electrolytes as well as himalayan sea salt and coconut water. Whether endurance training or heavy lifting this product is perfect to ensure the body's ability to maintain hydration during exersise.

Is Rule 1 Lytes like a BCAA?




Rule 1 Lytes is similar to most BCAA formulas as these formulas generally do include electrolytes - however this is just an electrolyte formula and does not contain the 3 main amino acids that make up a BCAA.

What is Rule 1 Lytes?




Rule 1 Lytes is a sugar-free electrolyte formula designed to aid muscle hydration either during oafter training, or just throughout the day - especially for those to tend to sweat alot as sweating can cause loss of essential minerals and make it hard for the body to retain water.
Reviews


Based on reviews collected by
&
Write a review

Contact Us