https://www.mrsupplement.com.au/red-dragon-fireball?variation=14400
Red Dragon Fireball (240g / 60 Serves Cola Lemonade)
Red Dragon Nutritionals
Supplements > Weight Management > Thermogenics
https://cdn.mrsupplement.com.au/resources/imgs/products/red-dragon-fireball.1615953926342.png
http://schema.org/NewCondition
http://schema.org/InStock
AUD
https://www.mrsupplement.com.au/red-dragon-fireball?variation=14400
79.95
AUD
https://www.mrsupplement.com.au/red-dragon-fireball?variation=14399
Red Dragon Fireball (240g / 60 Serves Lemon Lime Soda)
Red Dragon Nutritionals
Supplements > Weight Management > Thermogenics
https://cdn.mrsupplement.com.au/resources/imgs/products/red-dragon-fireball.1615953926342.png
http://schema.org/NewCondition
http://schema.org/InStock
AUD
https://www.mrsupplement.com.au/red-dragon-fireball?variation=14399
79.95
AUD
https://www.mrsupplement.com.au/red-dragon-fireball?variation=14397
Red Dragon Fireball (240g / 60 Serves Passionfruit)
Red Dragon Nutritionals
Supplements > Weight Management > Thermogenics
https://cdn.mrsupplement.com.au/resources/imgs/products/red-dragon-fireball.1615953926342.png
http://schema.org/NewCondition
http://schema.org/InStock
AUD
https://www.mrsupplement.com.au/red-dragon-fireball?variation=14397
79.95
AUD
https://www.mrsupplement.com.au/red-dragon-fireball?variation=14398
Red Dragon Fireball (240g / 60 Serves Raspberry Slushie)
Red Dragon Nutritionals
Supplements > Weight Management > Thermogenics
https://cdn.mrsupplement.com.au/resources/imgs/products/red-dragon-fireball.1615953926342.png
http://schema.org/NewCondition
http://schema.org/InStock
AUD
https://www.mrsupplement.com.au/red-dragon-fireball?variation=14398
79.95
AUD
https://www.mrsupplement.com.au/red-dragon-fireball?variation=14396
Red Dragon Fireball (240g / 60 Serves Red Frogs)
Red Dragon Nutritionals
Supplements > Weight Management > Thermogenics
https://cdn.mrsupplement.com.au/resources/imgs/products/red-dragon-fireball.1615953926342.png
http://schema.org/NewCondition
http://schema.org/InStock
AUD
https://www.mrsupplement.com.au/red-dragon-fireball?variation=14396
79.95
AUD

Fireball
Thermogenic Preworkout
Crystal clear focus
No crash energy
Thermogenic powerhouse
In Stock

(0)
Write a review
Product
Q&A's
Reviews
Add To Cart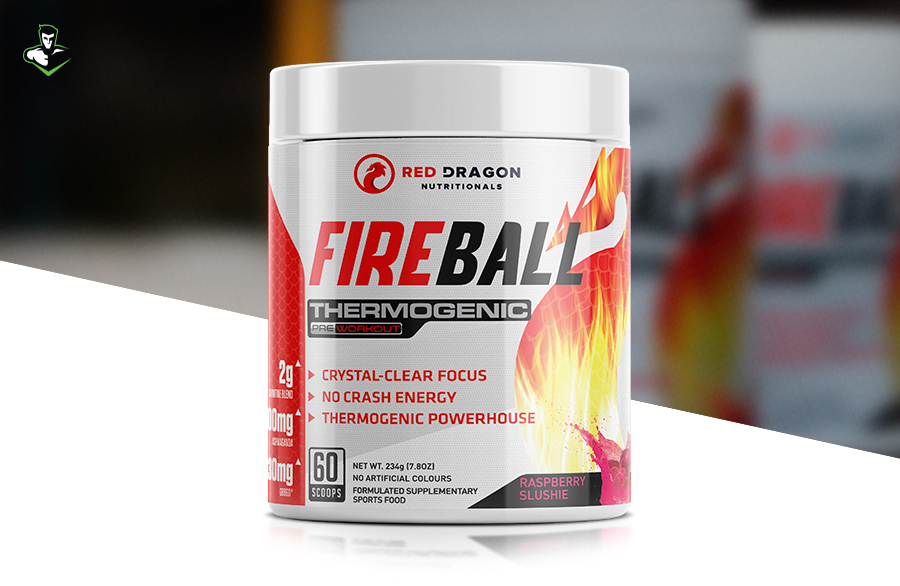 Fireball, through synergy and clinical doses creates a one-stop shop for torching those unwanted fatty stores. Fireball provides clean energy, mental clarity and an increase in thermogenesis, along with adaptogen herbs to curb cortisol response, and GBBGO® to keep carnitine levels elevated for longer.
Fireball Key Ingredients
Carnitine Lipolysis Blend - with two different forms of carnitine available, at a total dose of 2g, the Carnitine in Fireball will help transport and free up fatty acids to be burnt as fuel - preserving muscle tissue and enhancing the efficiency of fat metabolization. The GBBGO® present in the blend will increase your bodies carnitine production, and will minimise the conversion of bioavailable carnitine into GBB.
Coleus Forskholii - This root extract is a potent upregulator of a hormone called Cyclic AMP (cAMP). This hormone plays a huge role in the regulation of glycogen and fat metabolisation, making it a highly effective addition to any fat burner. In addition to this, we've also added Yerba Mate Tea Leaf Extract to keep the cAMP levels in your system for longer - this is done by inhibiting production of the enzyme; 'cAMP-dependent phosphodiesterase'.
Ashwaganda - This root extract is a highly effective adaptogen and anti-cortisol agent, making it your fat burning best friend. The addition of Ashwaganda in the formula will help reduce any negative stress on the body from dieting, long sessions, or your day to day life, meaning you can do what you're doing for longer, and feel better doing it!
Q&A's
Ask a question about
Red Dragon Fireball
Reviews


Based on reviews collected by
&
Write a review

Contact Us