Elemental Xtreme WPI Review
Elemental Extreme WPI is the top-shelf whey protein isolate (WPI) from the ever-popular Australian owned and made Elemental Nutrition sports supplement range. As with many of Elemental's protein powders, Xtreme WPI comes with an impressive range of features, which we will review in this article.
Elemental Xtreme WPI Highlights
One of the best value Australian-made WPIs
Very high protein
Very high leucine
Very low carb & fat
Elemental Xtreme WPI Ingredients & Dosage
As one would expect for a contemporary WPI, Elemental Nutrition WPI comes with crossflow, microfiltered whey protein isolate, plus added glutamine. Naturally, with this type of protein, users can rest assured the various whey fractions will retain their bioactivity and potency; exactly what any savvy supplement users demands from their protein powder. With 36g of protein in every 40g scoop, Elemental WPI has a very high total protein concentration. A quick look at the ingredients list helps explain the high protein. With no 'creamers' or gums or MCTs – all your getting in the product is protein with a bit of flavouring and sweetener to taste. Coupled with its ultra high protein content is very low carbohydrate and fat levels, which is really just icing on the cake for this product.
Elemental Xtreme WPI Pros & Effectiveness
With its recognised role as the master amino acid regulator of muscle protein synthesis, one of the best features of Elemental's Xtreme WPI is its very high leucine content. Coming in at just over 11g per 100g (for the vanilla flavour), Xtreme WPI has one of the highest leucine contents in its category. This makes it an extremely anabolic protein; ideal for post workout.
Elemental Xtreme WPI Cons
It's very hard to find a major point of weakness for Elemental's Xtreme WPI, given all the key strengths highlighted above. Some people might argue that there should be more flavours – with just two available currently (i.e. chocolate and vanilla).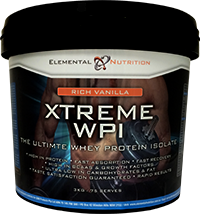 Elemental Xtreme WPI Taste & Mixability
Even with its lack of creamers and gums and very high protein content, Elemental's Xtreme WPI has a surprisingly good flavour. While one can note that the texture of the product is not as creamy as some that WPIs that include creamers and gums, it's not enough to significantly detract from the protein. What's more, this can be overcome easily if mixed with some plain carbohydrate powder (in the case of a post-workout)
Elemental Xtreme WPI Verdict
With its impressive range of features and great price, Elemental's Xtreme WPI has to be one of the best Australian-made WPIs available. As is sadly the case with many other products which over-promise and under-deliver; Xtreme WPI does not come with fanciful outrageous claims about how it will transform your physique overnight, but instead simply stays true to its list of features and in so doing delivers one of the best WPIs around.