Zinc Supplementation in Children Without Zinc Deficiency
When it comes to studying the effects of micronutrients on health and disease, much of the research centres on the effects of a mineral or vitamin when given to individuals with an existing/known deficiency. This is in contrast to the notion of 'optimum nutrition', which is concerned more with giving sufficient micro/macronutrients to attain optimal health. With this in mind, researchers from Brazil recently took a group of forty school-aged children (i.e. between 8 and 9 years) who did not have zinc deficiency and submitted them to a regime of zinc supplementation that included both daily oral zinc supplementation and a one-off intravenous zinc administration.
The study ran over 3 months during which time the school children received either a daily liquid zinc supplement (10mg) or a placebo1. During the course of the study, food intake was assessed using a prospective 3-day food record on 2 weekdays and 1 day of the weekend. In addition to the daily oral supplements, each child received a zinc injection at the start of the trial. This was used to measure the acute effect of zinc administration on body systems involved in the regulation of the growth as shown in diagram below.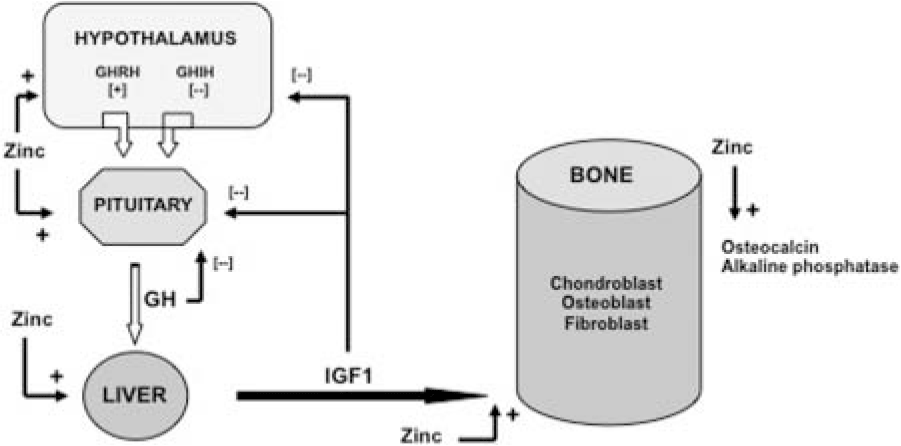 With zinc's renowned effects on growth, the researchers were concerned with the effect of added zinc to the diet of children already replete with zinc on their growth (if any).
Interestingly, when it came to the children's diet and energy intake, those receiving zinc experienced a significant increase in overall energy intake, which was beared out as an increase in fat and protein intake (the two most important macronutrients for growth). Zinc is popularly thought to play a positive role in appetite regulation so it's feasible that the heightened zinc intake served to increase appetite. In their article the authors site studies that showing a positive effect of zinc on the growth of children with zinc deficiency2. So it's interesting to see similar results even in children who are not zinc deficient.
On an hormonal level, children receiving zinc showed an increase in the anabolic hormones associated with growth (growth hormone, insulin-like growth factor-1, and insulin-like growth factor binding protein 3). Each of these hormones are known to increase with age in children, particularly during puberty3. These positive effect on growth hormones were seen both after daily oral supplementation and acute intravenous administration.
While there is some conflicting research, a number of studies suggest zinc can improve children's taste perception4. The authors of the study do not make mention of this possible mechanism in their article, but it's feasible it may have played a role in the children's increased energy intake.
Whatever the case, it seems there's little adverse risk in supplementing the diet of 8 and 9 years old with zinc, even when they have a diet that meets the dietary guidelines for recommended zinc intake.
1. RÉD de Medeiros, et al. Effect of zinc supplementation on GH, IGF1, IGFBP3, OCN, and ALP in non-zinc-deficient children. Journal of the American College of Nutrition. 2015;0(0):1-10.
2. Alves CX, et al. Positive effects of zinc supplementation on growth, GH, IGF1, and IGFBP3 in eutrophic children. J Pediatr Endocrinol Metab. 2012;25:881–887, 2012.
3. Juul A, et al. Serum levels of insulin-like growth factor (IGF)-binding protein-3 (IGFBP-3) in healthy infants, children, and adolescents: the relation to IGF-I, IGF-II, IGFBP-1, IGFBP-2, age, sex, body mass index, and pubertal maturation. J Clin Endocrinol Metab. 1995;80:2534–2542.
4. Nagraj SK, et al. Interventions for the management of taste disturbances. Cochrane Database Syst Rev. 2014 Nov 26;11:CD010470.