Vita-Matcha is a refreshing energy drink that is packed with matcha, B-vitamins & antioxidants to give you a boost in energy & keep you hydrated throughout your performance. X50 Vita-Matcha provides extra support in the form of added goji berries which has the highest protein concentration of any fruit.
Loaded with Vitamin C, goji berries contain carotenoids, 21 trace minerals and are high in fibre, iron, calcium, zinc and selenium. Together, all the ingredients in Vita-Matcha can help to increase natural hydration, enhance focus and energy, whilst stimulating your metabolism.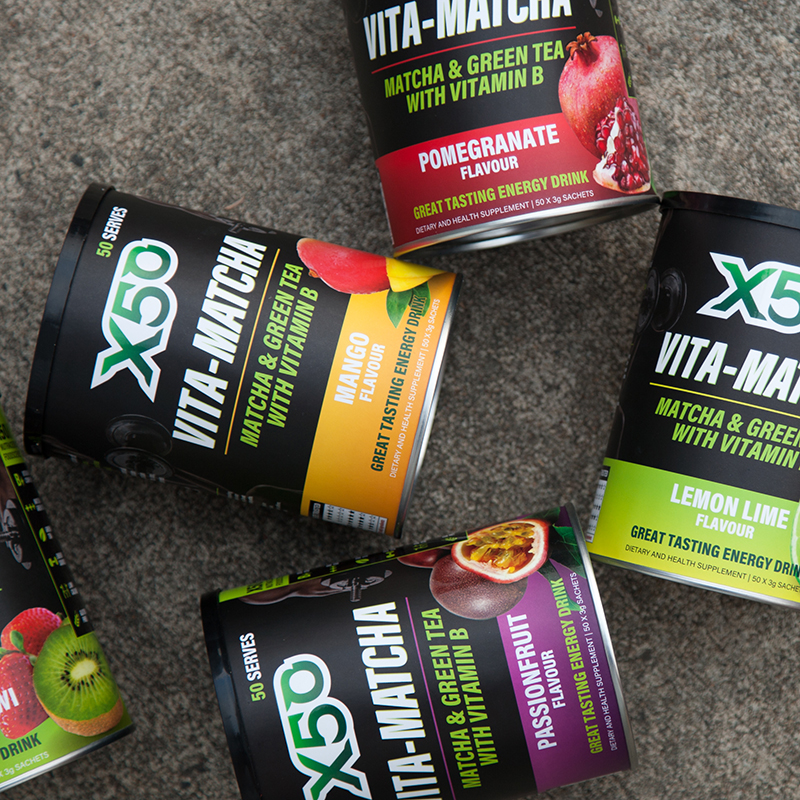 X50 Vita-Matcha is the ultimate energy drink that is best used as a pre- or as an intra workout. It is also perfect for endurance trainers before training and for weight trainers after training. The supplement is available in 5 deliciously fruity flavours that is a great alternative to sugary drinks.
The evolution of energy and sports drinks is here with X50 Vita-Matcha! This all new Matcha Tea, Green Tea, Vitamin B and Goji Berry based energy drink is stacked full of antioxidants, essential amino acids and an effective dose of Vitamin B to keep you energised and hydrated while maximising training. X50 Vita-Matcha stimulates metabolism, accelerates fat burning and promotes faster recovery.
X50 Vita-Matcha Formulation
Matcha contains 137x antioxidants including L-theanine, ECGC and chlorophyll
Vitamin B – increase energy production & aid the synthesis of protein, carb and fat
Goji berry – rich in essential amino acids & vitamins
Naturally occurring caffeine for increased energy & mental focus
Tribeca Health X50 Vita-Matcha Benefits
Stimulates Metabolism
Accelerate Fat Burning
Low Calorie
Gluten Free
Great Alternative to Sugar Drinks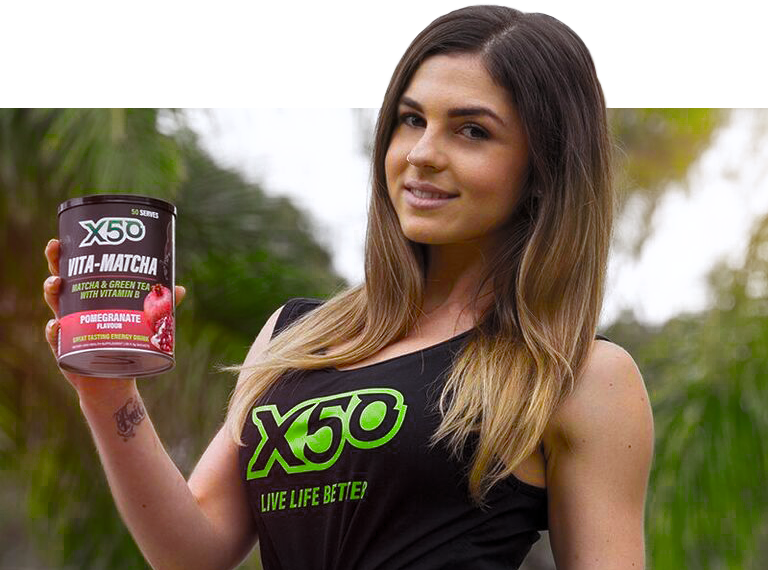 With a range of delicious flavours and an array of ingredients X50 Vita-Matcha is a versatile supplement to add to your daily routine.