X50 Super Green Smoothie Review
Hot on the heels of the success of their Green Tea X50, Tribeca Health have released another hot product called Super Green Smoothie. Consisting of a mix of popular greens and some not-so-well known greens, the product is the ideal compliment to Green Tea X50 and ties in perfectly with the companies 'green' product focus.
X50 Super Green Smoothie Highlights
Key features of X50 Super Green Smoothie are that its dairy, gluten and sugar free. Although for many products in the 'greens' category, this is more the norm rather than the exception. Other standouts are that a number of ingredients are organic. The other key advantage is the taste, which we will touch on more below.
X50 Super Green Smoothie Ingredients
The first three ingredients are the common ones you find in most green supplements, namely, wheat grass, barley grass and spirulina. However, there are a number of lesser known ingredients such as camu camu and lucuma. Camu camu (botanical name Myrciaria dubia) is a relatively new super food that has only recently come into mass production. Camu camu comes from the Amazon rainforest, where it grows adjacent to rivers. It's biggest selling point is it's super high (2-3% fresh weight) vitamin C content. Lucuma on the other hand comes from a similar region, namely, Peru and is characterised by its high levels of carotene, vitamin B3, and other B vitamins.
The addition of green coffee and green tea extracts is a smart one as these are generally viewed as desirable natural ingredients that actually work.
X50 Super Green Smoothie Positives & Pros
Unfortunately one of drawbacks of green supplements are that most people associate them with having a poor taste. Because X50 Super Green Smoothie comes has added erythritol (a natural low-calorie sweetener), it actually has a rather pleasant taste compared with your average gr, it actually has a rather pleasant taste compared with your average green supplement. While this may not be a deciding factor for individuals contemplating purchase, it could be decisive in terms of repeated use and re-buy
X50 Super Green Smoothie Cons & Negatives
One of the key drawbacks for X50 Super Green Smoothie is its 'green' potency, or lack thereof. Super Green Smoothie is essentially 50% sweetener (erythritol) by weight. This obviously explains why it taste so great compared to other green supplements that don't come with any fillers or sweeteners. The other negative is the lack of diversity in ingredients when compared with many other green supplements. It's common to see green supplements with upwards of 20 ingredients with items such as botanical extracts, vitamins, minerals and antioxidants. It's hard to known whether this will sway potential users anyhow.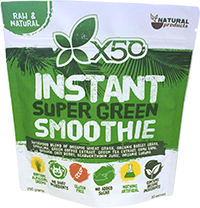 X50 Super Green Smoothie Taste & Mixability
As highlighted above, X50 Super Green Smoothie tastes a treat compared to your average greens supplement, but that's probably because half of it is sweetener (in the form of erythritol). Mixing is relatively easy and users are not left with any major lumps after a quick 10-second shake in a shaker bottle. Flavour wise, X50 Super Green Smoothie only comes in natural 'green' flavour. However, with their Green Tea X50 now available in a range of different fruity flavours, it's not inconveivable that Tribeca may release additional flavours down the track.
X50 Super Green Smoothie Verdict
While X50 Super Green Smoothie is a great natural follow-up product to Green Tea X50, it ultimately lacks a bit of bit with it relatively low number of ingredients and low level of green actives. The product will no doubt provide health benefits to users but just how much is up for debate.