https://www.mrsupplement.com.au/x50-showtime-twin-pack
X50 Showtime Twin Pack
TribecaHealth
Supplements > Weight Management > Thermogenics
https://cdn.mrsupplement.com.au/resources/imgs/products/x50-showtime-twin-pack.1629166602298.png
http://schema.org/NewCondition
http://schema.org/InStock
114
114
AUD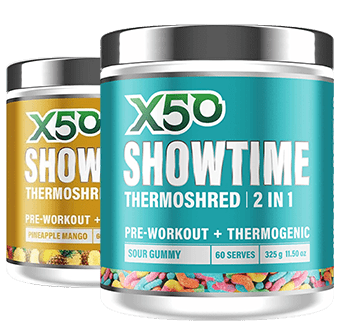 X50 Showtime Twin Pack
X50 Showtime Twin Pack
Accelerates Fat Burning
Potent Metabolic Booster
Enhance Energy & Focus
Buy 2 & Save
In Stock

(0)
Write a review
Product
Stack Details
Q&A's
Reviews
Add To Cart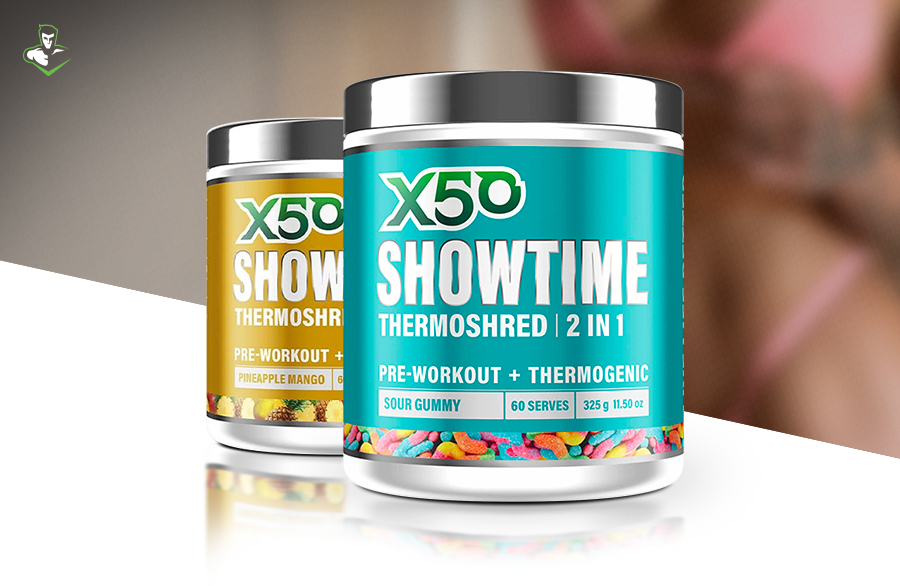 X50 Showtime Thermoshred is a revolutionary thermogenic fat burner designed using the best fat cell targeting ingredients, assisting to stimulate your body's fat receptor cells. X50 Showtime Thermoshred has the added benefits of boosting immunity and gives you a natural raise in energy levels to get through your day or workout.
The Showtime Twin Pack offers great value for those looking to stock up on their favourite flavour, or to buy 2 different flavours and mix things up.
Stack Details
Q&A's
Ask a question about
X50 Showtime Twin Pack
Can this product be used by both men and women?




Yes! The x50 showtime twin pack makes the perfect buy for couples who are looking to tackle their goals together. If both you and your partner/friend are looking to lose weight the x50 showtime twin pack could be perfect for you.

What are some additional benefits to purchasing the twin pack?




There's nothing worse than buying a product you enjoy, running out and not being able to re-stock. Purchasing the twin pack enables you to have spare product on hand, avoiding this dreaded situation from occurring.

Can I purchase two different flavours?




Absolutely! Select your desired flavours from the drop down menu. You'll have the freedom to choose whatever flavours are currently available including two of the same if you so wish.

Why should I purchase the X50 Showtime Twin Pack over an individual container?




To put things simply, it's cheaper to buy the twin pack. If you've used the product and enjoy it I'd purchase the twin pack and enjoy the extra savings.
Reviews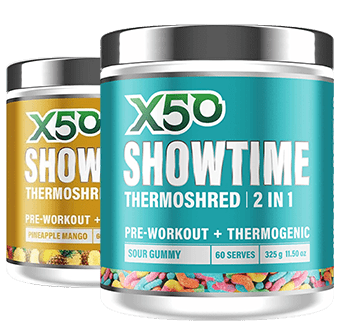 Based on reviews collected by
&
Write a review

Contact Us