https://www.mrsupplement.com.au/x50-fresh-tea?variation=13517
X50 Fresh Tea (60 x 2.4g Forest Berries)
TribecaHealth
Supplements > Health > Superfoods & Greens
https://cdn.mrsupplement.com.au/resources/imgs/products/x50-fresh-tea.1582667046624.png
http://schema.org/NewCondition
http://schema.org/OutOfStock
AUD
https://www.mrsupplement.com.au/x50-fresh-tea?variation=13517
39.95
AUD

Fresh Tea X50
Superfood Beauty Blend
Marine Collagen for strong hair, skin and nails
Chaga & Lion's Mane Mushroom for balancing gut microbiota
Broccoli Sprouts fights free radicals and improves gut health
Less than 10 calories per serve

(1)
Write a review
Product
Q&A's
Reviews
Add To Cart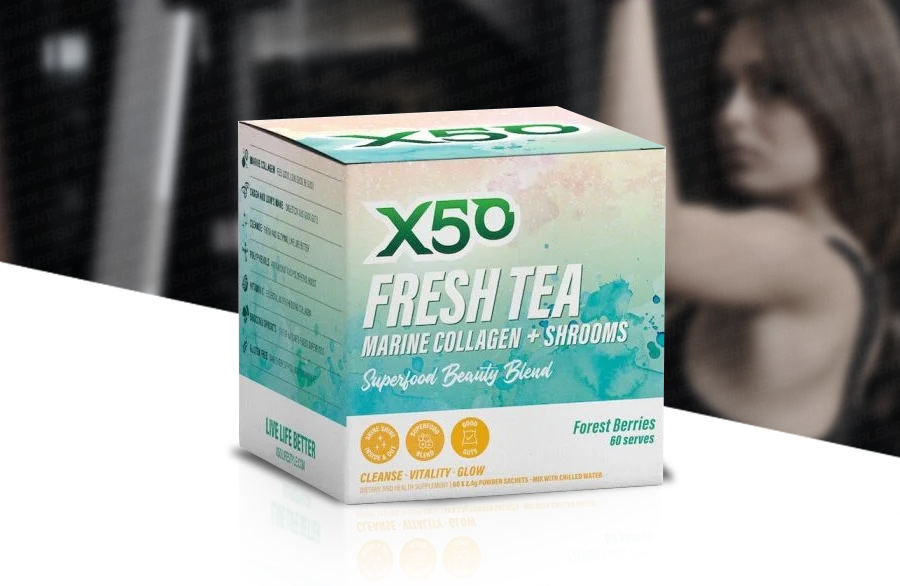 Say hello to our new little friend; Fresh Tea, an all-in-one Superfood Beauty Blend. Filled with Marine Collagen, Lion's Mane and Chaga Mushrooms, this little beauty will get you glowing from the inside out ⁠
⁠
Marine Collagen supports strong hair, skin and nail as it's more easily absorbed than other collagen sources.⁠
⁠
Lion's Mane & Chaga Mushroom help improve gut microbiota and boosts beneficial bacteria.⁠
⁠
Broccoli Sprouts ⁠fight free radicals and aids digestions.⁠
⁠
Convenient sachets. Tastes great. Just good ingredients for a good feeling.
Q&A's
Ask a question about
X50 Fresh Tea
Reviews

Excellent

Based on reviews collected by
&
Write a review

X50 Fresh Tea
X50 Fresh Tea
X50 Fresh Tea
60 x 2.4g Forest Berries
Tasty and fresh
Collected via Trustpilot
Next Page
Contact Us