Brief Summary
Oxyshred works best taken first thing in the morning on an empty stomach
An optional second dose may be taken mid afternoon or before a workout
Oxyshred contains caffeine - Avoid taking in the evening
Simply mix with water and drink
Benefits of Oxyshred
Oxyshred is one of the most effective and best selling fat burners on the market, and it has successfully helped a lot of people lose weight safely and naturally. Oxyshred created a buzz when it was launched as EHP's flagship product in 2012, and this momentum has not yet slowed down. Oxyshred is a product that attacks fat from all angles with a combination of scientifically backed and cutting edge ingredients. These ingredients are broken up into complexes that assist not just weight loss, but ensure the maintenance of overall health. These include:
Hyper-lipolysis compound: A mix of ingredients that helps you control your weight in a number of different ways. Fat burners and thermogenics like Acetyl L-carnitine, African mango and green coffee bean sit side by side with inulin, a soluble fibre with probiotic effects for satiety and digestive health, chromium picolinate to promote efficient use of insulin, guggulesterone, which stimulates thyroid function, and CLA, which can prevent the body from storing energy as fat.
Immunity booster: An energy deficit is necessary for weight loss, but it can also weaken the body's immune defences. A combination of L-glutamine and vitamin C strengthens and supports immune health.
Mood Enhancer: Like your immune system, dieting can also suppress your mood. Attitude is all important when it comes to weight loss, and Oxyshred maximises chances of weight loss success with the inclusion of mood-lifting caffeine, taurine, and tyrosine.
B Vitamins: B Vitamins are some of the most important in our body. Acting as cofactors for a number of metabolic reactions, B vitamins are vital for good health and energy.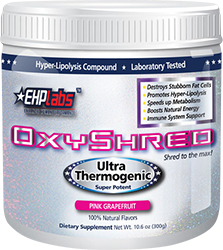 How to Take Oxyshred
Oxyshred comes as a powder that mixes easily into water to produce a delicious cordial-style drink, which is available in four flavours. The manufacturer recommends two 5g scoops per 245-290mL of water, but this can be adjusted to personal taste preferences. It is a good idea to start off with one dose of Oxyshred per day and work your way up to a second if you feel this would be of further benefit.
Best Time to Take Oxyshred
Oxyshred is best taken first thing in the morning, on an empty stomach. To maximise absorption, avoid eating or consuming a protein shake within 20 minutes of taking Oxyshred. People who take a second dose usually have this in the mid afternoon, or before a workout, leaving at least six hours between consecutive doses. Avoid Oxyshred in the evening, because it contains caffeine and has the potential to cause insomnia.