Quick Summary

First thing in the morning on an empty stomach (30 minutes before food)
Alternatively sometime in the afternoon or 30-45 minutes before your workout
Avoid taking ~6 hours before bedtime
Recommended 1 serve/day
Benefits of Optiburn Amped

Optiburn Amped is an extremely popular fat burner from rising Australian supplement company Platinum Labs. In fact, in less than two years, Optiburn is already nipping at the heels of other trainer favourites such as EHPLabs Oxyshred and Muscletech's Hydroxycut Hardcore Elite. The key to its reputation is the strong ingredients used in the supplement which includes both fat burners, metabolism boosting ingredients, appetite suppressants, diuretics and energy boosters. Some of these ingredients include acetyl l-carnitine, CLA, green coffee bean extract, dandelion and AMP Citrate just to name a few. It contains a variety of well researched ingredients and most users enjoy the supplement for three main reasons:
1. Crash Free Energy – Perhaps one of the major highlights of Optiburn Amped is its ability to support energy levels without leaving you with a crash afterwards. This is thanks to unique combination of caffeine, green tea extract and AMP Citrate. Energy is extremely important, especially if you're trying to lose weight as you most likely aren't eating enough calories to maintain focus, attention and motivation throughout the day.
2. Cravings Support – One of the hardest aspect of any diet is trying to fight those cravings. Whether you're craving sweet or savoury foods, Optiburn Amped helps to suppress your appetite so you don't feel hungry and therefore don't even contemplate cravings.
3. Alert & Focus – Further to point number 1, there's no point having boundless amounts of energy if you can't remain sharp and focused. The ingredients in Optiburn Amped are supporting your metabolism whilst keeping you concentrated on the task at hand, which is diet and exercise control.
How to Take Optiburn Amped

Platinum Labs Optiburn Amped is in powder form, so the best way to take it is to simply mix it up with a shaker bottle or dissolved in some water by mixing with a spoon. Here are some key points to take Optiburn Amped: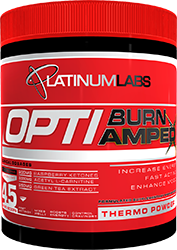 1 scoop per serve of 8g
Mix with about 200mL-300mL of water
Try to avoid having more than 2 serves a day. For most people, one is enough.
Best Time to Take Optiburn Amped

Optiburn Amped was designed to be taken once in the morning on an empty stomach, preferably 30 minutes prior to food. However, many people also like to take it in the afternoon around 3-4pm so it can double as a pre workout. Try to avoid taking Optiburn Amped too close to bedtime (~6 hours). One serving a day is ideal and is what is recommended, however, some people may want to have an extra half to a full serve. Just remember though that the supplement contains a fair amount of stimulants, so may cause some side effects if over consumed.