Ask Us Anything - What Are The Best Stim Free Pre Workouts?
Pre workout supplements are a great addition to any serious trainer's stack, but sometimes you just need a break from the stimulants such as caffeine and whatnot. This is especially true if you're also taking a fat burner or a fat loss protein and want to avoid adding any more stims into your supplement routine. This is one of the reasons why stim free pre workouts were created. But with so many around, what are some of the best? This weeks Q & A will help you pick out the perfect stim free pre workout for your needs.
1. What's the main function of a stim free pre workout? What's the key difference and what are some of the best stim free pre workouts on the market?
A stim free or stimulant free pre workout is a specially designed supplement that provides a range of ingredients which can help support training and performance, but one that does not contain any stimulants. This includes ingredients such as:
Caffeine
Guarana
Higenamine
Octopamine
There are others, but generally these are considered the primary stimulants that are used in pre workouts today. Stim free pre workouts generally provide most of the other non stim ingredients that you find in regular pre workouts. For example, beta alanine, citrulline, betaine, creatine and nootropics such as tyrosine and l-carnitine for example.
Stim free pre workouts also tend to include a wide variety of pump ingredients which help to support and increase blood flow to the muscles. This is favourable as it helps to drive oxygen and nutrients to the muscles and enhance your lifts, but is also popular as it prolongs how long your muscles feel full for and your vascularity. Some of these ingredients include citrulline, glycerol, arginine, agmatine and norvaline just to name a few.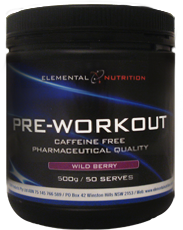 There are quite a few stim free pre workouts around and the category is growing in size year on year. Some of the best though on the market include:
Elemental Nutrition Pre Workout – A well designed and comprehensive stim free pre workout, which helps to provide the energy to work out but without the stims. It helps to boost endurance, strength and pump and also has antioxidant effects to protect the body from oxidative stress that occurs during training.


Ronnie Coleman Testogen XR – Considered one of the greatest bodybuilders of all time, Ronnie Coleman's Testogen XR is testament to the knowledge and experience that Ronnie has gained over the years when it comes to pre workout support. Again, it is a supplement that helps to boost pump, cell volumisation and power, but it also contains ingredients such as D Aspartic Acid to help support optimal testosterone production.


Giant Sports Giant Pump – Giant Sports are well known for creating some of the tastiest proteins around, but their stimulant free pre workout Giant Pump is one of the best pump supplements on the market. It's a very specific pre workout, but is full of all the right components to boost blood flow and to give you full, hard and vascular muscles during your workout and beyond. One scoop probably isn't enough for most people though, so I'd recommend taking two.
Take Away Point – A Great Pre Workout Alternative
Your body will develop a tolerance to caffeine and other stimulants, so it's always good to have a bit of a break from any supplements that do contain those ingredients. But that shouldn't mean that your workouts should suffer. Stim Free Pre Workouts were created especially for situations whereby people who are taking a break or are sensitive to stimulants can still get a high quality training session.