Weight Loss Shakes
Weight loss shakes, or liquid meal replacements, have become increasingly popular for people trying to lose weight, and for some people, have become an important ongoing part of their diet. There are a number of reasons behind this popularity. Let's look at why shakes can work for weight loss, and some homemade shake ideas.
Weight Loss Shakes Review
"Never skip breakfast" is one of the best known maxims of healthy eating, especially for those who are trying to lose weight - there is a large amount of research to support this. An ongoing, large scale American population study of people who have successfully maintained weight loss recently confirmed that eating breakfast is one of the major factors that correlates with long term weight loss success (1). Eating breakfast gives you more energy and being active will boost your metabolism. Breakfast kickstarts the metabolism after sleep, a healthy breakfast prevents poor food choices, and recent work has shown that eating in tune with the natural circadian rhythms may even optimise weight loss (2).
Whatever the reason, we know it works, yet breakfast is still frequently skipped, particularly by dieters. A shake is a great solution – it is quick and easy to make and provides the nutritional and weight loss benefits of eating breakfast (3).
Besides being convenient, large amounts of protein and fibre can hide inside these delicious drinks. Protein and fibre are both very important in making you feel full and curbing hunger, which is why they are such great nutrients for dieters (4).
There is a significant amount of research touting the benefits of shakes for weight loss. Weight loss shakes are worth trying for anyone trying to slim down.
Weight Loss Shakes Comparison
There are two major categories of weight loss shake – store bought, and home-made, and both have their advantages.
The biggest plus of home-made shakes is that you can put in what you like, tailoring them to your own tastes and requirements. For this reason, home made shakes often taste better as you can make use of fresh ingredients like fruit and yoghurt.
While store bought shakes can also taste great, their biggest advantage lies in their convenience. Many products come in single sachets and require no more preparation than simply adding water. These type of shakes are great when you're on the go, and are often formulated by nutrition professionals who have extensive knowledge in the areas of diet and weight loss.
The disadvantages of each are straightforward. Home made shakes require preparation, planning, and a little bit of knowledge to make sure you're on the right track. They're also difficult to transport, which makes meal replacement on the go difficult. Store bought shakes often don't taste as good as home-made, and can be more expensive and monotonous.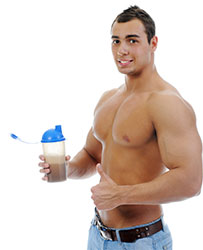 Home Made Weight Loss Shakes
There are a lot of recipes out there, but here are a number of ingredients to consider including in your home made weight loss shake.
Skim Milk – A great source of low fat protein, forms an excellent base for a shake
Fat free yoghurt – use this instead of the full fat variety. Try to choose sugar free
Sweetener – Natural zero-calorie sweeteners like Stevia taste great and save kilojoules
Flax seeds – Naturally High in fibre and omega-3 fatty acids
Cannelini beans – A surprising inclusion, these protein and fibre-rich beans will add bulk to your shake
Psyllium Husks – This healthy fibre expands, keeping you fuller for longer
Cocoa powder – High in antioxidants, cocoa can also boost the metabolism
Coffee – This pick-me-up speeds up the metabolism and suppresses appetite
Protein powder – Add a scoop of commercial protein powder to your shake for a huge protein boost
Other supplements – Fat burning carnitine or even a product like Oxyshred can be blended up in a delicious weight loss shake that will really give your slimming goals a boost.
(1) Wing RR, Phelan S. Long-term weight loss maintenance. Am J Clin Nutr. 2005 Jul;82(1 Suppl):222S-225S.
(2) Garaulet M, Gómez-Abellán P. Timing of food intake and obesity: A novel association.Physiol Behav. 2014 Jan 24.
(3) Heymsfield SB, van Mierlo CA, van der Knaap HC, Heo M, Frier HI. Weight management using a meal replacement strategy: meta and pooling analysis from six studies.
(4) Devkota S, Layman DK. Protein metabolic roles in treatment of obesity. Curr Opin Clin Nutr Metab Care. 2010 Jul;13(4):403-7.
p