https://www.mrsupplement.com.au/vpx-synthesize?variation=15221
VPX Synthesize (370g / 20 Serve Exotic Fruit)
VPX Sports
Supplements > Amino Acids > Amino Acid Blends
https://cdn.mrsupplement.com.au/resources/imgs/products/vpx-synthesize.1641432112215.png
http://schema.org/NewCondition
http://schema.org/OutOfStock
AUD
https://www.mrsupplement.com.au/vpx-synthesize?variation=15221
59.95
AUD
https://www.mrsupplement.com.au/vpx-synthesize?variation=15222
VPX Synthesize (370g / 20 Serve Grape Bubblegum)
VPX Sports
Supplements > Amino Acids > Amino Acid Blends
https://cdn.mrsupplement.com.au/resources/imgs/products/vpx-synthesize.1641432112215.png
http://schema.org/NewCondition
http://schema.org/InStock
AUD
https://www.mrsupplement.com.au/vpx-synthesize?variation=15222
59.95
AUD

Synthesize
Muscle Recovery Post-Workout Formula
Help to Increase Lean Mass
Supports In-Gym Endurance
Contains Proteins, Amino Acids, NO Promoters & Creatine
Backed by 2 University Studies
In Stock

(0)
Write a review
Product
Q&A's
Reviews
Add To Cart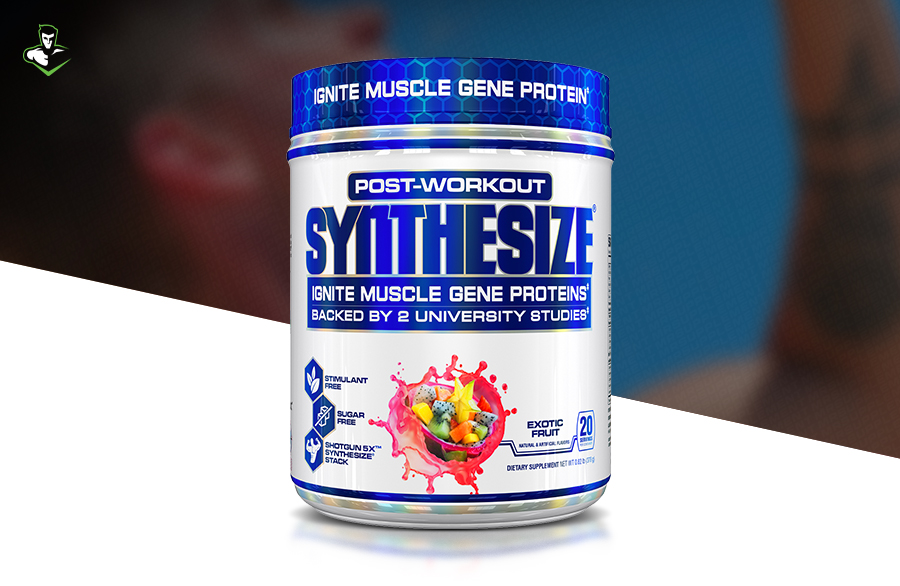 If you're looking to feed your muscles, to add more lean mass and to recover faster from those grueling workouts, Synthesize is the product for you! Whether you're using Bang Master Blaster as your pre-workout or Shotgun 5X, Synthesize is the perfect post-workout supplement.
In fact, the Synthesize / Shotgun 5x stack is one of the most significant muscle-building innovations in the roughly 40-year history of sports nutrition, backed by two university studies. Additionally, this pre- and post-workout stack is proven to increase muscle DNA by 148% while increasing five different muscle gene proteins by up to 515%.
Synthesize contains fractionated protein peptides to support optimal muscle protein synthesis and assist in strength and recovery, along with the full spectrum of essential amino acids (EAAs)! For best results, consume Shotgun 5x pre-workout with Synthesize post-workout.
Q&A's
Ask a question about
VPX Synthesize
Is VPX Synthesize stocked in Australia?




Yes. Mr Supplement retail Synthesize in Australia. Online orders shall be dispatched from either our Sydney or Perth Distribution Centres. We deliver fast to all Australian locations including Melbourne, Brisbane, Adelaide, Darwin and more.

What is VPX Synthesize?




VPX Synthesize is a post workout muscle and strength builder. Specifically it contains an impressive array of ingredients including, proteins, amino acids, creatine, nitric oxide promoters & more. All designed to support your strength & muscle hypertrophy goals.

What benefits may be expected from VPX Synthesize?




Combined with regular workouts and a healthy diet VPX No Synthesize users can expect improvements in strength, power, recovery & lean muscle mass.

Is Synthesize suitable for women?




Yes. VPX Synthesize is suitable for healthy men or women seeking to support their workout performance & recovery.

What is No Synthesize good to combine with?




VPX No Synthesize is ideal to stack with most other supplements including your favourite pre workout such as VPX Shotgun 5X.

Does VPX No Synthesize contain stimulants or caffeine?




No. No Synthesize contains NO caffeine or stimulants. It is ideal for users sensative to stimulants as well as those who train at night.
Reviews


Based on reviews collected by
&
Write a review

Contact Us