USPLabs MaxREPS NO3 Review
It seems like every company is making a stimulant free pump workout these days and now veteran company USPLabs is joining in on the action with a new release known as USPLabs MaxREPS NO3.
USPLabs MaxREPS NO3 Review & Ingredients
Not much is known about the new pump pre workout from USPLabs, however we do know a couple of key details:
Caffeine FREE
Contains citrulline malate (2:1)
Contains a form of nitrate (NO3)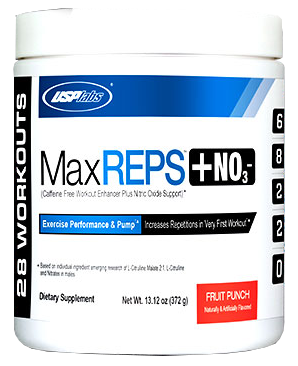 Each tub measures roughly 372g with approximately 28 servings of 13g each. Once more information is released on the formulation, we'll be sure to update you.
USPLabs MaxREPS NO3 Flavours, Mixability & Taste
The new USPLabs Max REPS NO3 is officially available in Fruit Punch, however we'll definitely be seeing some extra flavours pop up such as Blue Raz and Pineapple.
USPLabs MaxREPS NO3 Release Date
No official release dates have been set for the new MaxREPS NO3 stim free pre workout, however, we expect the product to be available soon around April or May 2016.