Universal Animal Paks - Supplement Review
Animal Pak History
In 1981, Animalpak was responsible for discovering that 'packs,' or individual packets filled with mixed tablets and capsules, were the perfect delivery system for bodybuilders, lifters and strength athletes who wanted proven, effective, and comprehensive nutritional formulas. After extensive research and field-testing, the first Animal Pak rolled off the production line in New Jersey in the States, and history was made.
Pak contains mega-doses of organic vitamins and inorganic minerals. These pharmacological agents exert significant benefits from activating all the necessary chemical reactions which make training and building muscle possible. A basic multivitamin supplement won't be enough. Nutritional gaps will affect your performance and size, and impact on the effectiveness of your other supplements. Each pack contains over 60 key ingredients that deliver the right amounts at the right time. It's recommended that you take 1 pack per day during the off-season for maintenance, or 2 packs during a pre-contest diet or when training is especially intense. Animal Pak is considered to be a 'foundational' supplement, and is recommended for all bodybuilders.
Cuts is formulated to produce dramatic changes in an athlete's physique, fast. The Cuts formula including ingredients designed to stimulate metabolism and thermogenesis, training focus and diuresis, muscle preservation and thyroid function as well as providing added energy and suppressing appetite. Animal Cuts also includes CCK Inhibitors, to suppress your appetite. Universal recommends that you take two packs per day, every day for 3 consecutive weeks on both training and non-training days. Animal Cuts can be stacked with Animal Pak for optimal results. During a pre-contest dieting phase, add Animal Stak or Animal M-Stak to maximise muscle gains and conditioning.
Flex is a complete 'foundational' joint supplementation designed specifically for the serious bodybuilder, or a serious strength training athlete. Animal Flex helps to strengthen joints and ligaments, shielding them from wear and tear from heavy training. Animal Flex helps maintain healthy joint function, elasticity, and flexibility. Animal Flex utilises natural herbal extracts to address the free radical load, a consequence of joint inflammation. Herbs and extracts like turmeric, boswellia and ginger root achieve a strong and prolonged anti-inflammatory effect. This is critical for maintaining pain free joints and for protection against joint degeneration. Unlike pain relievers that only mask the symptoms, the compounds in Animal Flex offer real support and promote long-term joint health. To help protect your joints from the daily wear and tear, it's recommended that one pack is taken per day, either on an empty stomach or with a meal. Animal Flex is designed as a core supplement, containing required nutrients that your body needs on a daily basis in order to protect your joints from heavy lifting. Flex can be taken year round and can be stacked with the other Animal supplements.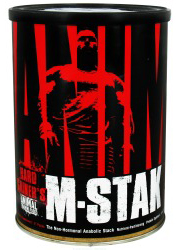 M-Stak is a natural supplement which helps boost anabolism, perfect for the classic 'hardgainer.' M-Stak has long been built on a foundation of natural anabolic flavones, substances that mimic the actions of bodybuilding pharmaceuticals, but without the undesirable side effects. M-Stak also delivers a potent energy blend, to push you through your most gruelling training sessions. M-Stak floods your system with an abundance of anabolic nutrients. Combining potent flavones and sterones with the anabolic of amino blends, the new Animal M-Stak takes non-hormonal supplements to a whole new level. As far as dosing is concerned, it's recommend that you take one pack every day for 21 consecutive days. On training days, take a pack 45 minutes prior to exercise. On non-training days, take a pack in the morning or early afternoon. To fully maximise muscle, performance and strength, stack Animal M-Stak with Animal Pump.
Nitro is superior to regular protein powders. It exploits the ability of 'uncoupled' essential amino acids (EAA) to stimulate protein synthesis and spark anabolism. These amino acids are free of chemical bonds and are more rapidly absorbed by the body more rapidly and efficiently than protein powders like whey. Uncoupled amino acids also have the ability to bypass the liver, thus escaping the liver's processing to enter into systemic circulation faster to reach target areas to exert their pharmacological and physiological effects. On training days take a pack within 30 minutes following resistance training. For even better results, take 2 packs daily, the first immediately before lifting, and the second within 30 minutes after. If you use a post-training protein shake, wait at least 30-45 minutes before drinking your shake. Recommended stacks: Like Animal Pak, Animal Nitro is a 'foundational' supplement. Animal Nitro will provide the body with the basic building blocks it needs to grow. Stack it with Animal Pak or any other pack depending on your goals.
Pump is composed of cutting-edge creatines, NO boosters, cell volumisers, energy complex, cell protective antioxidant complex and a specialised transport blend which transports the Pump to your starving muscles all in one 'pack.' Thanks to Animal Pump, muscle cell walls are stretched with fluid, otherwise known as cell volumisation. This 'pump' is essential in the promotion of new muscle growth, and with each rep, nutrient rich fluid and blood fills the working cells, engorging the muscle, kick starting the anabolic process. To optimise the 'pump' take one pack 30 minutes before your workout. Do not consume any whole foods or protein shakes between your dose of Animal Pump and your training session, and ensure that you are hydrated before and during training. Animal Pump can be taken year round, without cycling off. Like Animal Pak, Animal Flex and Animal Nitro, Pump is designed as a core supplement. For bigger gains, try stacking Pump with Stak.
Stak approaches hormone management from a new perspective to allow you to maximise size and strength gains. Stak is designed to help you get the most out of the anabolic hormones you already have throughout your body. During a training session these hormones are secreted, as is the rise in unwanted catabolic hormones such as cortisol. Animal Stak is designed to work naturally with your body to enhance the function of testosterone, growth hormone (GH) and IGF-1 to increase the output and effect of the main hormones, but also limit the role of catabolic hormones. Animal Stak contains ingredients to help prevent estrogen conversion. Along with testosterone, growth hormone (GH) may be the most anabolic hormone around. Animal Stak works to maximise natural levels of GH, the major hormone responsible for regulation of growth and metabolism. It's recommended that you take one pack daily for 3 consecutive weeks. On training days, consume Stak 30 minutes prior to exercise. On non-training days, take it on an empty stomach, between meals. Cycle this product following a schedule of three weeks on and one week off for best results. 'Stack' it with Animal Pak for superior results. Stack Stak with the foundation product Animal Pak and Nitro for additional benefit.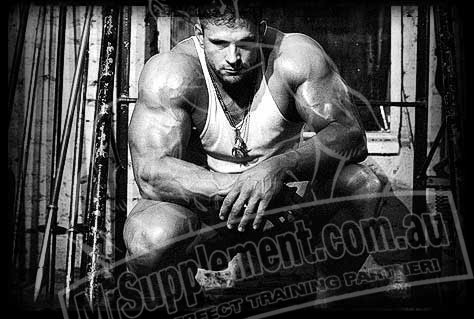 Rage is a more recent release from the guys at Universal Nutrition. Initially known as 'Agent O' when it was released at the Mr Olympia Expo for beta testing, it is now known as Animal Rage. As Animal's pre-workout formula, it's designed to sustain your energy, focus, and performance throughout your training. Rage also serves up a concentrated a dose of active energy components, and is available in both pack and powder options, for hard-training bodybuilders. Rage is designed to function without the side effects that some may experience with other pre-workout supplements.
Benefits of Animal Pak Products
Animal 'paks' make it convenient to supplement with the right nutrients at the right time. Each Animal pack is complete and comprehensive, providing everything you need to round out your diet and help you train for better results. Stack the packs in the combinations listed above for improved results from your training.