Summary Points
Concentrated pre-workout highlighted by combination of TeaCrine

®

, Dynamine

™

& Caffeine

Creatine & Beta-Alanine Free

Transparently dosed with multiple actives that support energy, focus & mental cognition

Great value for money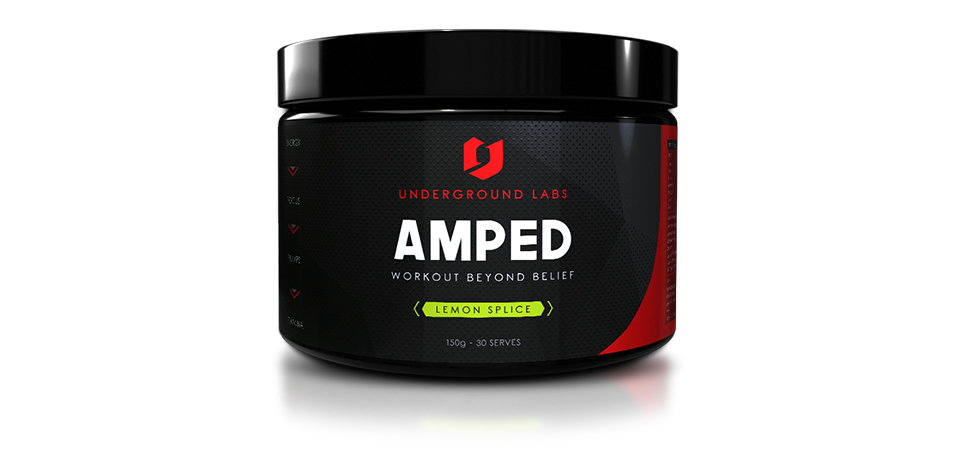 Amped is a new generation pre-workout from up & coming supplement company Underground Labs. Setting it apart from much of the competition is the dual inclusion of actives Dynamine™ and TeaCrine®. As arguably two of the newest actives to hit the pre-workout scene, Dynamine™ & TeaCrine® are unique with regard to how they synergise with caffeine. Both are said to enhance the positive and reduce the negative effects of caffeine. More on that below.
Underground Labs Amped Highlights
With a 5g dose and 30 serves (i.e. 150g) per container, Amped falls into the highly competitive concentrated pre-workout category. But at $49.95 a tub, it's definitely one of best value for money concentrated pre-workouts available.
While Amped packs some unique ingredient combos, it's the ingredients that it doesn't include, which may appeal to some users. One such notable active omission is that of beta-alanine.
Popularly known as the 'tingling ingredient', beta-alanine is a well-studied compound that undoubtedly works. But there are individuals who don't like the tingling sensation or simply want a break from it.
Creatine is another obvious omission. Again, this will be seen as a positive by some users.
Ingredients & Dosage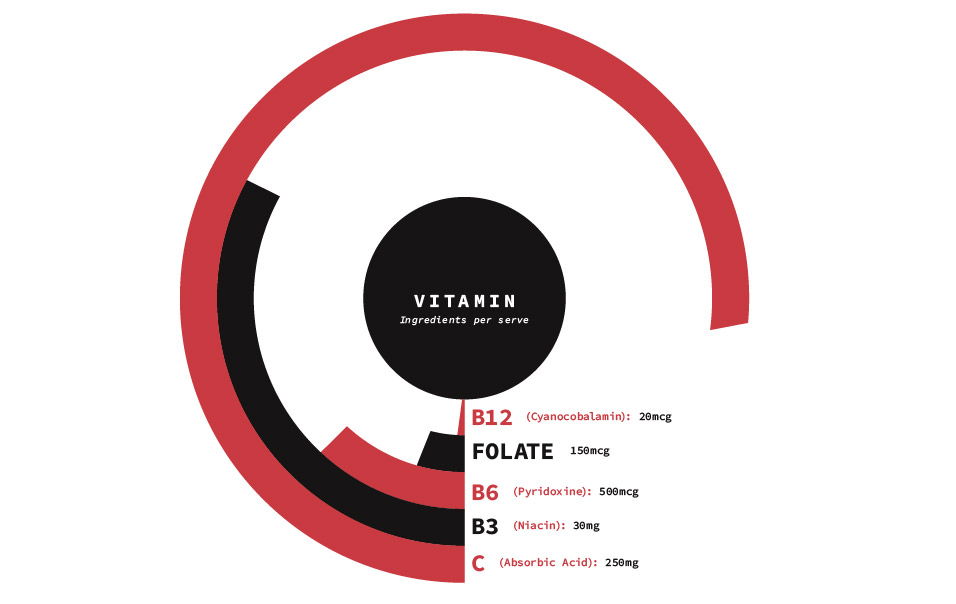 At 200mg per serve, the level of caffeine could be tinkering on the high side for some. But it's important to highlight that TeaCrine® & Dynamine™ work very effectively to reduce the negative side effects (i.e. jittering, nervousness) of caffeine. So if 150mg of caffeine is normally your upper limit, you might want to try this product, as the combination of TeaCrine®, Dynamine™ & caffeine is very effective at reducing unwanted side effects of high caffeine.
500mg of agmatine sulfate is certainly no token amount. It's hard to find many pre-workouts with higher levels. This ensures Amped delivers a solid pump effect. And the 750mg of betaine anhydrous is pretty solid; meaning two serves will net you 1.5g; the dose used in several published studies.
Dynamine™ and TeaCrine® are included as 40% blends, which simply serves to eliminate the bitter taste; characteristic of both compounds. 150mg of Dynamine™ 40% blend delivers 60mg active methylliberine, while 100mg of TeaCrine® 40% blend equates to 40mg of active theacrine.
Dynamine™ differs from TeaCrine® in that it is purported to have a much faster onset of action. While the two compounds are structurally very similar and have a similar mechanism of action, Dynamine™ is said to be harder-hitting and faster-acting as illustrated in the graph below from their manufacturer Compound Solutions.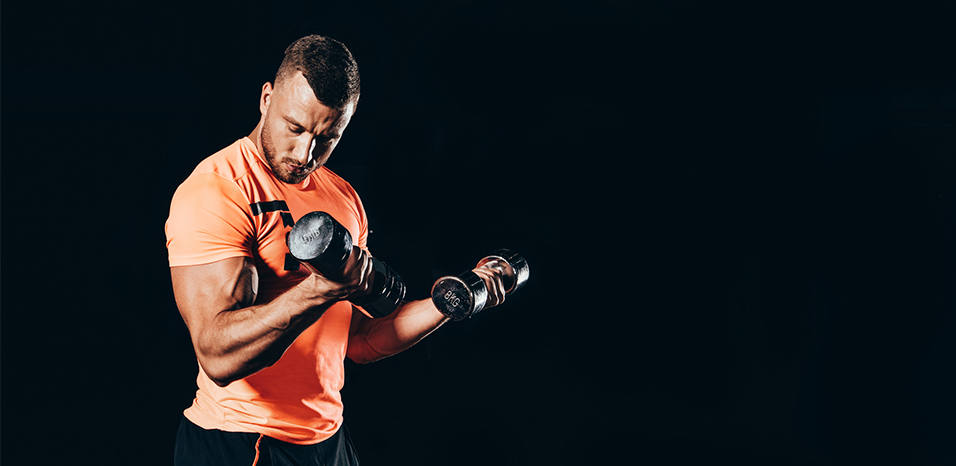 Benefits & Pros & Cons
With the unique combination of Dynamine™, TeaCrine® and caffeine, Amped theoretically can be use both by individuals with a low caffeine tolerance AND a high caffeine tolerance. For an individual with low caffeine tolerance, they might choose to have half a serve (i.e. 2.5g) to test tolerance. It's feasible that the same individual might even tolerate a full serve. This is something that can be tested.
On the other hand, individuals with a high caffeine tolerance and keen for a solid hit might consider 2 full serves. While many high tolerance individuals max out around 350mg of caffeine, the TeaCrine® and Dynamine™ in Amped may well allow such individuals to tolerate the dose. While we don't recommend this on your first try, it is definitely worth working your way up to if you're the type of individual that loves to push the boundaries with your supps.
Like an increasing number of pre-workouts, Amped is transparently dosed. Break out brands like Ghost, who have taken transparent dosing to a new level, have proven transparency and full disclosure is something the average supplement user highly values. The growing trend for every Tom, Dick & Harry to share the most intimate details of their life on social media has fostered an expectation that brands, and business need to have a certain level of authenticity and transparency. And the most basic level to start is with your products.

Flavours Taste & Mixability
Having tasted pure TeaCrine® & Dynamine™, I can testify they are not ingredients you EVER want to take in pure form. The bitter notes of both are something out of this world. With that in mind, the taste of Amped is very respectable. The 40% blends of both TeaCrine® & Dynamine™ do a great job of eliminating the bitter notes of both, but individuals with sensitive pallets are still likely to detect some bitterness.
On a more general flavor level, the sweetness amount/intensity is not too excessive. But it is conceivable some may find it a bit strong. All three flavours (Sour Grape, Blue Razz, Lemon Splice) of Amped have a great aroma when you open the lid. And if you happen to get some powder on your hands, they will smell nice and fruity until you next wash them.
Amped uses stevia in place of sucralose meaning individuals with detective-like pallets might be able to distinguish the characteristic stevia bitter aftertaste, but it's mild at best in our opinion. As with all powdered pre-workouts, if this is an issue, simply increase the amount of water used.
When mixed, it's notable there is a component that doesn't entirely dissolve; leaving a cloud of floaties. Simply rubbing some powder together in your fingers allows you to feel the grittiness. We've been advised by the manufacturer that this is characteristic of Dynamine™. But when taking Amped mixed in water, you barely notice or feel any of the floaties. So this is a negligible issue in our eyes.
Bottom Line
Amped from Underground Labs is a worthy contender in the 'must try' category of pre-workouts. It's unique ingredient profile together with its great price point and decent taste make it the ideal pre-workout to do a bit of experimenting with (i.e. low dose/high dose or mix with creatine etc) – if that's your kind of thing. If you've found yourself drawing away from pre-workouts with caffeine due to negative side effects, then this is the perfect pre-workout o try. You may well find the TeaCrine® & Dynamine™ extinguish the undesirable effects of caffeine.