Fat burners and Fat loss supplements are highly beneficial supplements to super charge your metabolism and assist with your weight loss journey. Strong fat burners have the ability to give you extreme energy whilst helping you lose weight. The strength of a fat burner entirely depends on the variety of stimulants and its respective dose. As we all know, losing weight and keeping off excess fat is not easy, but utilising a strong quality fat burner can get you a long way. To make the process easier, we will be reviewing the top 10 best and most effective fat burners on the market. You're bound to find the right fat burner for you.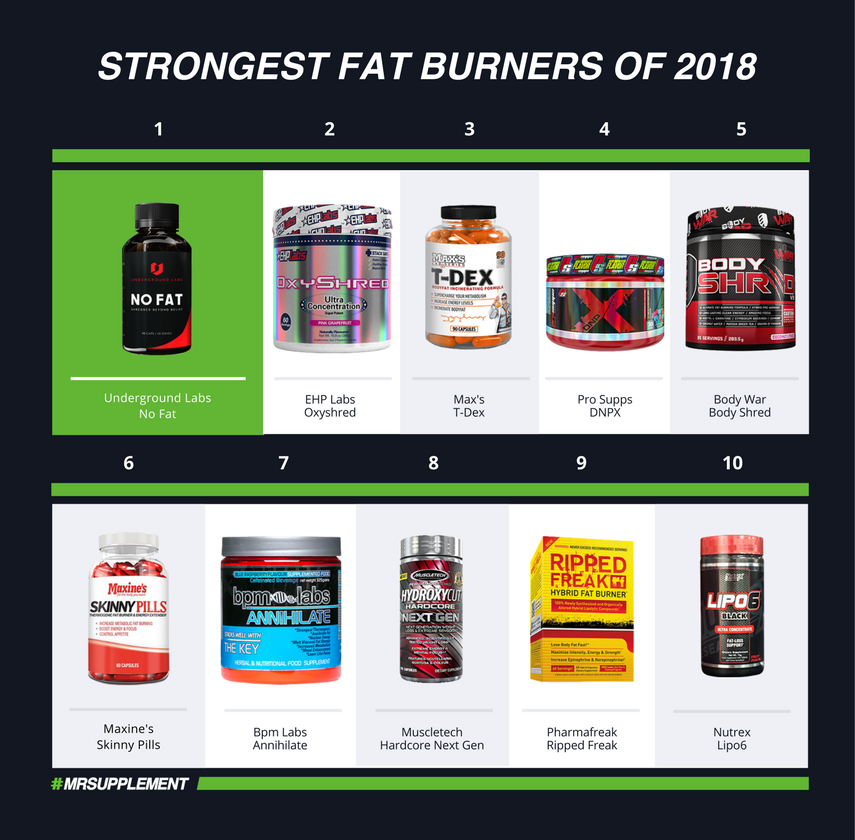 #1. Underground Labs No Fat
Are you ready to get shredded with the strongest and the strongest fat burner by the name of 'No Fat'? Making it to the number one spot is hardcore brand Underground Labs. No Fat has a potent formulation that will help you strip unwanted fat in no time. Using the latest ingredients like Teacrine, No Fat provides the most effective doses together with potent ingredients that will give you clean energy whilst helping you lose fat. Available in convenient capsules, Underground No Fat is the one to get your hands on and start shredding.

#2. EHP Labs OxyShred
EHP Labs OxyShred is known as one of the best-selling fat burners around and is still going strong. It is made up of a blend of ingredients to help increase fat metabolism, boost your immunity, act as a mild diuretic and support overall performance. Additionally, OxyShred doesn't rely on a heavy dose of stimulants but instead they use a full spectrum of B vitamins to help support energy levels. The product has a large range of flavours which are by far the best tasting fat burner on the market.
#3. Maxs T-Dex
Premium Aussie brand Maxs is one of the most popular and strongest fat burners on the market. Maxs T-Dex is not only keeps you strong and mentally alert but it is a potent supplement that will boost your energy levels, metabolism, incinerate fat and act as a good appetite suppressant. The product allows you to increase focus throughout the day and during workouts. This is definitely a fat burner that is effective and delivers fast results.




#4. ProSupps DNPX
Pro Supps DNPX is a strong contender in the fat burner category that is tailored for those who are looking for a high energy kick. DNPX features a range of popular fat loss ingredients including garcinia cambogia, African mango, forskolin, raspberry ketones, acetyl-l-carnitine and diuretics. With 400mg of caffeine and stimulants per serve, DNPX is designed for trainers who want a strong energy boost. The product also mixes extremely well without any additional clumps.
#5. Body War Body Shred
Although Body War have reformulated and revamped their product, Body Shred is still one of the strongest fat burners in the industry. Body Shred provides approximately 250-300mg of stimulants that offers long lasting, crash free energy and improved metabolism. Packed with a good proportion of cleverly chosen ingredients, Body War Body Shred really stands out and certainly not for the faint hearted.




#6. Maxine's Skinny Pills
Designed specifically for women, Maxines Skinny Pills is a super convenient fat loss supplement that contains powerful ingredients like L-carnitine, ginger root powder and cayenne pepper for weight loss. Maxines Skinny Pills is formulated to boost metabolism, burn fat, increase focus and energy. The pills are gentle on the stomach, but enough to incinerate fat. So, if you're a female athlete looking to get serious with fat loss, Maxine's Skinny Pills are right up your alley.
#7. BPM Labs Annihilate
Although Annihilate utilises a proprietary formula, you can tell they haven't skimped on the stimulants. Each serve of Annihilate knocks you back with an intense hit of energy, which will have you rearing to go, whether it's during your training sessions or at work. Annihilate is an intense thermogenic fat burner and definitely not for first timers. We recommend you start with a half or even a quarter dose to assess tolerance.

#8. MuscleTech Hydroxycut Next Gen
MuscleTech's Hydroxycut Next Gen is a popular favourite and is an extremely convenient option to help tackle your fat loss or fitness goals. This is a powerful fat burner that delivers extreme energy, increase mental focus whilst helping you maintain weight. Often, fat loss periods can be fatiguing, so if you're someone that wants to find a fat burner that can sustain energy for longer periods, Next Gen will keep you going and get you through each workout session.
#9. PharmaFreak Ripped Freak
PharmaFreak Ripped Freak is another extremely popular strong fat burner that is formulated to supercharge your metabolism. It is not only a strong fat burner, but it is one of the most popular fat burners on the market. Each capsule contains 350mg of caffeine, Ripped Freak is ideal for those who want a serious energy boost together with suppressing appetite.

#10. Nutrex Lipo 6 Black
Combining a powerful fat burning blend, Nutrex's Lipo 6 is super convenient with only one capsule to take twice a day. Lipo 6 has a potent formula including effective fat loss ingredients like chromium picolinate and capsaicin. Lipo 6 Black is also in the form of gel capsules which results in better absorption. The overall supplement is convenient, reliable and ensures you get enough energy to last throughout the day.
Notable Strongest Fat Burners of 2018

Each fat burner listed are going to not only super charge your metabolism, but ensure you're wide awake and energetic enough to tackle your training sessions, your diet and your weight loss efforts delivering these results you want.