Syn Tec
Acetyl L Carnitine is a widely used nutritional supplement and optional weight management support formula specifically designed for use by sports people to aid them in achieving their nutritional and performance goals. Syn-Tec's Acetyl L-Carnitine is stabilised pure Acetyl L-Carnitine HCI. Acetyl L-Carnitine is ideal for mixing in water or juice. It is quiet acidic in taste and is often mixed in grapefruit or orange juice. Acetyl L-Carnitine is another more bioavailable form of L-Carnitine which is widley used in energy sports food formulas. It is also used in weight management nutritional support formulas designed for pre contest training.  
Acetyl L-Carnitine is synthesized from the essential amino acids lysine and methionine and is commonly used to help support the nutritional needs of sports people partaking in specific training and exercise programmes targeting energy release and weight management.
Syntec Acetyl L-Carnitine
Serving Size
Syntec Acetyl L-Carnitine Ingredients
Per Serve
Per 100g
Acetyl L-Carnitine HCI
2.0g
95g
Pure Grade Acetyl L-Carnitine HCL, Flavour (contains wheat starch), Silicon Dioxide, Sucralose. Contains WHEAT products (wheat starch in the flavour).
Syntec Acetyl L-Carnitine Directions
Place powder in mouth and wash down with 250mL of water or juice. Can also be added to fruit juice such as orange or grapefruit.
Keep in cool dry place out of direct sunlight. Store below 30°C.
This product is not a sole source of nutrition and should be used in conjunction with an appropriate physical training or exercise programme. Not suitable for children under 15 years of age or pregnant women. Should only be used under medical or dietetic supervision.
General Product Warning
Users should seek medical advice prior to beginning any supplementation program. This especially applies to individuals taking prescription medication or those with pre-existing medical conditions. Always read the label prior to consuming any supplement, always follow the manufacturer's directions & never exceed the recommended dose. In the event of experiencing any unwanted effects discontinue use immediately & seek medical advice if symptoms persist. Keep out of reach of children.
Copyright
Copyright MrSupplement Marketing Pty Ltd 2013. This website, and the images, text and tables on it are subject to copyright under the Australian Copyright Act 1968 (Cth), as well as under the copyright law of other countries by virtue of worldwide treaties, belonging to MrSupplement Marketing Pty Limited and to its suppliers & or product manufacturers. Reasonable portions of this website may be printed out solely insofar as is necessary to order products from the MrSupplement.com.au web site. Any other reproduction or communication in whole or in part is unauthorised and may result in legal proceedings being taken to protect the intellectual property rights of MrSupplement Marketing Pty Limited and/or suppliers & product manufacturers.
SynTec Acetyl L-Carnitine Reviews
I highly recommend Syntec Acetyl L-Carnitine to anyone looking to shake up their training sessions. You won't regret it when you feel the amazing physical and mental boost that'll make your workouts more successful and enjoyable. I've lost weight and built up my muscles. I struggled previously due to my stocky build, but this is the best method I've found to shed the extra body fat (whilst maintaining muscle mass) that is often annoyingly hard to shift. As most Acetyl L-Carnitine users will tell you, it just makes you feel good. It does have stress relieving qualities, which makes a huge difference to workouts if you go in feeling mentally strong, as well as physically. Syntec Acetyl L-Carnitine has worked best for me; however, I also have a friend who raves about Bronx Wild Bull.
SynTec Acetyl L-Carnitine Information
Ask a question about
SynTec Acetyl L-Carnitine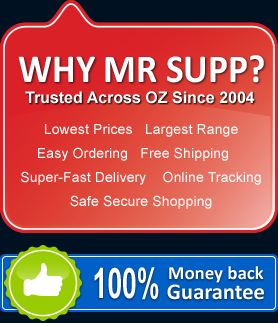 © Copyright 2014 All Rights Reserved MrSupplement