Sugar & Artificial Sweeteners
Dieters and bodybuilders use artificial sweeteners and sugar substitutes to sweeten protein shakes and other foods without raising their caloric intake. By comparison, real sugar has four calories per gram, so how do sweeteners compare with sugar?
Sugar & The Bodybuilder
Sugar has become possibly the most controversial substance for bodybuilders. Even though sugar can be a huge weight gainer and excess consumption can cause insulin resistance leading to diabetes, could it also be useful for a bodybuilder? Let's examine the negatives and positives of sugar for the bodybuilding individual.
Side Effects of Sugar For The Lifter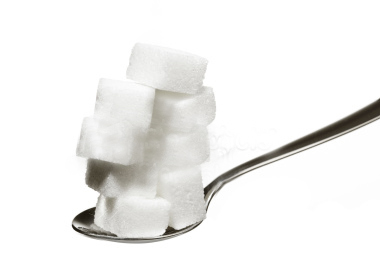 Excess sugar consumption has been shown to be a possible factor in obesity, tooth decay, vitamin and mineral deficiencies, decreased insulin sensitivity, hormonal problems, imbalanced immunity function,the potential for diabetes, hyperactivity, drowsiness and energy deficiency, addiction, and it contributes to heart disease as well as other illnesses. However it should be noted that it is hard to pinpoint sugar as the culprit due a number of confounding factors involved in many of the studies. It is also unethical to conduct blinded, randomised control studies to test sugar and its effects on the human body. As a result, while there are many studies showing negative effects of excess sugar consumption, it should be realised that excess consumption of any nutrient has potential negative health consequences.
Benefits of Sugar to Bodybuilders
After a workout, your muscles are tired and depleted of energy. As a result, your body is in a catabolic state. Increasing the blood sugar levels shuttles excess sugar into your muscles, and since your muscles need it, no excess sugar is stored as fat. An even better option is to consume a higher glycemic index sugar as well as protein, which would be of greater benefit. Contrary to popular belief, normal table sugar has a medium glycaemic index level of 61. Upon waking is another time when an insulin spike is useful. At this stage, you've been without food for 8 hours during sleep, when muscle glycogen stores may be slightly depleted. Like at the post-workout stage, consuming protein, some sugar, is beneficial. Bodybuilders also use sugar is if they use creatine. The insulin spike helps transport the creatine effectively to the muscles without bloating. Micronised creatine or Creatine Ethyl Ester gets better results with less sugar.
How Much Sugar Should Bodybuilders Consume?
The emphasis should be on when, not how much is to be consumed. If consumed at the right time, a little extra sugar can be consumed without the excess being stored as fat. As a result, most of your sugar should be consumed post workout or first thing in the morning. In relation to different body types, endomorphs, (those more prone to gaining fat), require less sugar because they gain muscle quickly already, and the excess is stored as fat. Mesomorphs need a normal amount of sugar. Ectomorphs, however, need large amounts of sugar as they do not add muscle easily.
Artificial Sweeteners For Bodybuilders
Dieters and bodybuilders use these to sweeten shakes and food without an increase in calories. Whilst they offer this benefit, studies have shown some artificial sweeteners may have negative side effects, including aspartame and saccharin.
Popular Sugar Substitutes For Bodybuilders
Aspartame is 180 times sweeter than sugar. Aspartame has a caloric value similar to sugar but because as it's much sweeter, it can be marketed as a 'zero calorie' sweetener. Side effects related to aspartame include headache, dizziness, vomiting, abdominal pain, change in vision, and overall weakness.
Saccharin is a zero calorie sweetener and is 200 to 700 times sweeter than sugar. In the 70's, saccharin was shown to develop tumours in rats, however this was found not to translate to humans. Saccharin is used in ice cream, toothpaste, and table top sweeteners.
Sucralose is 600 times sweeter than sugar and is the only low calorie/zero calorie sweetener made from sugar. 100+ studies have been demonstrated that Sucralose use is safe. Sucralose is marketed as a 'natural' sugar substitute, given that it is manufactured from sugar. Some people have complained that it gives them blurred vision, water retention and high blood pressure.
Xylitol is a sugar alcohol used as a sugar substitute. Found in the fibres of fruits and vegetables, it is naturally occurring. It has about the same sweetness as sugar, but is 40% lower in calories. Xylitol is regarded as being safe, however side effects such as nausea and gastrointestinal discomfort have been reported. Xylitol dominates the sugarless gum market and is used in major toothpastes.
Stevia is a South African herb and its leaves are used to produce a sweetener 30 times sweeter than sugar. It has no caloric value and does not affect blood glucose levels. As a result, it is an option for diabetics. There are mixed reports on the safety of this substitute. Some reports indicate that Stevia can interfere with the body's carbohydrate absorption. Stevia is still considered safe, and it is used as an every day sweetener.
Sugar Substitutes vs Sugar For Bodybuilders
The choice of using sugar substitutes or sugar is dependent on your status as a diabetic or otherwise, as well as your requirement for reducing your caloric intake. The key to sugar is to use it at specific times in moderation. These times are post workout or in the morning as well as during ingestion of creatine. If you use creatine, take it on an empty stomach immediately post workout, and then your protein and moderate amount of sugar 20-30 mins after your workout. This will maximise the benefits by putting the insulin spike and the creatine spike at roughly the same time. Try switching to a more absorbent form of creatine such as micronized or CEE for better results with less bloating. Excess sugar consumption has the possibility to cause nutritional inadequacies and be a factor in contributing to increased future risks of insulin resistance, diabetes and cardiovascular disease. Even if you are not adding excessive sugar into your foods, the amount of sugar in foods can be deceptively high, so be sure to read food labels to see how much they contain.
Side Effects of Sugar Substitutes For Bodybuilders
On the other hand, excess sugar substitute consumption can lead to gastrointestinal symptoms such as bloating and diarrhoea. If you are craving sweet foods and want to keep the calorie consumption down, it may be beneficial to use artificial sweeteners. However, sugar isn't as big of a culprit as it has been made out to be, remember to pay attention to the 'total' carbohydrates you are consuming, as they can be turned into sugars in your body. And don't forget, a key to a well-balanced and healthy diet is to have everything in moderation.