If you're after a test booster in 2016, you want to get your hands on the best. A good testosterone support supplement is well dosed and often contains a variety of ingredients to support a variety of functions. These include optimising testosterone levels via increasing free testosterone and reducing the conversion of testosterone to DHT or estrogen. As with any type of supplement on the market, there are those that are stronger, more comprehensive and tend to do a better job. We've gone through and selected some of the strongest test boosters available on the market in 2016.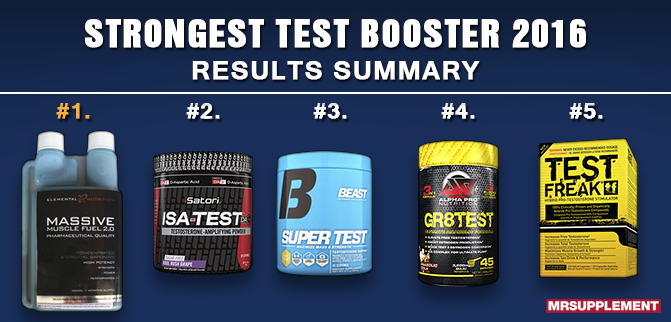 #1. Elemental Nutrition Massive Muscle Fuel 2.0
Maintaining its position in the top spot, Elemental Nutrition's Massive Muscle Fuel is the test booster that doesn't taste the best, but sure does one heck of a job. With the highest concentration of protodioscin (key active component of tribulus) of any supplement on the market, Massive Muscle Fuel or MMF for short is a comprehensive and strong supplement that will help you recover faster and perform better. An enduring supplement, Massive Muscle Fuel continues to dominate and is our pick for strongest test booster in 2016.  

#2. Isatori Isa-Test DA3
Still a relatively new supplement, Isatori's Isa-test continues to dominate the market in terms of their formulation. While it's not as popular as other test boosters, it's formula utilises some of the best known and most effective test boosting ingredients including D Aspartic Acid, Longifolia, Fenugreek and Horny Goat Weed just to name a few. It's also fairly well dosed and should be on top your list if you're after an effective test booster.

#3. Beast Sports Super Test
Super Test may be one of the oldest products on this list, which hasn't had much of a change in recent years. But there's really no need to change something that works so well. Super Test is an extremely comprehensive supplement that helps to boost test levels, decrease estrogen and DHT conversion, support liver and kidney function and boost nitric oxide levels. It's a well thought out supplement and although Beast Sports isn't as big of a name it used to be, their supplements are incredibly reliable and some of the strongest.

#4. Alpha Pro Nutrition GR8TEST
Alpha Pro Nutrition is another brand that isn't super well known, but make some excellent supplements. Their GR8TEST test booster is filled with plenty of D Aspartic Acid, longifolia, an estrogen blocking matrix and a nitric oxide booster matrix. Alpha Pro Nutrition's test booster belongs to the new generation of products that doesn't shy away from more expensive ingredients and rather is more concerned about efficacy. It's one of the strongest test boosters on the market and definitely worth getting your hands on. 


#5. PharmaFreak Test Freak
Even though you need to take a few tablets, Test Freak offers a generous dose of some key test boosting ingredients including fenugreek, tribulus and saw palmetto to name a few. Test Freak is another well known supplement that's been around for awhile, but is still a great choice for trainers looking for a stronger test booster. The supplement can be used during a cutting phase as well thanks to the inclusion of a light diuretic.
Notable Strong Test Boosters of 2016
The above list hasn't really changed all that much since 2015. This is mainly due to the fact that not a whole lot of test boosters have been released over the past year, and definitely none that are making any significant impact. Having said that though, with such a limited size list, some noteworthy and stronger test boosters that deserve a mention include:
Whether you're a younger or older, beginner or advanced trainer, testosterone boosters can be helpful to include in your stack to take your gains to the next level. Any of the above products are great options, but for other effective test boosters on the market, make sure you read out Top 10 Best Test Boosters of 2016 article.