One of the most common questions we answer at MrSupplement relates to the strongest supplement of all the most hardcore gym junkies out there – the mighty pre-workout. With trainers looking for higher stim products, several companies have answered that call and have produced products that not only support endurance, pump and strength, but also offers plenty of energy. So, for anyone who wants the ultimate in focus, energy and heart-racing pre-workout madness, here are our strongest pre-workouts of 2018.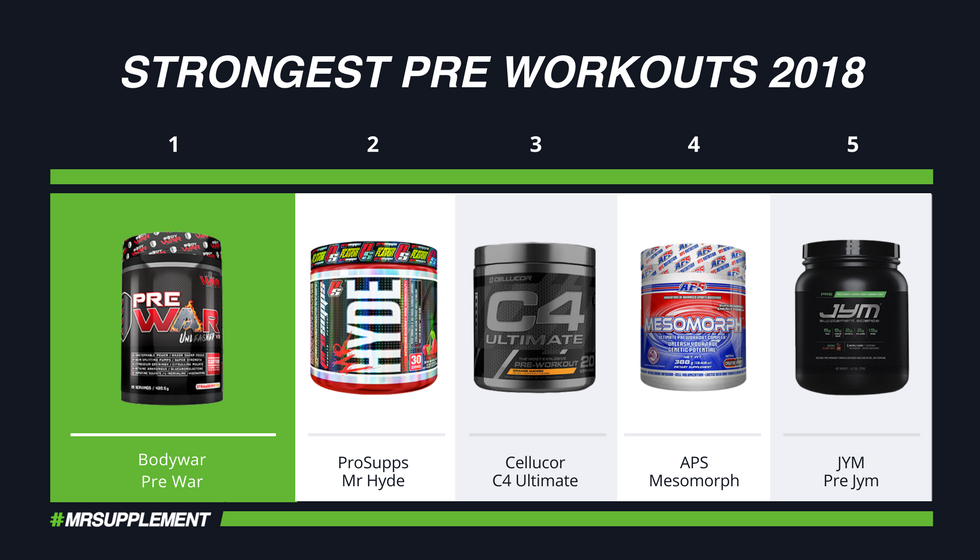 #1. Body War Pre War 
With their new and improved formula, Extreme pre-workout Body War Pre-War has taken the number one spot for the strongest pre-workout. Pre War contains several compounds including beta alanine, betaine, agmatine, citrulline, higenamine and caffeine which all work synergistically to provide the ultimate workout. If you're looking to destroy your workout, a single scoop of Pre War is all you need to transform you into the ultimate solider.
#2. Pro Supps Mr Hyde 
The strongest stimulant pre-workouts often get their extra kick by containing a larger dose of stimulant ingredients as well as a variety or combination of stimulant ingredients, Mr Hyde does exactly this. Mr Hyde contains not one but three forms of caffeine pushing it well over 400 mg, 200mg methyltyramine, 30mg bitter orange, 15 mg octopamine, and 5 mg of dendrobium extract. The energy surge provided by this product is unreal. If you like your stims, get ProSupps Mr Hyde.

#3. C4 Ultimate
Having the biggest name in the industry for pre-workouts, C4 have formulated the strongest, most powerful and transparently dosed pre-workout amongst their range.
It's dosed to the brim with a heavy punch of nootropics, pump amplifiers and endurance boosters to push you to your ultimate limit.  C4 Ultimate is made for those who aren't afraid to work, sweat, and bleed for their next battle in the gym. You'll be getting a nice boost of energy without experiencing any negative side effects.
#4. APS Morph 3 
APS Morph 3 is another top-notch pre-workout choice for trainers and has been a well-known name for many years. With caffeine, eria jarensis and bitter orange extract as its main stimulants, Morph 3 includes some cocoa extract which provides the faster acting theobromine. Morph 3 also utilises high doses of some of the most validated ingredients including beta-alanine, citrulline and creatine. The energy also becomes more apparent within just 15 minutes of taking the pre-workout. If you want a serious kick to your workout sessions, then Morph 3 is the choice for you. 
#5. Jym Pre Jym
With 13 hand-picked ingredients by Dr Jim Stoppani, Jym Pre Jym is built on solid science and years of professional experience. Pre Jym contains an incredibly strong pre-workout matrix that contains 300mg of caffeine per serving and you'll experience a noticeable boost in performance during your longest training session without any crash. If you want the most complete pre-workout on the market, Jym Pre Jym is an excellent choice. 
Notable Strongest Pre Workouts of 2018